Empire Magazine Reveals Exclusive Images and Interviews From 'The Book of Boba Fett'
Last week, Empire magazine released the cover for the January 2022 issue, which will be focused on The Book of Boba Fett. The article teased that the new issue would feature interviews with several people involved with the show. Today, they revealed snippets of their interview with executive producers Jon Favreau and Robert Rodriguez.
Of course, the post-credits scene of The Mandalorian season 2 was effectively a teaser trailer for the spin-off show, as it gave us the basic idea of the plot — Boba Fett is back and has taken over Jabba's throne. He is basically the new crimelord. About this, Jon Favreau told Empire:
"There is a power vacuum, because Jabba is gone. Jabba was clearly a very strong and imposing leader, who people were very scared of, and who seemed to rule with an iron fist. You pull somebody like that out of the ecosystem of Tatooine – and Hutt Space in general – and you have the opportunity that's ripe in the gangster genre."
He then added:
"Although Boba Fett is a very experienced bounty hunter, he's not experienced at running a criminal syndicate or managing forces. He's not normally a newcomer. He's an expert as we see him in most areas. But in this case, he's trying to transition to another position."
Jon Favreau is clearly teasing that we will get an unhinged Boba Fett, but Robert Rodriguez goes even further:
"We'll see a lot more of his true character in this season. And you'll definitely see him have to turn 'barbarian mode'."
In the following picture, we see Rodriguez doing a demonstration of the use of a heavy weapon in between takes: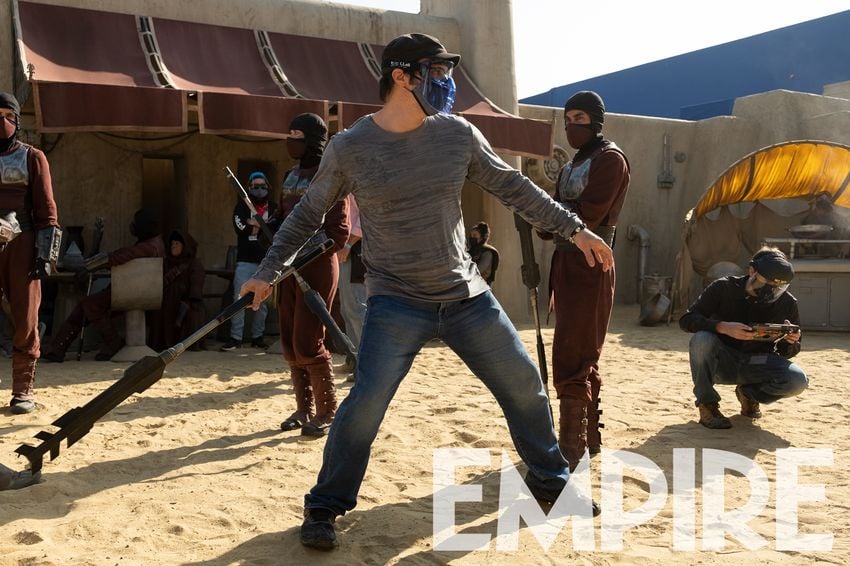 If this looks familiar, it's because it is from a scene shown in the trailer, in which the guards seen behind Rodriguez surround Boba Fett and Fennec Shand. Make sure to check the trailer out here.
More bits on The Book of Boba Fett are expected in the following days, perhaps even today, including interviews with Temuera Morrison and Ming-Na Wen. Dave Filoni also talked about the Ahsoka series, as Empire teased last week.
The Book of Boba Fett will premiere on Disney Plus on December 29. The new issue of Empire is out this Thursday, November 25, but is already available to pre-order.
Miguel Fernández is a Spanish student that has movies as his second passion in life. His favorite movie of all time is The Lord of the Rings, but he is also a huge Star Wars fan. However, fantasy movies are not his only cup of tea, as movies from Scorsese, Fincher, Kubrick or Hitchcock have been an obsession for him since he started to understand the language of filmmaking. He is that guy who will watch a black and white movie, just because it is in black and white.