2021 Star Wars Holiday Gift Guide
"Across the galaxy, peace had spread. With freedom restored, Life Day could once again be celebrated. What is Life Day, you ask? A holiday of friendship, of family, of connection." – Yoda, from the LEGO Star Wars Holiday Special 
Are you ready for the holidays? Do you have your tip-yip recipes and fresh blue milk?
It can be overwhelming to think about the approaching season, zooming toward us like a T16 Skyhopper in Beggar's Canyon. 
That's right — we're the womp rats helplessly awaiting the oncoming collision full of candy canes, tinsel, and the loom of temperatures rivalling Hoth's. 
But do not worry. Fear leads to hate, hate leads to anger, and anger leads to not having enough time or energy to plan on what to give everyone this season!
That's where we come in. 
There is no shortage of Star Wars items and collectibles perfectly curated for gifts or decorations. From holiday sweaters to ornaments, to new LEGO sets to Funko! Pop collectibles, to waffle makers to awesome tees, we've compiled this 2021 Star Wars Holiday Gift Guide to help you navigate what's out there. 
The guide is organized into the following sections:
Toys & Collectibles
Video Games
Tech & Gadgets 
Books & Comics
Housewares & Decor
Clothing & Accessories 
Keep checking back as more items are added (prices also may fluctuate from what is listed). 
Regardless of how you celebrate the season, we hope you find time for friendship, family, and connection — the true joys exemplified in Life Day and our holidays here at home. 
As Chewbacca so poignantly put it: "RRWWWGG." — and we couldn't agree more.
A happy holiday, we hope you have.
1 – TOYS & COLLECTIBLES
With action figures, LEGO sets, games, and more, we have you covered in this roundup of toys and collectibles sure to impress everyone  on your list — from the Sith Master to the Jedi Padawan. Here are some top finds:
LEGO Sets
The exciting assortment of Star Wars LEGO sets has been growing since 1999 when the first Star Wars LEGO set hit store shelves.

Collectibles
From display pieces to movie collections, check out this list for those looking to showcase and elevate their Star Wars fandom.
Action Figures
There's just something about action figures that scream Star Wars. Whether it's a throwback vintage figure, or a vibrant Funko Pop! item, there's always unique characters to collect. 

Games
Sabacc anyone? Game on! 

Plush
Even wampas make for adorable cuddle buddies with Star Wars plush. 

2 – VIDEO GAMES
For many of us, Star Wars video games are just as ingrained into our passion for the mythology as the movies. Here are some top finds:
3 – TECH & GADGETS
While we wait for someone to invent a truly real lightsaber, we still have some cool galactic gadgets to browse for the tech geek this season! Here are some top finds:
4 – BOOKS & COMICS
Explore Star Wars like never before with adventures from all eras (including the new High Republic era) in a variety of books and comics. Here are some top finds:
5 – HOUSEWARES & DECOR
Home is where the holocron is. Bring the galaxy into your home (or gift it to others!) this holiday season. Here are some top finds:
Kitchen
Create your own cantina with these special kitchen items (Figrin D'an and the Modal Nodes not included).

Home
Is a home truly a home without Star Wars wall art?
6 – CLOTHES & ACCESSORIES
Whether you're dressing up for a fancy night out or getting ready to bundle up for bed, Star Wars has you covered (literally) with clothing options for all occasions! Here are some top finds:
Clothes
Out-of-this-world outfits are at your fingertips.

Accessories
From jewelry to tie clips, Star Wars is always on trend.
Feel free to share this guide with others who are seeking gifts from a galaxy far, far away. Keep checking back for more items being added weekly!
Make a list, you should.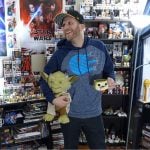 Tony Gorick is a self-proclaimed candy connoisseur with a passion for Star Wars and roller coasters. Whether he's working at his friend's arcade or watching classic Saturday morning cartoons, he does so with unsettling enthusiasm.