New Era Dawns for Star Wars Tabletop Gaming as Edge Studio Acquires License

Fans of Star Wars tabletop roleplaying games (TTRPGs) received some surprising news this past Friday when Edge Studio announced that they had obtained the license to develop new games for the iconic franchise.
Edge Studio, which, like previous license holder Fantasy Flight Games (FFG), is owned by Asmodee Group, didn't give many specific details about its plans for the property in the announcement. However, they did say they "will be exploring some of the many eras of Star Wars, revisiting old classics while venturing into the exciting new frontiers of this setting."
Fans of the most recent Star Wars tabletop game shouldn't fret. Edge Studio revealed that they would continue to reprint the books previously published by Fantasy Flight Games. Additionally, Sam Gregor-Stewart, who worked on FFG's Star Wars products, including Edge of the Empire (as lead developer), Age of Rebellion, and Force and Destiny, will once again take a key role in shaping the next generation of Star Wars tabletop gaming, this time as RPG Manager for Edge Studio.
As part of the announcement posted on the Edge Studio site, Gregor-Stewart said:
I loved my time working on the game lines Edge of the Empire, Age of Rebellion, and Force and Destiny. Now, with Edge, I'm really thrilled to have a chance to try something new! I hope we can create something fresh for our fans, while at the same time creating something that is going to awaken the same passion for Star Wars in a new generation that I felt growing up.
Given that the license is moving to a new publisher and that Gregor-Stewart mentions his desire to deliver new, fresh experiences for tabletop gamers, it's safe to assume that Edge's take on the Star Wars universe will differ from Fantasy Flight Games' recent entries in significant ways.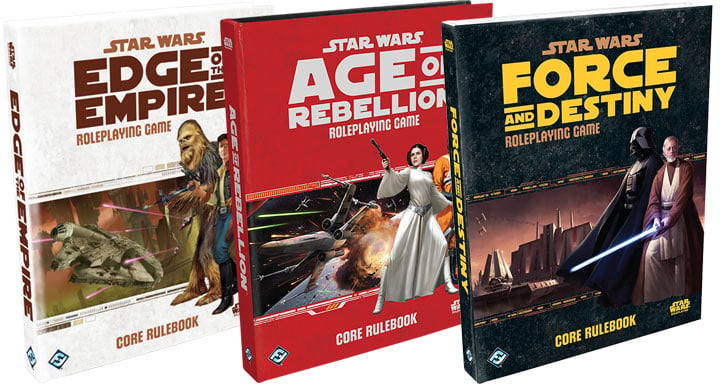 Longtime Star Wars TTRPG fans know that this isn't the first time the license has changed hands. West End Games published the first Star Wars tabletop game in 1987 before releasing a second edition as well as a revised and expanded version in the 1990s. Wizards of the Coast gained the license at the turn of the millennium and published several editions of its own Star Wars game throughout the 2000s. Finally, starting in 2011, Fantasy Flight Games got its chance to develop tabletop Star Wars TTRPGs and has held the license until now.
Whatever Edge Studio's specific plans for the property may be, tabletop gamers can surely expect many more great experiences in the beloved Star Wars galaxy in the coming years.
Source: Edge Studio (via Polygon)
Eric has been a fan of Star Wars ever since the age of five (or so) when his parents sat him down in front of a TV with pizza and a Sprite and showed him the original trilogy. He keeps trying to convince more fans to read the amazing 1980s Star Wars newspaper comics by Archie Goodwin and Al Williamson. When he's not reading, watching or playing Star Wars media, he's often enjoying other great fantasy and science fiction sagas or playing roleplaying games with his friends.