Editorial: Reaching for the Stars – The Rise and Seeming Fall of the Immersive Guest Experience at Star Wars: Galaxy's Edge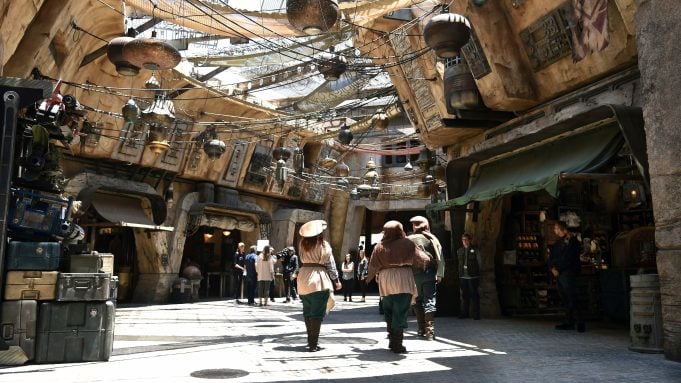 In the fall of 2017, something exciting could be spotted rolling about Disneyland's Tomorrowland — Jake (J4-K3) was an interactive and autonomous droid character created by Disney Imagineers and unveiled at the D23 Expo earlier that year. Video of the little character wandering about, interacting with park guests quickly hit the internets as did concerns from Disney that the new land would be far too crowded to allow a roaming droid to move about, navigating through throngs of guests. Soon after his unveiling along with the official reveal of Galaxy's Edge, not only did excitement about Disney's plans for their Star Wars-themed land reach a fever-pitch, but it became immediately apparent that the little droid, despite all the hours of development and testing, and upon seeing how it was treated by park visitors, was never going to be a part of Disney's lofty plans for that galaxy far, far away…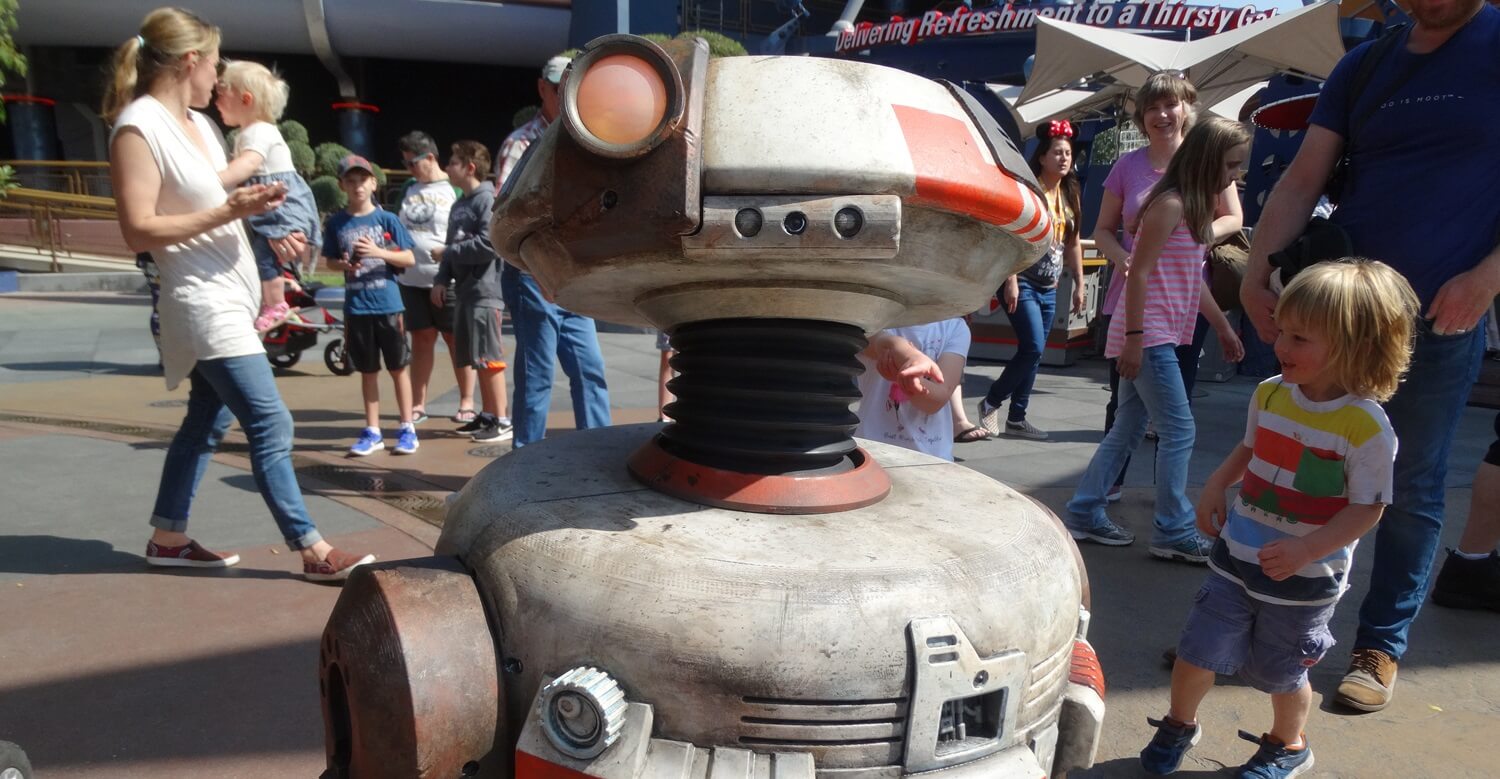 Earlier in 2017, visitors to Disneyland's Frontierland could find themselves playing a role in an interactive experience known as Legends of Frontierland, with costumed characters in the land pitting two competing teams of guests against each other as they vied for points in an attempt to see who would control the land of Big Thunder Mountain. This was a theme park experience unlike anything previously seen. The closest Disney had come to immersing guests into the world of an attraction had been during the 40th anniversary in 1995, when those who stood in line for Indiana Jones and the Temple of the Forbidden Eye were handed wallet-sized cards with a coda for the invented language known as Mara-glyphics seen all around the interior of the attraction's queue. These small tokens were one of the first attempts to draw guests into the world the Imagineers had created, and to give them something to do while waiting hours in line for the ambitious attraction. This was, after all, long before the era of smartphones — when your Tamagotchi died on you two hours into a three hour wait, guests had to find something else to occupy their attention.
All these experiences eventually ended. While I still carry my decoder card in my wallet, thanks to the reforming of the queue structure for Fast Pass expediency, lines for many attractions, including Indiana Jones, no longer allow for guests to stop and explore and experience all the details around them — building up anticipation for the experience to come. Additionally, it is very much common practice for Disney Imagineers to develop incredible technologies, test them briefly in the Parks, and then either find new ways to improve and implement them elsewhere or never revisit them again. A few examples include Lucky the Dinosaur, Push the Trash Can, a flying dragon, and most recently, a nearly full-scale X-Wing co-developed with Boeing and capable of flying over the Park.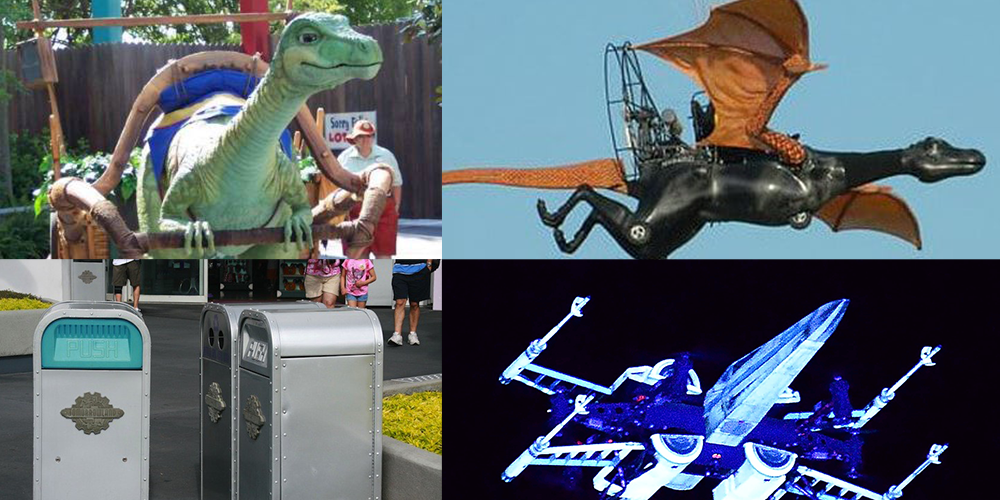 When Galaxy's Edge officially opened at Disneyland in Anaheim and at Disney's Hollywood Studios in Florida on August 29, 2019, the land was touted as a game-changer by the company CEO (2005 – 2020) Bob Iger and Disney Parks chairman Bob Chapek:
"In my opinion, this will be the most ambitious attraction that we've ever built."
Concept art for the land showed guests mixing and mingling with aliens at Oga's Cantina and frolicking with droids throughout the land. Cast members were encouraged to create their own character while assembling their Batuu outfits from a multitude of accessories and pieces to help add to the narrative and lived-in feel the land was going for. Guests would be greeted and encouraged to interact with cast members using specific phrases for common greetings such as 'Bright Suns' (good morning) or 'Rising Moons' (good evening) and 'May the spires keep you' for goodbye. When using certain phrases throughout the land at specific locations, you could even be given, covertly, pieces of a map to help aid the Resistance. Signs in Aurebesh could be translated, and comm towers and panels could be hacked via an app that allowed you to participate in the ongoing conflict between the First Order and the Resistance. If you wanted one of those legendary lightsabers of old you had heard rumors of, you had to ask around, requesting where to buy scrap metal before someone would point you to Savi's Workshop, where one would be ushered quickly inside (after forking over $200 of course) and guided in the constructing of their own lightsaber from kyber crystal to hilt to the thrilling act of activating it for the first time.
During cast member and guest previews, it appeared all was coming together — atmosphere, experience, and that thrill of being a part of something new, plus living out a childhood fantasy. While there were no aliens walking around, there were still First Order Stormtroopers to avoid and spies like Vi Moradi to assist. Droids could be found chirping away while attached to vender's carts. When making a purchase, you were asked if you wanted to pay in credits and could even do so with a Batuuan Spira chit (a super- fancy, metal gift card). At Docking Bay 7, the menu referred to the foods by their alien names, and you ate with a metal spork like something straight out of the Star Wars films themselves. It wasn't perfect, but it was still the most immersive theme park experience Disney had ever constructed, and it truly gave Universal Studios' Wizarding World a run for its money. But even upon opening, Wizarding World had a few crucial advantages over Galaxy's Edge — for starts, while Wizarding World fully embraces guests to dress in their purchased robes or to come in costume, the same is forbidden at Galaxy's Edge. Outside of clever Disney bounding, costumes on adults are not allowed, nor is wearing that very expensive Jedi robe you just purchased. The same goes for lightsabers — as soon as you've built yours, you are given a carrying case and told to keep it in there. Anyone taking out their saber to show friends and family will be told by any nearby cast members to put it away to hide it from the First Order. While at Universal Studios, you are not only allowed to keep your wand out, but you are also encouraged to use it at various points throughout the land, allowing guests to 'practice magic' and 'cast spells'. You may have paid $200 dollars to find out you have the Force at Galaxy's Edge, but you sure can't show off said skills.
Galaxy's Edge was built and opened knowing that everyone and their mother would give anything to be a character in the Star Wars universe, but at the same time, those very guests would steal anything and everything not nailed down. Within weeks, the metal sporks were gone, as were the menus at the cantina; anything to curb the continued wave of sticky fingers. Guests who didn't understand the in-universe terms for food and drinks forced the Park to change the menus to make it more obvious that you were buying chicken and mashed potatoes. Where we had been told nothing would say Star Wars on it, very quickly, all souvenir tags had the title emblazoned upon them and within no time at all, the phrasing used by cast members for greetings and farewells dropped away. In a lot of ways, it was the abuse of Jake the Droid all over again. Because so many guests felt entitled to keep a piece of the world they love so much or to leave their mark, they were abusing the system and playground set up for them right out the gate.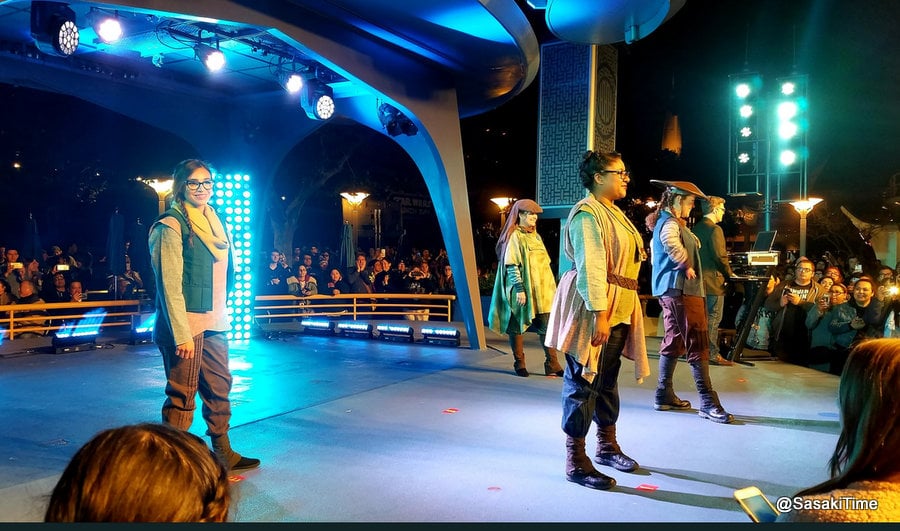 It was a grand experiment, and with the COVID-19 global pandemic closing the Parks for well over a year, everything built to make the experience so deep and personal was completely gutted. When the Parks did re-open, the immersion had to be further whittled away to make room for much needed safety protocols. It was unavoidable, but even the 'Happiest Place on Earth' could not escape the real world and how events bigger than all of us are never truly avoidable, even while looking for an escapist-experience.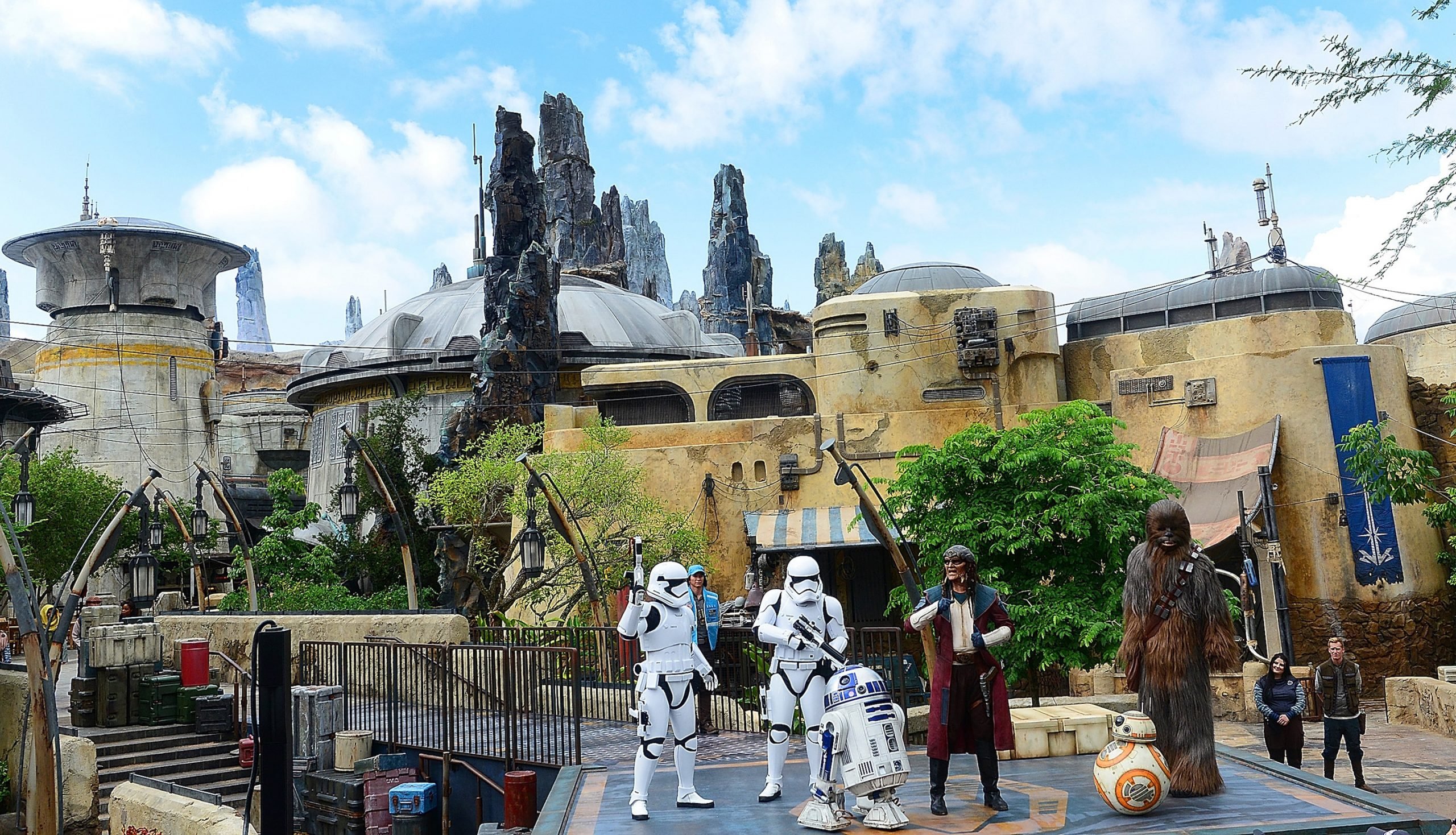 It's safe to say that the decline of immersion happened long before we were all wearing masks and set to work from home. It's also hard to pinpoint where exactly things went wrong; was it the guests, Disney, franchise fatigue, all these factors, or something else entirely that snuffed  out the interactive experience prior to COVID? The answer to that isn't so simple, nor does it seem like the solution is that easy to come by either. However, as is always the case with Star Wars, there is always hope — with the impressive and insanely expensive Star Wars: Galactic Starcruiser hotel opening next year, one can't help but wonder if, at least in Florida, a new level of immersion will return, since the entire experience is being touted as a completely interactive journey for park guests during the duration of their stay. Additionally, with Rise of the Resistance finally fully operational and being the most interactive attraction ever introduced into a Disney Park, one can't help but wonder if this will be the last bastion for that immersion, or if we might instead see it slowly begin to trickle back out into the land itself as we begin to come out of this pandemic.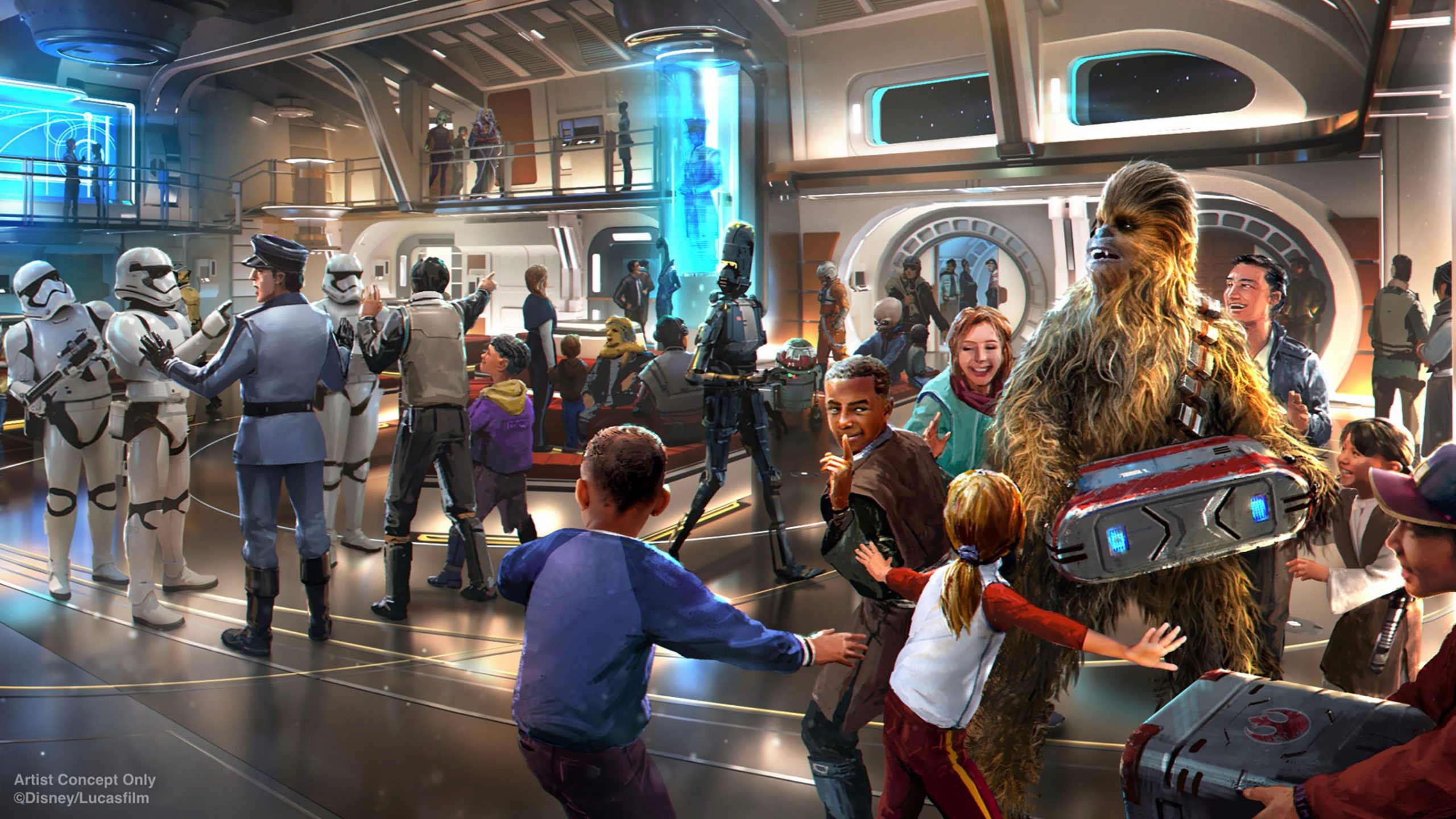 While the Avengers Campus at Disney's California Adventure is meant to be an experience of meeting one's favorite Marvel heroes, Galaxy Edge was always about putting you into the role of the hero. You were always meant to choose a side in the wider galactic conflict, and to earn your credits smuggling for Hondo Ohnaka, or to ask about finding that place where one can build a droid or gather scrap metal. Galaxy's Edge was always meant to be your hero's journey, and not just another beautifully crafted land with a couple of rides and some good if not unique food — it was always meant to take you away from the real world, and even from the fantasy of Disneyland itself, and to transport you to the edge of another galaxy. While it hasn't failed in these regards overall, it certainly could use a bit of the magic that was there on day-one. Here's hoping that, if folks continue to come in their bounding and greet the cast members with a rousing 'Bright suns!' and behave themselves when it comes to the experiences in general, we might see the interactivity we all had so fleeting return like those lost Jedi of old.

Until then, may the spires keep you.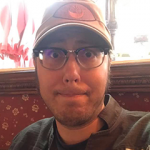 Born and raised in sunny Southern California, Colin grew up an avid fan of Star Wars, Disneyland, and so many more pop-culture staples. After spending some time as a character at a well-known theme park, he spent some time attending college in the UK. Colin now lives with his wife and dog just down the road from the Happiest Place on Earth and divides his time between family, friends, gaming, and writing horror stories and think pieces on cinema.