'Star Wars: Visions' Villains Revealed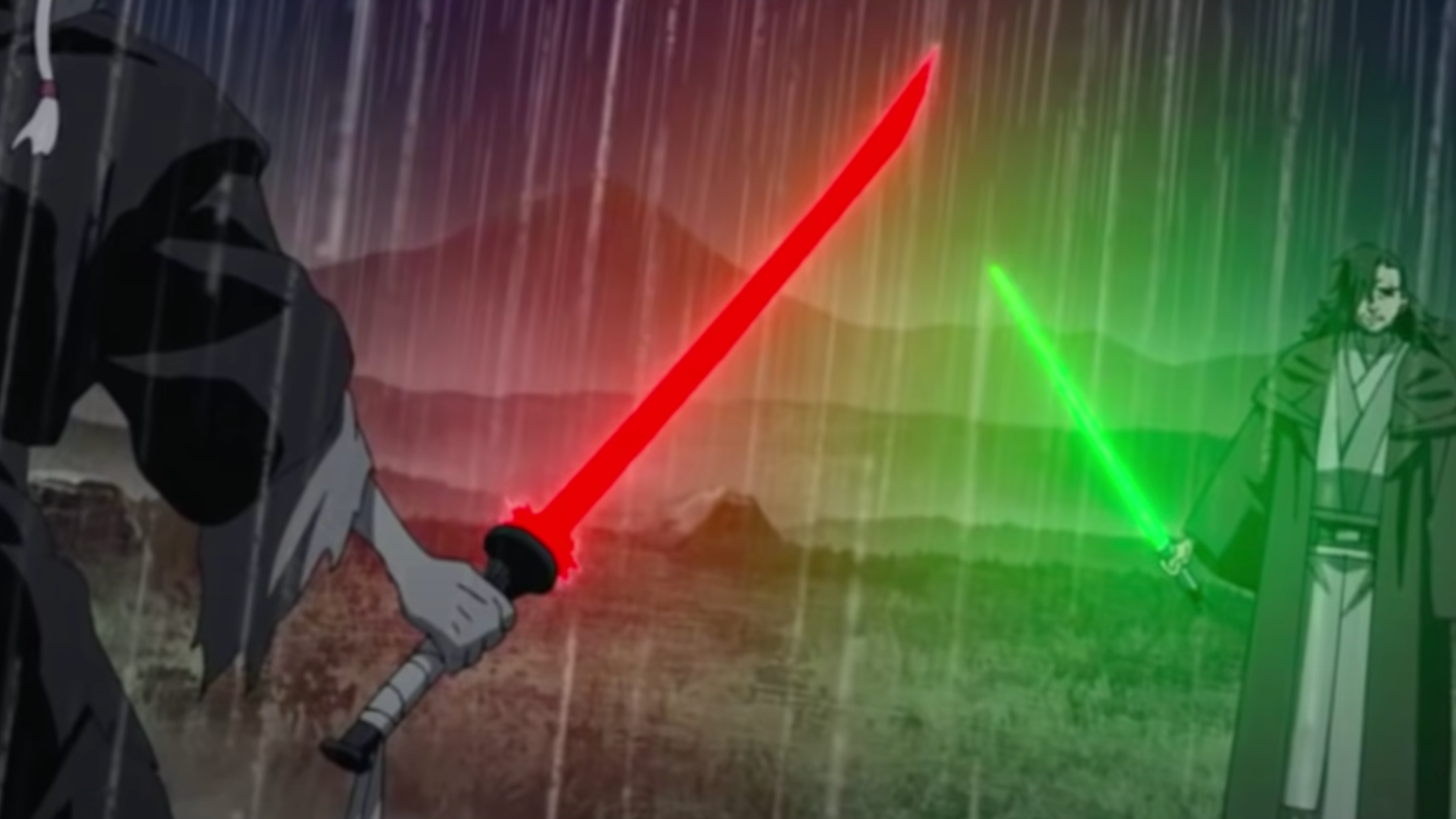 Star Wars fans have been given an early look at the villains of Star Wars: Visions ahead of its debut on Disney+ next week.
After we were given a look at some of Vision's heroes, Justin Leach, co-executive producer on the show, has provided StarWars.com with information on a number of villains from the anime series to give us a taste of what to expect when it debuts. We have listed the villains below, but needless to say, spoilers follow.
The Elder
The Elder, seen in the trailers for Star Wars: Visions, is a "mysterious warrior with ancient and sinister origins", according to to the website. Justin goes into more detail:
He is a master swordsman seeking worthy adversaries. Even though his appearance is that of an aged old man, he moves gracefully and effortlessly against any opponent.

While he appears very Sith-like, he is clearly more focused on mastering his skills than following their ideology… since his motivations seem to be more about mastering his skill in combat and less about gaining power, this adds a new dimension to the Sith archetype.

The etched wrinkles on his face, his sinister, toothy grin, combined with piercing black and yellow eyes gives him a truly dark and menacing impression.
We are told that The Elder will be going up against his greatest foe yet – time itself, facing his own mortality. Whether this means he will be searching for a secret to immortality, or quietly contemplating the end of his story, remains to be seen. The Elder was designed by Kamome Shirahama, who previously illustrated the concept art for the ARTFX Artist Series Kotobukiya statuettes of Rey and Kylo Ren. This time, Shirahama combined classic anime, Star Wars myth, and the ways of the samurai into a single design. According to Leach, this included the design of his lightsaber:
The Elder's katana-shaped lightsaber is a wonderful tribute to the original source material that inspired Star Wars. 
The Elder will appear in the episode titled… The Elder.
Am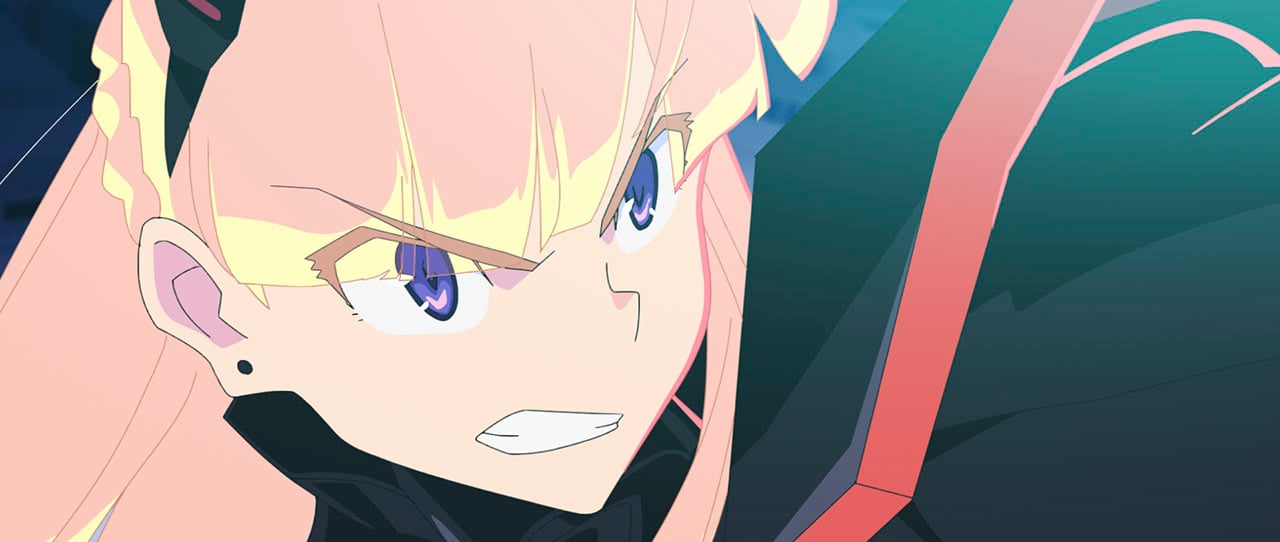 Am is the twin sister of Karre, from The Twins story. According to Leach, she acts as a mirror to Karre's life and what it could have been. Am and Karre's dynamic acts as a twisted spin on the classic Star Wars twins relationship. She is a master of the dark side who fights with a unique set of weaponized armor:
Am is consumed by her desire for power, and blind to the danger she faces. Am struggles to find the right balance. Her brother, Karre, cares deeply for Am and he tries his best to save her from destruction.

Am takes being a Dark Lord to the next level with her drive, ambition, and skill on a scale that could only be expressed through anime. It flips the classic Star Wars twins upside down in a way that is new and exciting.
Am's soon-to-be-iconic armor was designed by Shigeto Koyama, who blended Darth Vader's classic life supporting armor with classic anime details and the Trigger aesthetic. Her armor's appendages allow her to wield multiple sabers and whips at the same time:
She has a special dark armor suit, that when combined with a special Kyber crystal, gives her unique saber-wielding powers. It is an incredible spectacle to behold in action.

Seeing Am take action in her special dark armor suit is truly a unique expression of the dark side.
Am will appear in the episode titled The Twins.
Masago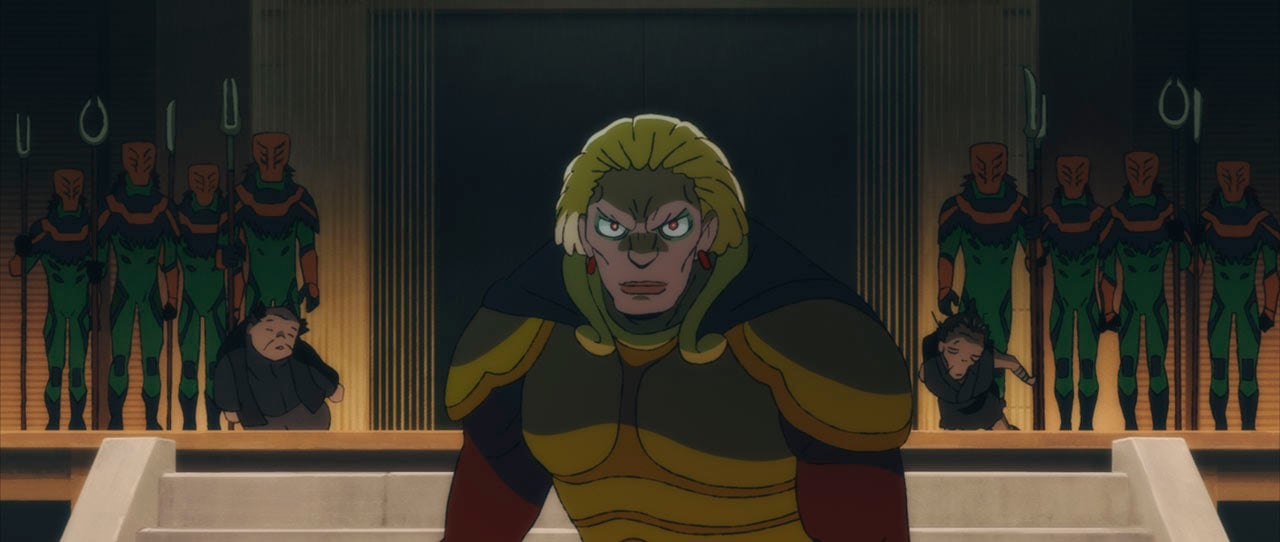 Masago is a physically powerful and supremely confident dark side being who believes in her own destiny.
With a great deal of strength and weight in the design, her broad shoulders and physical presence are palpable. Her red eyes, imbued with the dark side of the Force, create the impression of a soul full of darkness, ambition, and hunger for power.

Like other great villains within the Star Wars universe, she believes in this principle and uses it as an argument against her enemies when she tries to recruit them.
Masago will appear in the episode titled Akakiri.
Sith Bandit Leader
The Sith Bandit Leader is the only villain not to be given a name so far, but she is an homage to traditional Japanese female samurai warriors called "Onna-Musha" from Feudal Japan. According to Leach, she was inspired by a particular character from classic Japanese cinema:
[She is] a cool and cunning assassin reminiscent of the famous female warrior from Japanese cinema in the '70s, Lady Snowblood.
The hero Ronin will apparently meet the Sith Bandit Leader in a camp and be forced to take action and defend nearby villagers, in a story heavily inspired by Seven Samurai.
Her design was deliberately illustrated with careful line work, fusing traditional Japanese culture together with Star Wars mythology. This was necessitated by the fact her episode is an entirely hand-drawn, black-and-white short with pops of color accents to make it stand out.
[Designer] Okazaki-san's passion and love for Star Wars comes across clearly in his designs and The Bandit Leader in no exception.

His meticulous attention to detail is expressed through the efforts of Kamikaze Douga.
The Sith Bandit Leader's lightsaber is a totally new design, which lends itself to a new fighting style that Leach compares to Darth Maul's in The Phantom Menace.
She has a very special type of lightsaber umbrella that can turn her lightsaber into a weapon capable of defensive and offensive maneuvering.

The Sith Bandit Leader is a fresh take on the classic Sith Villain expressed through dynamic action and fighting sequences not seen, perhaps, since Darth Maul faced Obi-Wan in The Phantom Menace.
The Sith Bandit Leader will appear in the episode titled The Duel.
The Inquisitor
The Inquisitor is the most recognizable villain we've seen so far in Star Wars: Visions, who is simply one of the many inquisitors we know to be roaming the galaxy hunting the last remaining Jedi after Order 66. This villain will face off against T0-B1, a droid pretending to be a Jedi.
Apparently, this inquisitor is meant to be "a powerful, menacing representation of the dark side of the Force, seeking to eliminate and snuff out all that remains of the light."
He was designed by Takafumi Hori (Stephen Universe, Kill La Kill, Samurai Shamploo), intended to evoke a classic black knight with a primal fighting style.
His design is reminiscent of a medieval black knight with modern details.

As he fights, he becomes more animal-like, exposing a mouth full of teeth as he screams in anger.
Apparently, it is through his conflict with this inquisitor that T0-B1 will "find the independence and strength he needs to grow."
The Inquisitor will appear in the episode titled T0-B1.
Star Wars: Visions will debut on Disney+ next week, on September 22, 2021.
Josh is a huge Star Wars fan, who has spent far too much time wondering if any Star Wars character could defeat Thanos with all the Infinity Stones.