Review – Hope for All in 'Star Wars: Life Day Treasury' by George Mann & Cavan Scott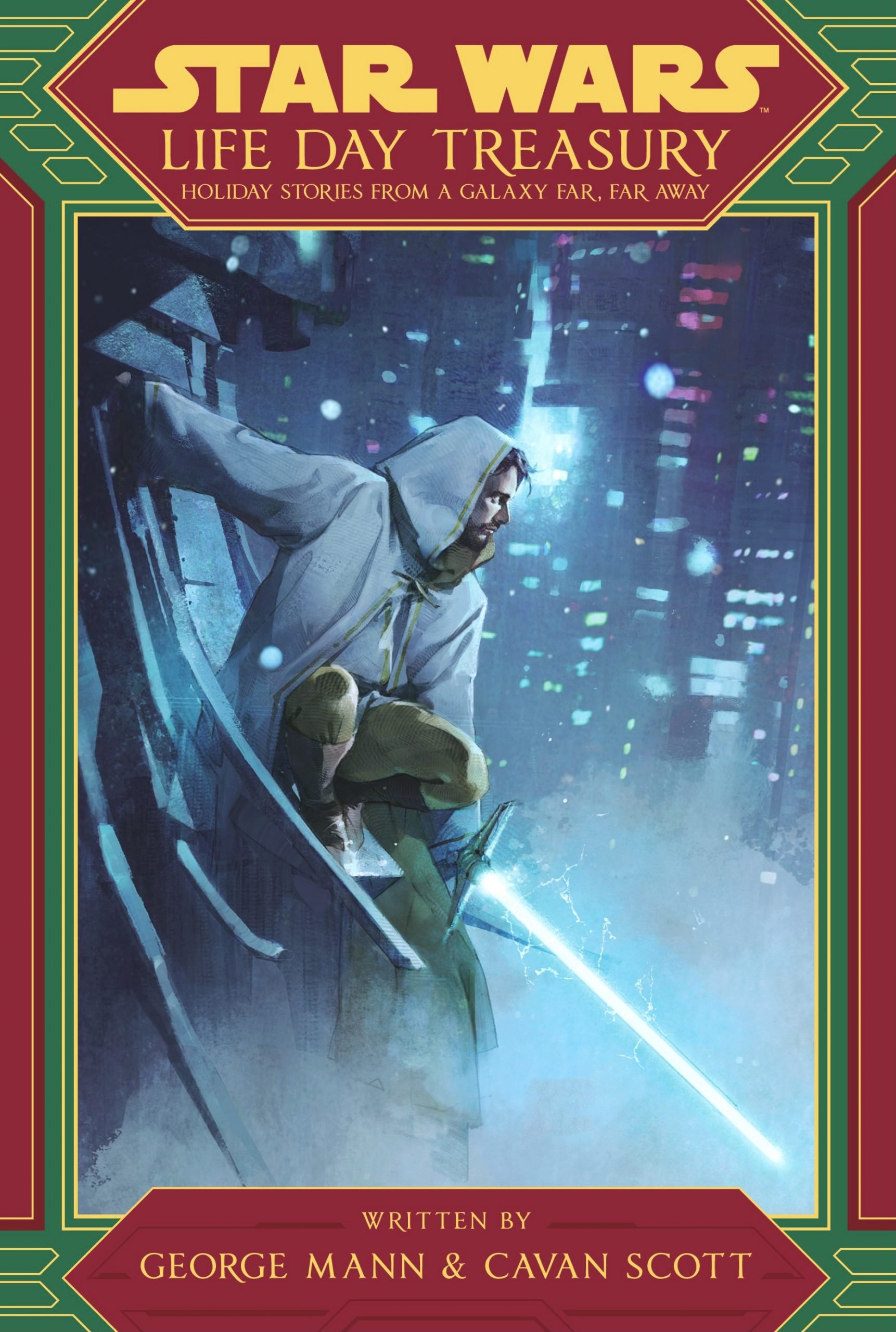 As the end of the summer is upon us, the retail landscape is always quick to remind us the holiday season is just around the corner. As soon as August is out the door, it feels like a countdown to December. Sometimes it feels cynical, so I was a bit wary when Star Wars: Life Day Treasury popped up on the calendar for a release when I'm still strategically closing the blinds in my home to avoid an afternoon baking from the sun. Though, after a few pages in, this couldn't have come at a better time. Yes, I know yours truly often talks about going to look for hope in Star Wars, but I can't think of a book more dedicated to it than this collection of stories from George Mann and Cavan Scott, with delightful art by Grant Griffin. And I also can't think of a better way to describe it: Life Day Treasury is a great big dose of hope from a galaxy far, far away.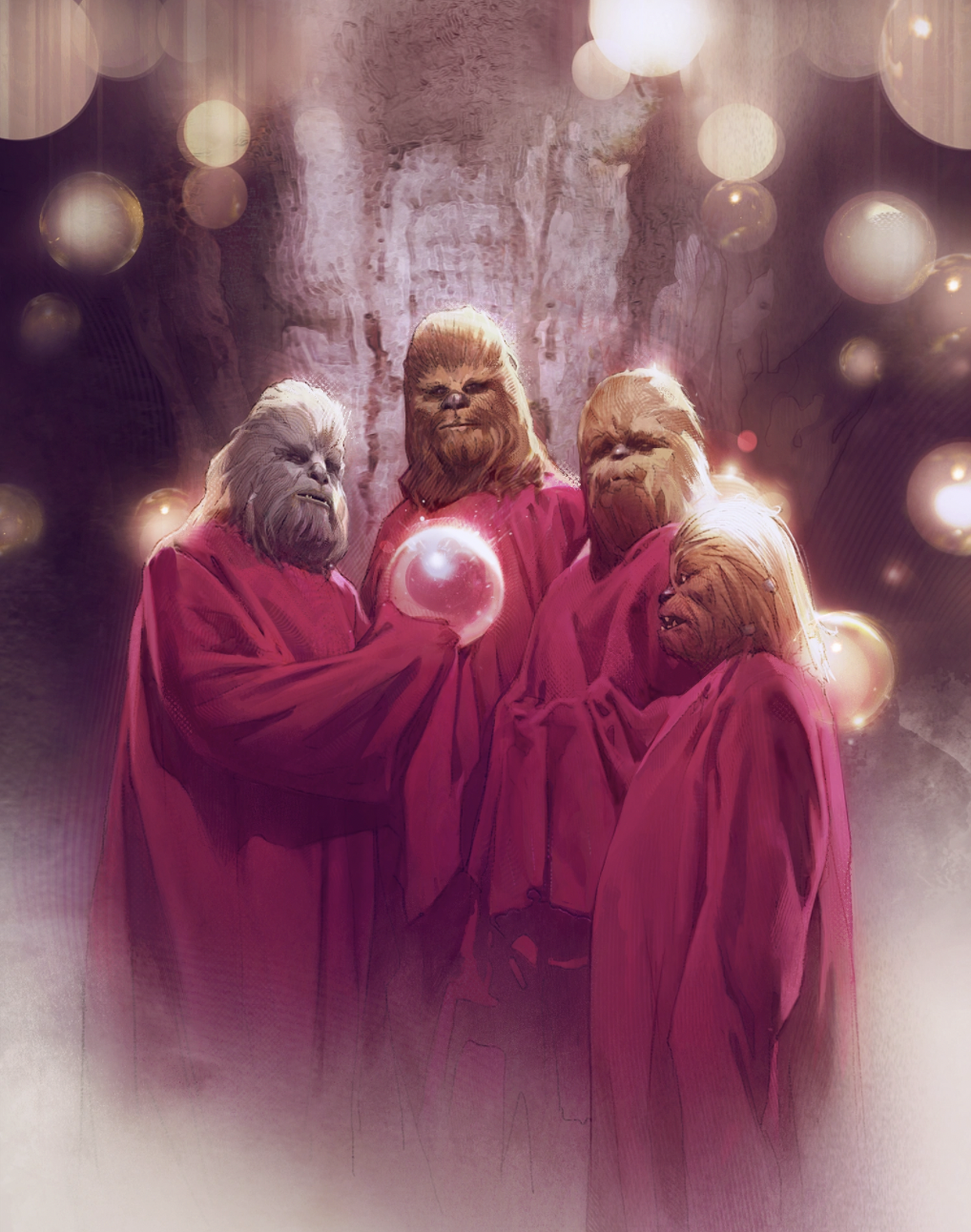 Before we proceed, let's just address five-hundred pound Gamorrean in the room: Life Day is typically associated with the disastrous 1978 Star Wars Holiday Special. I'm sure everyone involved with this project had this in their mind going in and took great care to push these stories as far away from that hot mess as they could. Personally, I've never watched the Holiday Special, so if there are any breadcrumbs or homages to it, I have no idea. There is nothing silly or disposable about these stories, Mann and Scott write these with as much care as treasured holiday classics many fans grew up with.
Life Day isn't the only late year holiday celebrated in the galaxy far, far away, and Wookiees aren't the only ones celebrating them. One of the many strengths Life Day Treasury demonstrates is its ambitions to jump between so many eras. From the Sith Wars to High Republic to post-Return of the Jedi, these authors give us a tale relevant to every peaceful and tumultuous era of the galaxy. The era in which they're set isn't as important as the stories themselves, which include some familiar riffs while others are entirely original. I'll do my best to keep this review spoiler-free, but would like to share why each one of these might have something genuinely hopeful to offer each of you in the very dark days we've had lately.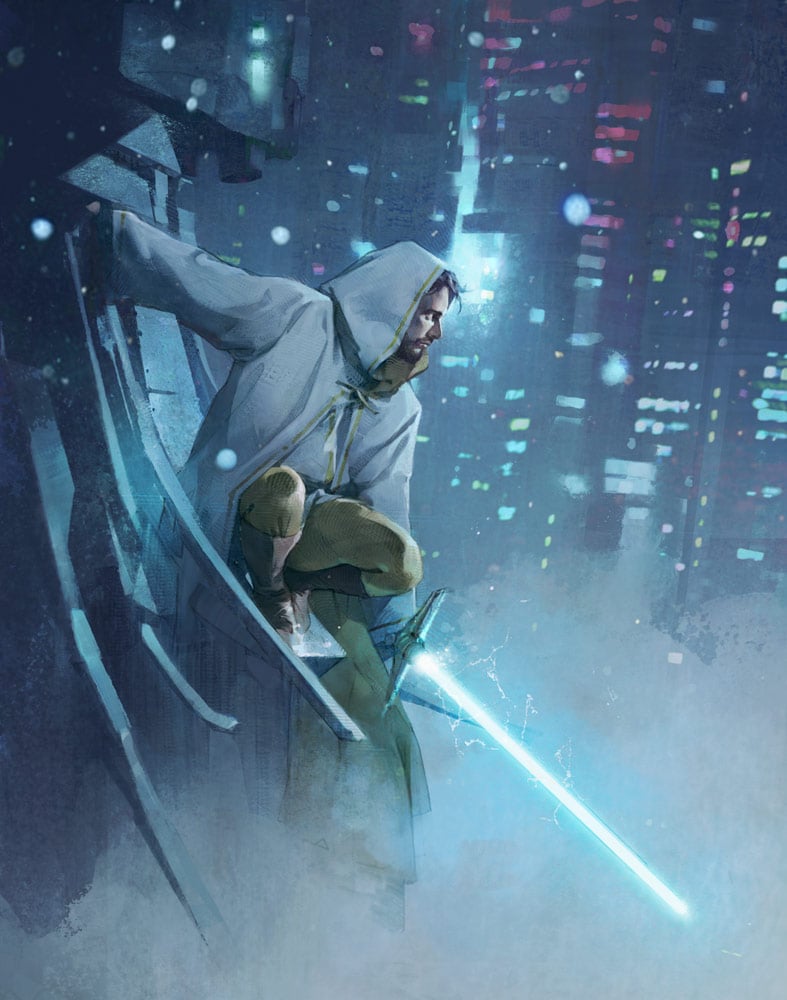 A Coruscant Solstice
It seems fitting we begin with a recent and heavily showcased era of Star Wars, The High Republic. This tale is laced with Dickensian visuals and sentiments, following Jedi Stellan Gios from the revelry of the privileged high-lining streets of Coruscant into the forgotten shadows of the lower levels. This isn't the first time the lower-levels of Coruscant have been described as dangerous, but Mann and Scott focus on the poverty often conflated with criminality. The two are associated because the lower levels are poor, unprotected, and easy prey for criminals. Stellan tracks a pickpocket to the lower levels, but once he discovers why the child is stealing, he realizes how bad the desperation living under the bright lights of the Republic's luxurious capital is. Stellan doesn't swoop in like a Jedi savior, and the pickpocket teaches the Jedi a lesson of his own. Bring your tissues for the last pages of this story.
An Old Hope
If I had to guess, Cavan Scott had a heavy hand in this precious story about a droid abducted by Jawas from the benevolent family they serve. Current stories continue to remind us droids are sentient beings, whose existence and experience are just as important as the carbon-based beings they serve. LA-R1's sadness and fear is palpable when he realizes he's on a Jawa sand crawler and his fate is either to be sold off or disassembled for scrap. His hope of a droid version of Santa Claus, the Oil-Bringer, keeps him going as other droids caution him to avoid optimism. When the sand crawler is stopped by an unexpected obstacle, LA-R1 is able to escape, and eventually meets someone who fits the description of the Oil-Bringer. Who do we know, wandering around the desert of Tatooine, who might fit the description of a droid Santa Claus? Again, this touching story brings hope to fruition through an unexpected carrier.
The Kindling
A group of Twi'lek freedom fighters find themselves cornered in a cave, boxed in by stormtroopers. As they wait in the darkness, their leader, Fanya, shares an old tale of how a group of Twi'leks overcame the tyranny of the Sith Lord, Darth Quellus. After the Sith War, Quellus occupied a Twi'lek world, Aaloth, keeping the population under his cruel rule. Time after time, the people of Aaloth rose up against him, only to be defeated. Their final solution came from a series of tiny sparks, both literal and metaphorical, and they finally vanquished the Sith Lord. Fanya proposes they take a lesson from history, whether it's a fable or not. In the darkness, they find the light, but I won't spoil the end for you.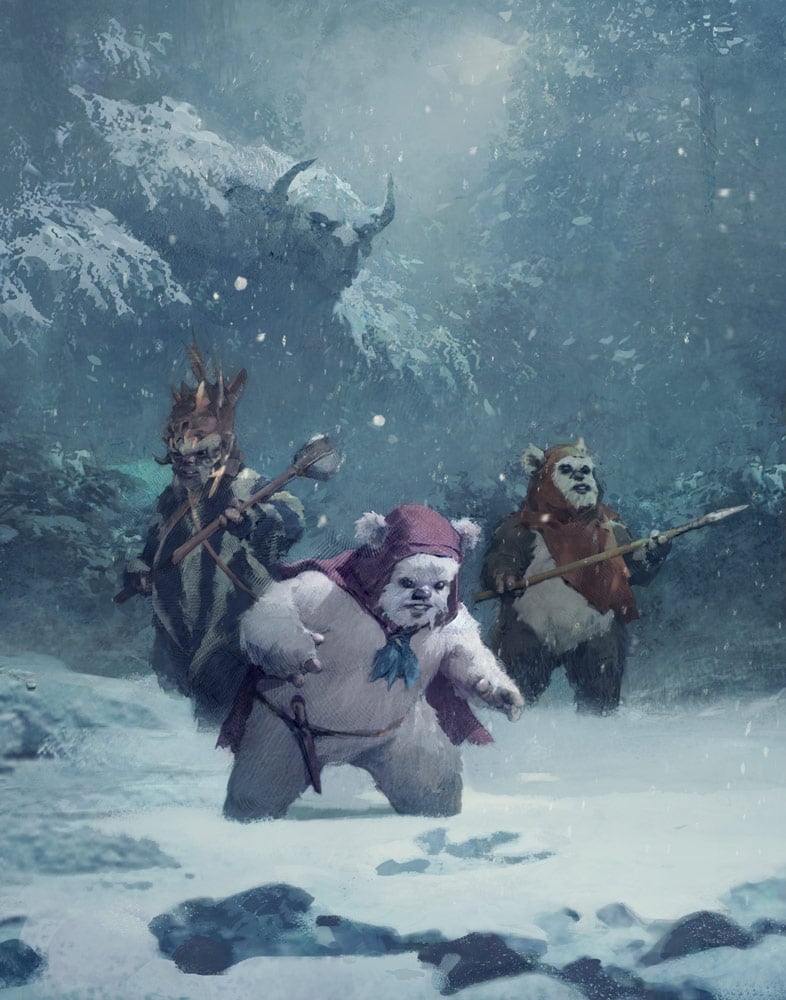 The Kroolok
Doing my best not to sound condescending, this story is pretty darn cute. Wickett and a bunch of his friends hear the story of the Kroolok, a dreadful beast known to swallow entire trees whole. As the rest of Endor hunkers during the rare snowfall, Wickett is determined to prove he'll be a noble hunter someday. He's also keen to demonstrate his courage to Kneesa, the chief's daughter he's become fond of. Against his parents' stern objections, Wickett sneaks away in the night, followed by Kneesa and others, determined to capture the Kroolok. The journey itself is the lesson, teaching these three Ewoks bravery isn't about personal glory, it's about standing with your friends in fear. The Kroolok ends up being something they didn't quite expect, and I was pleasantly relieved to find out no Ewoks were harmed in the making of this story.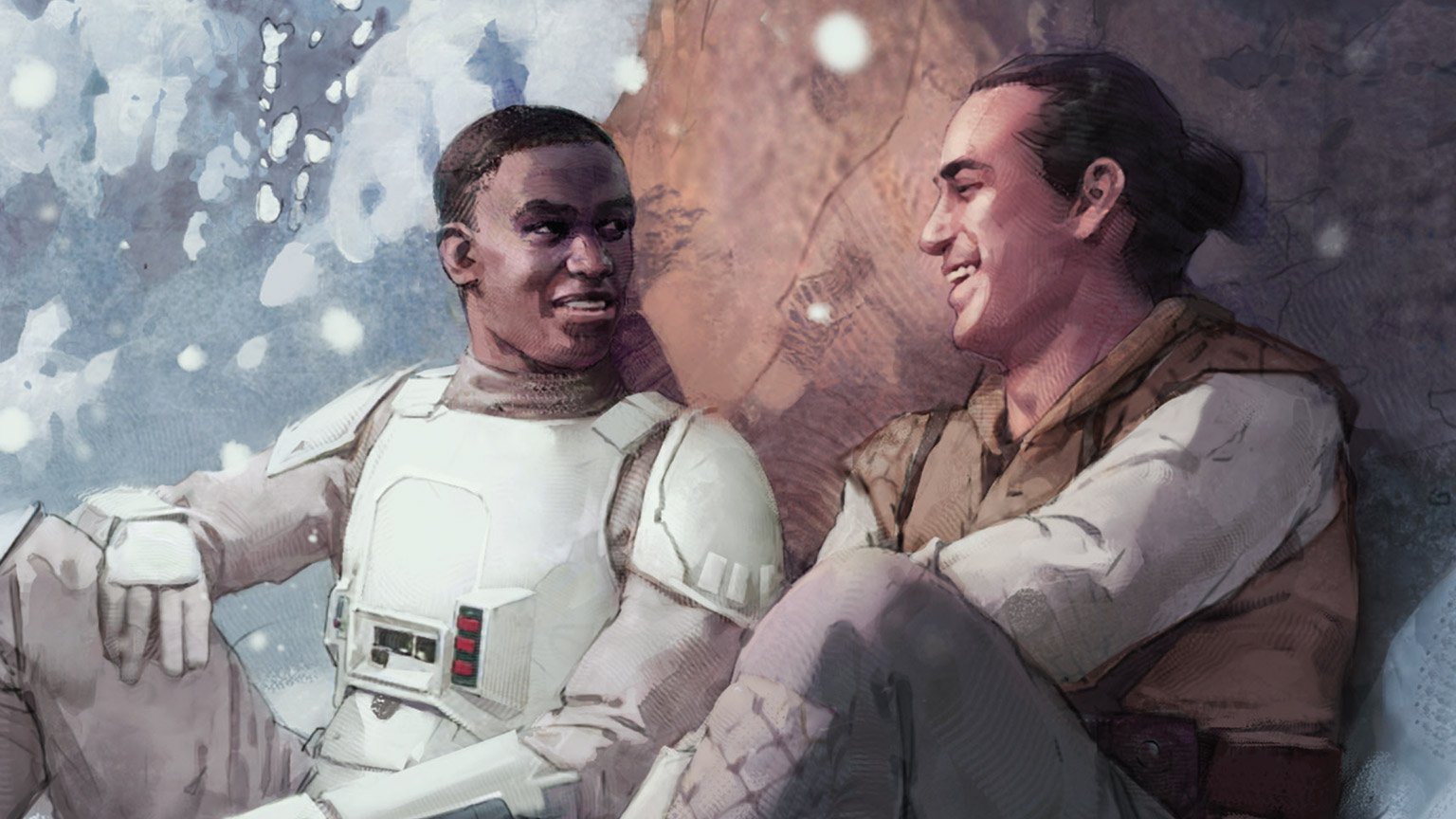 The Song of Winter's Heart
I really can't say much about this story without spoiling it, so I won't. It deals with two friends from Alderaan who have gone their separate ways in the galaxy, and fate brings them back together on the eve of Life Day. If you're bringing tissues to these stories, as recommended, bring a few extra for this one. As emotionally tugging as it is, it's beautifully written too.
The Spirit of Life Day
Another Dickensian style tale, about a young girl on the planet Monta, venturing from her home on the most dreaded day of the year for her people, Life Day. Her village is still haunted by the memories of the Clone Wars and once a year, the trauma becomes corporeal. Ghosts from those battles fill the streets, the screams of death and terror of explosions fill the air. The girl, Emi, can't help her curiosity and ventures into the ghostly battle. When she encounters one of the spirits, Emi learns the meaning of this vision is one misunderstood by her village. These spirits are here to remind them to cherish what they have, to live for the days they could not, and to remember the better times before the Clone Wars. Gratitude, healing, and hope intertwine in this heartwarming tale.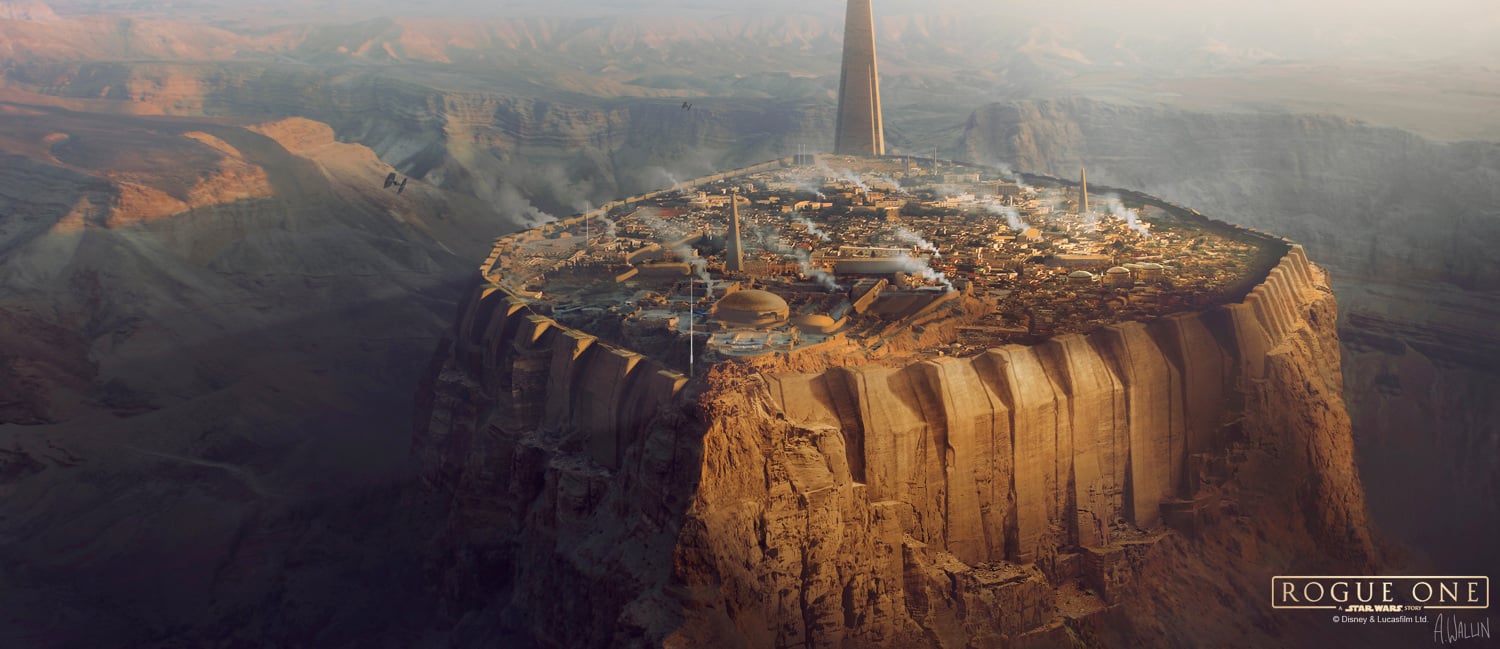 Reflection Day
Another holiday celebrated during this season in the galaxy far, far away is Reflection Day: a pilgrimage of true believers who make their way to the Dome of Deliverance, hoping to see what the future holds for them in the Kyber Mirrors. One skeptical traveler, Zallo, encounters a true believer he's drawn to. When the Kyber Mirrors reveal the possibility of who he might end up being in his life. It's a sweet, brief story of love in the midst of the jovial, and will surely bring a smile to the face of anyone skeptical toward love.
The Tree of Life
It seems fitting to end this collection of stories where the concept of Life Day began in Star Wars lore, on Kashyyk. Taking place not long after the fall of the Empire, Chewbacca's family miss him. We're treated to Life Day festivities, in the proper Wookiee style, but those can't compensate for the melancholy of an absent Chewbacca. When the Wookiee co-pilot arrives (with a familiar face in tow), the celebrations truly begin for all, starting with the decoration of a Life Day tree. It's a perfect way to end the book, with a family reunited after too long apart.
Life Day Treasury is filled with so much joy. For whatever gloomy turns it takes, Mann and Scott have dash of hope to lift you up. The art by Grant Griffin is familiar if you've read Myths & Legends and Dark Visions, prefacing each story with an exquisite visual to set the tone. As I sit writing this review on a hot, sunny afternoon, I can't help but reflect on stories of my own holidays. The love poured into this book will likely bring back magic as the air gets crisp and we seek solace in the celebration of light amidst the darkness of the late year. Life Day Treasury is a collection readers of all ages and experience can pick up and enjoy. Just remember to keep those tissues handy. Life Day Treasury reminds us that every day can be filled with the hope we make, and to accept the hope others give us. Hope is the spark, the light, and the fire which keeps us all warm. Especially in Star Wars.
RATING: 9/10
Star Wars: Life Day Treasury is available wherever books are sold. Special thanks to Disney Lucasfilm Press for the ARC used in this review.
Kyle Larson lives in Portland, Oregon. When he's not running trails, he's reading and writing.