Funko Pop! Announces a Grogu Balloon for Macy's Thanksgiving Parade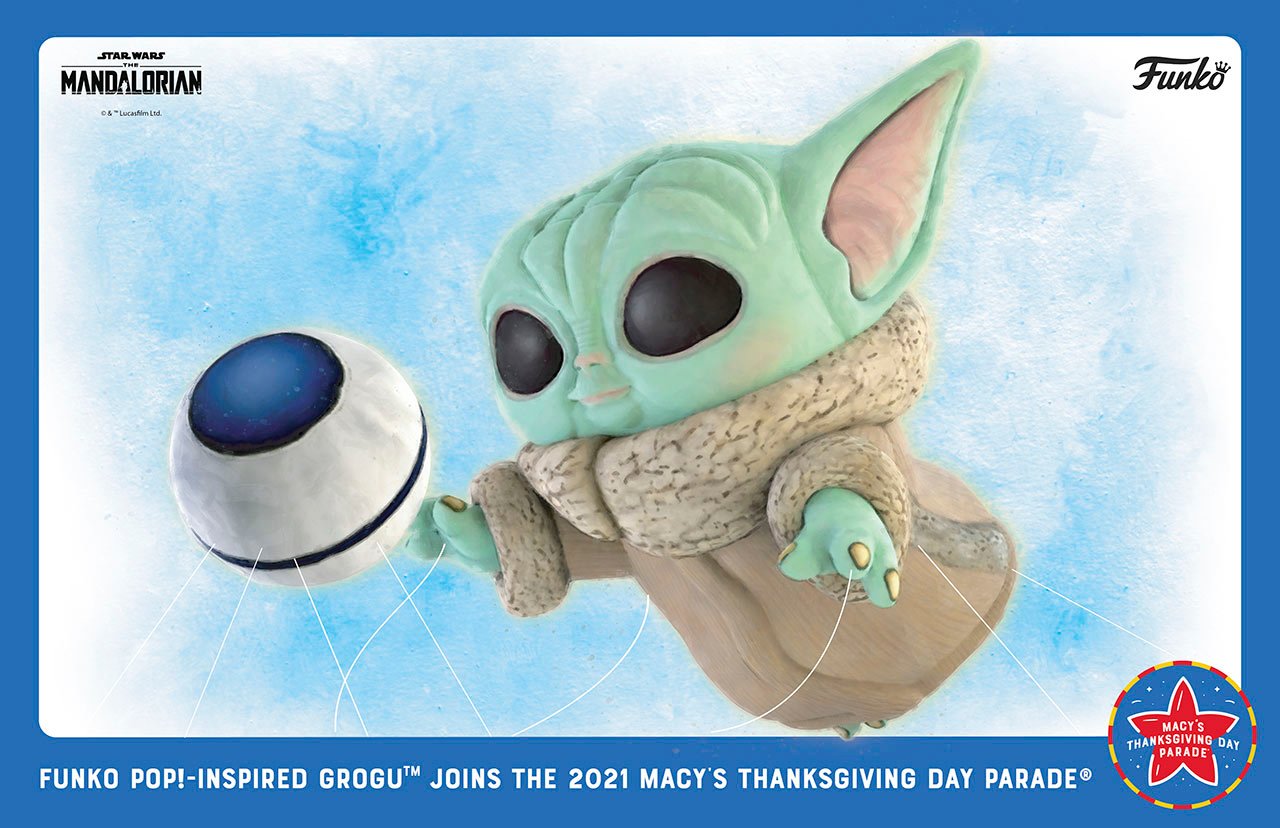 Today, Funko and Macy's, along with Lucasfilm, announced that a giant Funko Pop!-inspired balloon of Grogu will fly over Macy's Thanksgiving Day Parade, on November 25. Reis O'Brien, art director of Funko, designed the balloon just for this parade. He told StarWars.com:
"We're no strangers to the thrill of translating Star Wars characters into the Pop! form. Thanks to the strong creative relationship with Lucasfilm, we knew we could develop a fun, charming and iconic moment. After a crash course in how the Macy's balloons are constructed, we started the creative process inspired by everyone's love for Grogu. His giant ears were an unexpected challenge of their own, but once we finally got a peek at the final result we knew that all of our hard work and collaboration had paid off. There's going to be a whole lot of cuteness floating above the streets of New York City come Thanksgiving morning."
This will be the first-ever Star Wars-inspired balloon to fly over New York City on Thanksgiving. The balloon will be 41-feet high, 29-feet long, and 37-feet wide. Brian Merten, senior manager of product design at Lucasfilm, told Star Wars.com:
"It's always fun working with Funko and bringing Star Wars to fans, but this time, the fun and the unique challenges were supersized. Bringing Grogu to life as a 37-foot-wide balloon was no small feat and took close collaboration with the Funko design team, as well as the balloon designers from Macy's. I am very happy with the result and can't wait to see it in the parade!"
Brian Mariotti, Chief Executive Officer at Funko, told Business Wire:
"Funko is ecstatic to bring the Funko Pop! version of the character as a Grogu-themed balloon to the Macy's Thanksgiving Day Parade. Connecting one of pop culture's most recognizable characters from one of the biggest entertainment brands in the world with one of our nation's most beloved holiday traditions is truly a moment in pop culture history that will be remembered by Funko fans and millions of other viewers."
The parade will happen on November 25 in New York City, and will be broadcast nationwide on NBC, from 9 a.m. to noon in all time zones.
Miguel Fernández is a Spanish student that has movies as his second passion in life. His favorite movie of all time is The Lord of the Rings, but he is also a huge Star Wars fan. However, fantasy movies are not his only cup of tea, as movies from Scorsese, Fincher, Kubrick or Hitchcock have been an obsession for him since he started to understand the language of filmmaking. He is that guy who will watch a black and white movie, just because it is in black and white.