'Star Wars: Tales From Galaxy's Edge — Last Call' Announces Release Window and Launches First Trailer
The second installment of Star Wars: Tales from the Galaxy's Edge, titled Last Call, will arrive this fall, ILMxLAB announced today. They have also released the art seen above, and the teaser trailer included below. From Lucasfilm:
"In the new teaser, you see previously announced Dok-Ondar (Cory Rouse) in the experience for the first time and the return of the boisterous Seezelslak, voiced by actor and comedian Bobby Moynihan (Saturday Night Live, Star Wars Resistance). You also catch glimpses of new characters Lens Kamo, voiced by Karla Crome (Murder: Joint Enterprise, Carnival Row) and Baron Attsmun, voiced by Mark Rolston (The Shawshank Redemption, Rush Hour).

Originally appearing in Star Wars: The Last Jedi, Baron Attsmun is an ultra-wealthy industrialist who sells cybernetic parts throughout the galaxy. On the surface he's helped a lot of people, but underneath lurks a cruel, detached perspective. Lens Kamo is the badass daughter of scholar parents who developed a healthy respect for history. She went into treasure hunting with the sole purpose of getting artifacts out of sites without harming them, and keeping them out of reach of the destructive collectors — by any means necessary."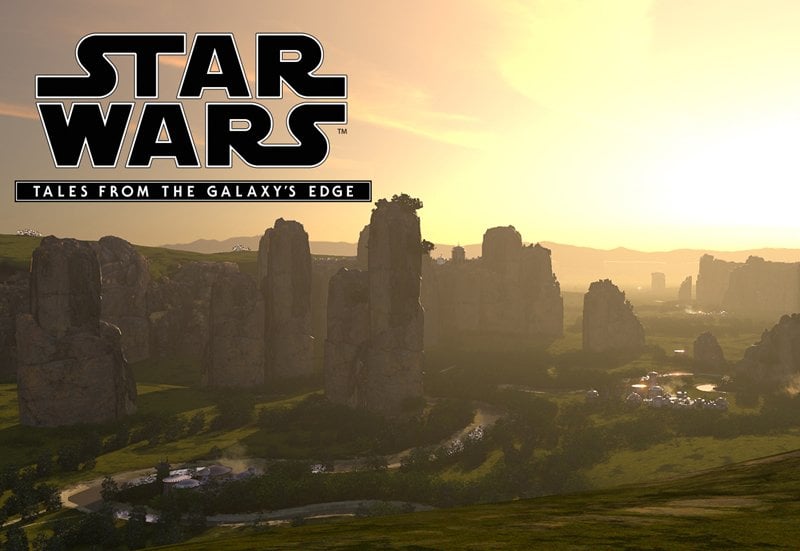 The director, Jose Perez III, said in a statement:
"Welcome back to Batuu! Dok-Ondar has pulled up a seat in Seezelslak's cantina and he has a job for you. The infamous ithorian sends you deep into the Batuuu wilds in search of a lost artifact. You'll team up with the relic hunter Lens Kamo and battle against the evil Baron Attsmun. We are super excited to continue to expand the Star Wars galaxy and hope fans swing by for Last Call."
Alyssa Finley, the Senior Producer, added:
"We are over the moons to continue your story as our intrepid deckhand as you spend time with new and familiar characters on Batuu. With new adventures to go on, two new Tales to experience, and a multitude of new items to buy and try at Mubo's Workshop, our team can't wait for fans to jump into Last Call this fall."
The first part was released in November 2020. More details on Last Call, like pricing and the exact release date, will be announced later. Here is the teaser trailer:
Star Wars: Tales from the Galaxy's Edge will give players the opportunity to live their own adventure and explore a new part of a galaxy far, far away in virtual reality. The original story will feature both new and iconic characters from the Star Wars universe with multiple styles of gameplay and difficulty settings to accommodate a wide variety of players, from Star Wars fans to VR gamers alike.
Primarily taking place between Star Wars: The Last Jedi and Star Wars: The Rise of Skywalker on the planet of Batuu, the adventure is set on the outskirts of Black Spire Outpost of Star Wars: Galaxy's Edge, the epic new land at Disneyland Resort in California and Walt Disney World Resort in Florida. Last Call will continue to extend the storytelling of Star Wars: Galaxy's Edge like never before and for the first time, at home.
ILMxLAB is Lucasfilm's award-winning immersive entertainment studio, pioneering a new era of interactive storytelling through virtual and mixed reality experiences. Working with acclaimed creators and designers, ILMxLAB creates living worlds, inviting you to step inside and become the hero of your own personal adventure.
Miguel Fernández is a Spanish student that has movies as his second passion in life. His favorite movie of all time is The Lord of the Rings, but he is also a huge Star Wars fan. However, fantasy movies are not his only cup of tea, as movies from Scorsese, Fincher, Kubrick or Hitchcock have been an obsession for him since he started to understand the language of filmmaking. He is that guy who will watch a black and white movie, just because it is in black and white.