'Star Wars: Andor' – Forest Whitaker to Reprise His Role of Saw Gerrera From 'Rogue One'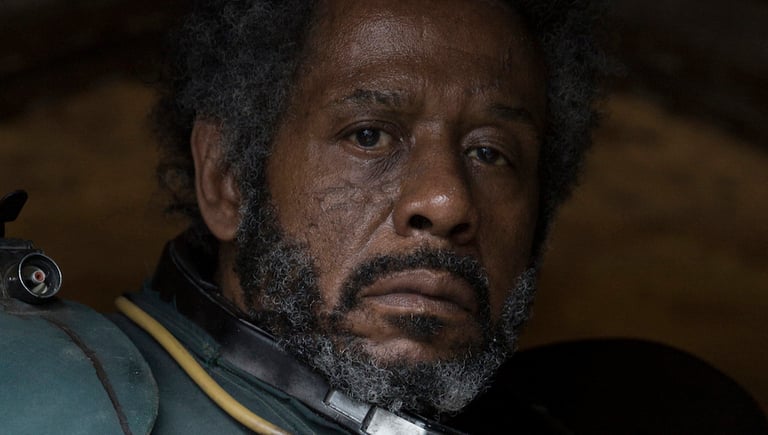 We now know that Forest Whitaker is among the many Rogue One alumni who are set to appear in Andor, as one of the many cast members of the Disney Plus series has let it slip that he'll be involved.
Stellan Skarsgård spilled the beans on Whitaker's involvement in the Andor series while speaking on Sveriges Radio (hat tip r/StarWarsLeaks) about that show and future roles that he's involved with. A translator in that thread stated that Skarsgård has one scene per episode on average, and has at least two important scenes with Whitaker, but he spends most of his scenes with Diego Luna (the actor behind the title character, Cassian Andor) and has about one scene per episode on average. This is the first that Whitaker's involvement in the series has been mentioned, and given that the series is a prequel to Rogue One: A Star Wars Story, more can be expected. So far, the other members of the show's cast include the likes of Robert Emms, Adria Arjona, Fiona Shaw, Denise Gough, Kyle Soller, and Genevieve O'Reilly as Mon Mothma. The show will be set a few years before the fateful mission that leads to the successful theft of the Death Star plans, which subsequently leads to the destruction of the Death Star and a major blow to the Galactic Empire.
First created by George Lucas as a character for the unmade Star Wars: Underworld live-action television series, Saw Gerrera was conceived as a morally-grey Rebel extremist modeled after real-world revolutionaries like Che Guevara, rather than the traditional type of hero that you would see in a Star Wars story. While that series never saw the light of day, Lucas tasked Dave Filoni with helping him craft a backstory for the character, which revealed that Anakin Skywalker – the future Sith Lord Darth Vader – would ironically help plant the seeds of rebellion as he taught Gerrera the skills necessary to liberate Onderon. He was first voiced by Andrew Kishino in that series, who recently reprised his role for a cameo in The Bad Batch. Forest Whitaker brought the character to life in live-action in Rogue One: A Star Wars Story, and he's portrayed Saw in Star Wars Rebels and Star Wars Jedi: Fallen Order.
Star Wars: Andor is set to release sometime in 2022 on Disney Plus.
Grant has been a fan of Star Wars for as long as he can remember, having seen every movie on the big screen. When he's not hard at work with his college studies, he keeps himself busy by reporting on all kinds of Star Wars news for SWNN and general movie news on the sister site, Movie News Net. He served as a frequent commentator on SWNN's The Resistance Broadcast.