Storm Damage To 'Andor' Set Continues Star Wars Tradition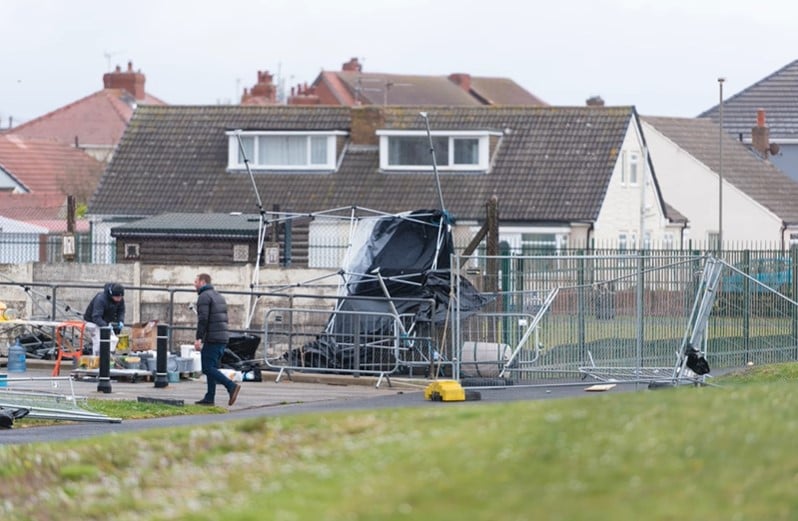 Storm damage to the set of the upcoming Star Wars: Andor streaming series on May the 4th may have caused the crew headaches, but it's actually part of an odd Star Wars tradition.
YouTube user streetrogue photography captured the damage from an apparent windstorm on the morning of May the 4th at the on-location site of filming for Andor in the United Kingdom. The footage they captured shows damage to perimeter fencing and other equipment at the site.
Andor is currently filming at Cleveleys, a small town on the Fylde Coast of Lancashire, England. Filming there is thought to continue through May 11. As with many other major Star Wars productions, the majority of filming will occur at Pinewood Studios in London and is expected to go into the summer.
This isn't the first time the weather has played havoc during a Star Wars shoot. The first winter storm in Tunisia in fifty years struck the first week of filming for A New Hope. A major sandstorm also disrupted the set of The Phantom Menace in 1997, throwing props and set pieces around in the desert.
A major blizzard in Norway hampered filming of The Empire Strikes Back, forcing the crew to improvise with Mark Hamill filming some of his walking scenes on Hoth while being filmed out the back door of the hotel the crew was staying in.
With that being the case, it's very likely Andor will turn out to be a great new entry in the Star Wars franchise.
DARBY HARN is a novelist, freelance writer and podcaster. His novels include Ever The Hero, The Judgement of Valene, Nothing Ever Ends and A Country Of Eternal Light. His short fiction appears in Strange Horizons, Interzone, Shimmer and other venues.