Updated With a Better Look at Diego Luna and the Shoretroopers! New Set Images Reveal More Star Wars: Andor Secrets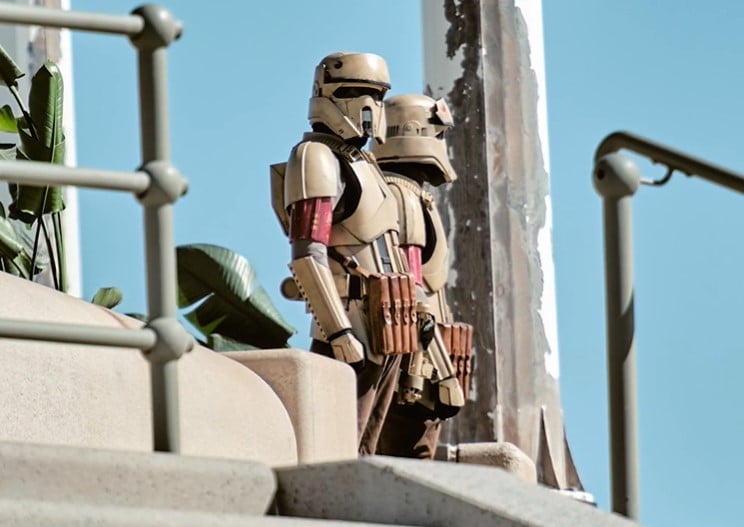 Star Wars: Andor is currently filming on location in Cleveleys, a small town near Lancashire, England and some fortunate fans have snapped some very intriguing pictures from the set.
The local Cleveleys News reveals giant green screens being erected on the set.
Green screens are in place at Anchorsholme for the #StarWars #Andor filming. pic.twitter.com/QjBG5wy60g

— Cleveleys News™ (@cleveleysnews) May 5, 2021
Some more shots at Anchorsholme this morning.

Trucks were seen trying to raise green screens high enough to block out the Norbreck Castle Hotel as it looked too squalid to appear as a feature on a devastated, dystopian, war-torn planet. pic.twitter.com/IsIP8ZgGyk

— Cleveleys News™ (@cleveleysnews) May 5, 2021
The Lancashire Post captured some intriguing shots of Imperial Shoretroopers on location.
📸 | #Andor filming – Cleveleys

(source: Lancashire Post) pic.twitter.com/o3qfvRvst7

— Andor News (@newsandor) May 5, 2021
Also we got some more pics of Shoretroopers, thanks to Chris Brown,  along with someone in a motioncapture gray jumpsuit typical for CGI characters.
More #Andor shots today in sunny #Cleveleys@cleveleysnews @visitCleveleys pic.twitter.com/phmtsWNgZP

— Chris Brown (@BrownChartered) May 5, 2021
Cleveleys News also got a video of the site being dressed to seem like a galaxy far, far away.
More photos of the market stalls this afternoon. The beach is cordoned off, the palm trees are all upright again and the stalls are all uncovered now, suggesting filming at this end should start soon. pic.twitter.com/sNmHWM5d5H

— Cleveleys News™ (@cleveleysnews) May 5, 2021
Bespin Bulletin might have done one better by getting footage of an actual scene being filmed.
'Andor' on set video of a scene being filmed! #StarWars #Andor pic.twitter.com/YWT321Usmg

— Bespin Bulletin (@BespinBulletin) May 5, 2021
Fantha Tracks also tweeted a pic of the man himself, Cassian Andor (Diego Luna) on set:
Cassian Andor – @diegoluna_ on set in #cleveleys with a #shoretrooper filming for #andor for @disneyplus started today at the set on the promenade 📸 Gary @swffdhttps://t.co/QW8evI7j35 pic.twitter.com/4WJTTHrEhl

— Fantha Tracks (@FanthaTracks) May 5, 2021
Perhaps more sneak peeks behind the scenes will be forthcoming as Andor continues filming in the U.K.!
Special thanks to @cleveleysnews, @bespinbulletin, @fanthatracks and @lancashirepost
Update!
Streetrogue Photography has uploaded a new video with an even better look at Diego Luna and the Shoretroopers on the Andor set. Check them out:
You can watch the full video with more images below:
DARBY HARN is a novelist, freelance writer and podcaster. His novels include Ever The Hero, The Judgement of Valene, Nothing Ever Ends and A Country Of Eternal Light. His short fiction appears in Strange Horizons, Interzone, Shimmer and other venues.