J.J. Abrams Responds to Whether the 'Star Wars' Sequels Should Have Been Mapped Out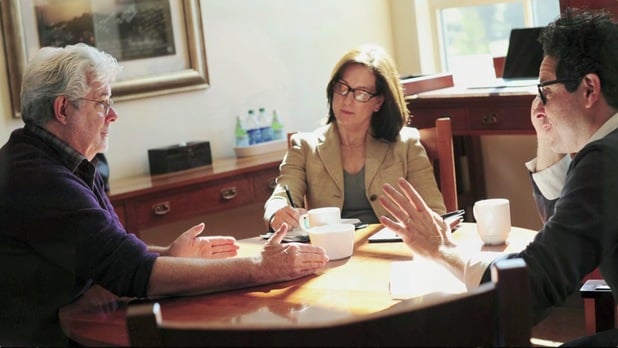 In a recent event celebrating Super 8's 10th anniversary, director J. J. Abrams was asked directly by Collider's Adam Chitwood if he thought the Star Wars sequel trilogy should have had a plan from the beginning. While Abrams didn't directly reference any of the Star Wars movies he directed, he did respond that he has learned from many mistakes he made in the past and that having a plan should be the most important part of the creative process.
He gave a long response to Collider, mentioning his past work in television among other things, but perhaps this is the most interesting part:
"You just never really know, but having a plan I have learned – in some cases the hard way – is the most critical thing, because otherwise you don't know what you're setting up. You don't know what to emphasize. Because if you don't know the inevitable of the story, you're just as good as your last sequence or effect or joke or whatever, but you want to be leading to something inevitable."
In all fairness, it should be said that he never specifically names The Force Awakens or The Rise of Skywalker, but the question was about the sequel trilogy, and the response is pretty unambiguous. Nevertheless, he also brought up that an overall plan is not the be-all-end-all, as that it sometimes is what gets in the way:
"[…] sometimes when it's not working out it's because it's what you planned, and other times when it's not working out it's because you didn't [have a plan]."
Abrams was originally supposed to helm only the first entry of the trilogy, but after Lucasfilm and Colin Trevorrow parted ways back in 2017, Kennedy went back to the guy that directed the only $2-billion movie in the franchise, which was also (and still is) the highest-grossing movie in the United States, ever. Abrams received an executive producer credit for The Last Jedi, although that movie is fully Rian Johnson's baby, for better or worse.
The Rise of Skywalker was envisioned as the conclusion of both the sequel trilogy and the entire Skywalker saga as a whole. Abrams brought back some of the concept ideas he never had the chance to bring to life when he made The Force Awakens, as well as continuing some of the storylines Rian Johnson set up (Kylo Ren and Rey speaking to each other through the force), and course-correcting on others (Rey's parentage). Whether or not these concepts or even each of the movies worked is up to the viewer to decide. What nobody can question, however, is the fact that all three movies grossed over $4 billion combined, with each one individually joining the billion-dollar club.
J. J. Abrams has now moved on from Star Wars and is developing several DC properties under his multi-billion dollar deal with Warner Bros. These projects include, among others, a Superman reboot.
Miguel Fernández is a Spanish student that has movies as his second passion in life. His favorite movie of all time is The Lord of the Rings, but he is also a huge Star Wars fan. However, fantasy movies are not his only cup of tea, as movies from Scorsese, Fincher, Kubrick or Hitchcock have been an obsession for him since he started to understand the language of filmmaking. He is that guy who will watch a black and white movie, just because it is in black and white.