'The Mandalorian': ILM Goes Deep Into the Stagecraft Technology Used for Season 2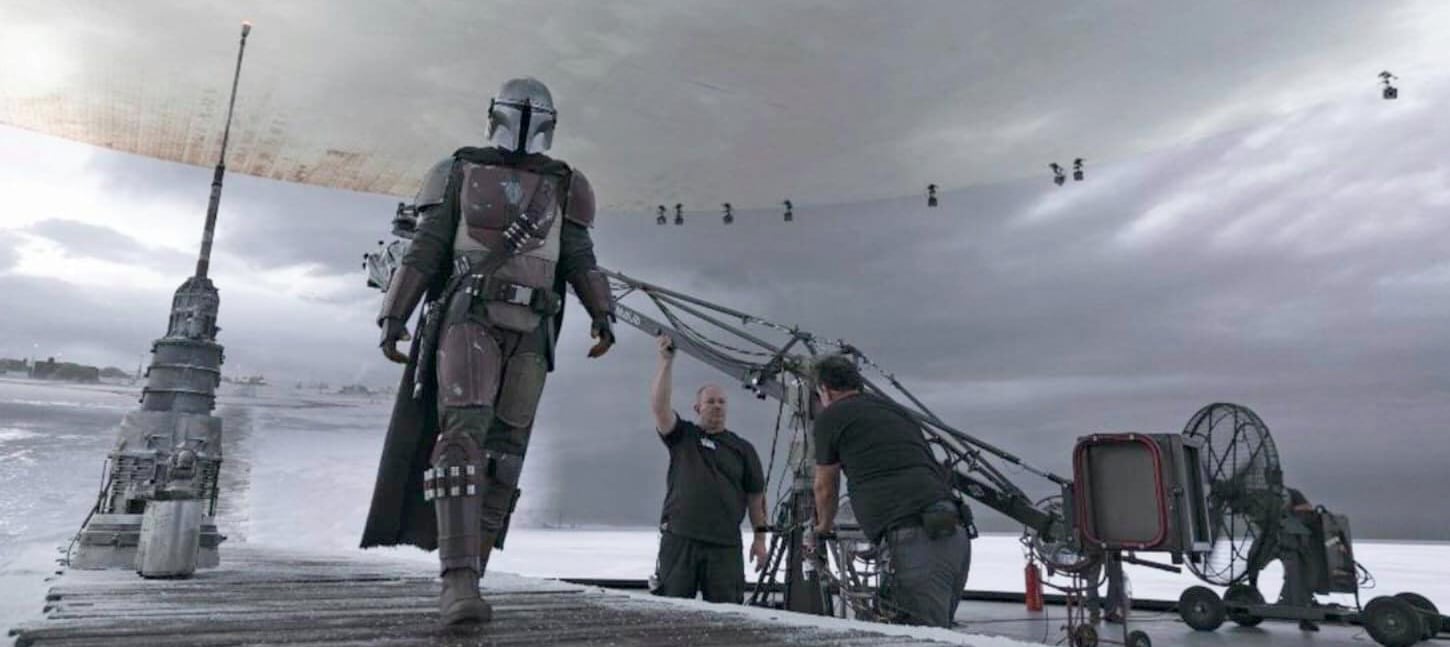 On April 1st of this year, ILM took the opportunity to lift the curtain and reveal how they have been completely fooling us in the second season of The Mandalorian. We already knew that for season 2, they had built an even larger Volume, and they had doubled down on their investment in this new technology, which is probably going to define the next 10 years of visual effects.
The Volume is the name given to the room where the visual effects company has built a massive LED screen, in which using the StageCraft technology, they can project the entire background of every scene they film in the show. This allows them to combine all three steps of making the show in one – pre-production, production, and post-production really merge into filming because as they enter the set each day, they are changing things on the spot as they please. But this is not just an image projected on a screen – for example, if they decide they want to have the sunset behind Mando as he walks through the planet, they can rotate the background so that happens, but if then they decide they prefer to have a mountain, they can do so. It saves them tons of time and money.
Visual effects work on The Mandalorian was completed in all five of ILM's studios (located in San Francisco, Singapore, Vancouver, London, and Sydney) as well as a contingent of other vendors working for ILM. The season's eight episodes encompassed nearly 5000 visual effects shots in addition to all of ILM's real-time effects work done for use during principal photography.
From ILM:
For the second season of Lucasfilm's hit Disney+ series, The Mandalorian, Industrial Light & Magic reengineered their StageCraft virtual production platform rolling out version 2.0 in which ILM introduced among other things, Helios, Industrial Light & Magic's first cinematic render engine designed for real-time visual effects. Engineered from the ground up with film and television production in mind, Helios offers incredible performance, high fidelity real-time ray tracing, the ability to rip through scenes of unparalleled complexity, all while leveraging ILM's unrivaled color science, and was designed from the start to work seamlessly with ILM StageCraft.

The purpose-built, production-hardened platform allows filmmakers to explore new ideas, communicate concepts, and execute shots in a collaborative and flexible production environment.
Here you can watch the video:
Miguel Fernández is a Spanish student that has movies as his second passion in life. His favorite movie of all time is The Lord of the Rings, but he is also a huge Star Wars fan. However, fantasy movies are not his only cup of tea, as movies from Scorsese, Fincher, Kubrick or Hitchcock have been an obsession for him since he started to understand the language of filmmaking. He is that guy who will watch a black and white movie, just because it is in black and white.