'Star Wars: The Rise of Skywalker' Was Eyeing Judi Dench for a Role That Was Eventually Scrapped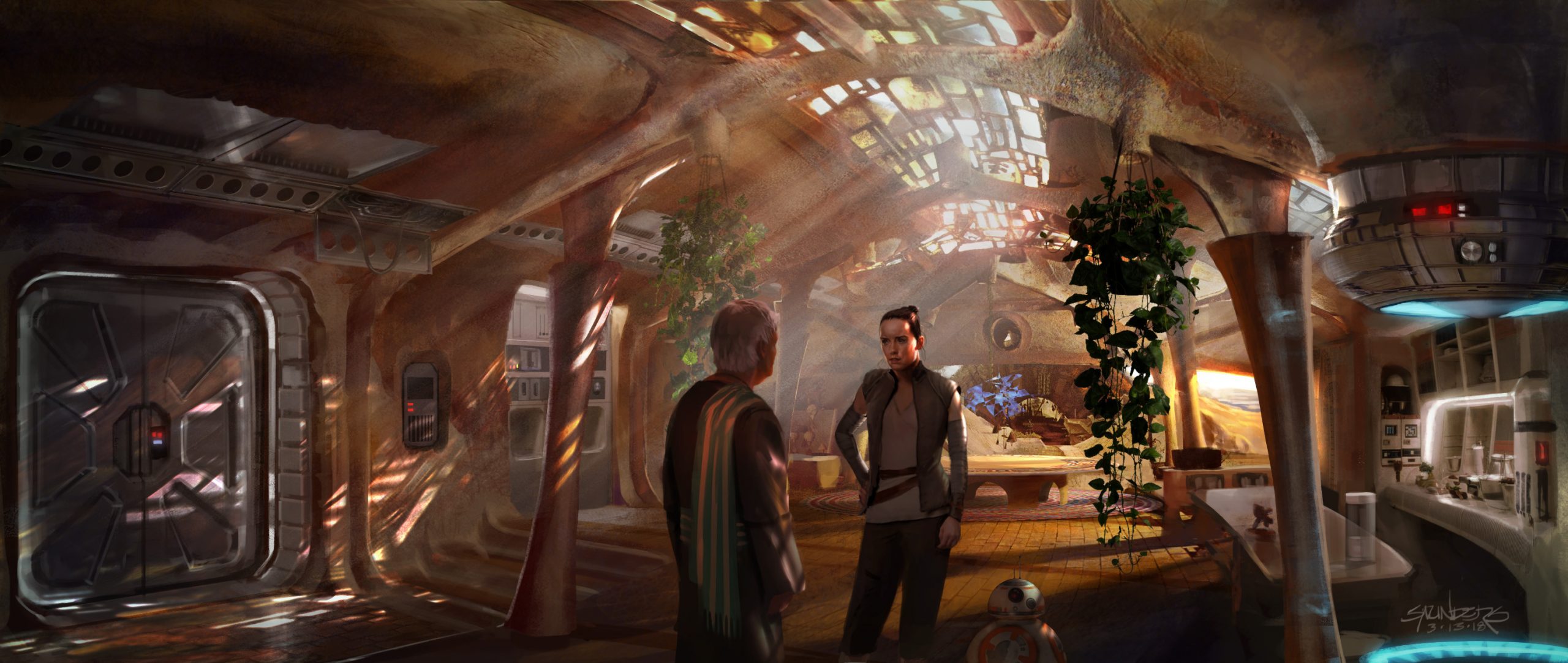 Last week, Phil Saunders, who is a veteran concept artist that worked on Star Wars: The Rise of Skywalker, revealed an early design of a scene in the movie from an early draft of the script that would have featured Rey meeting the original designer of the Millennium Falcon. Apparently, legendary actress Dame Judi Dench was the ideal portrayer of that character. Saunders, who worked on some of the biggest movies of the decade, including both Avengers: Infinity War and Avengers: Endgame (although The Rise of Skywalker is his only Star Wars title), posted details about the early idea.
Saunders, via his Art Station:
"Another random shot from 'Star Wars: The Rise of Skywalker.' In an earlier version of the script, Rey would have sought out the original designer of the Millenium Falcon to find a piece of hardware that could stop the First Order armada. Dame Judy Dench was on the wishlist for the role, and would have been great. Rey finds her on yet another desert planet of course, and her home would have been carved into the top of a spectacular mesa. I was just tasked with adapting a piece of reference provided by the art department into an interesting interior."
While it is not 100% clear, it looks like Disney never initiated talks with the actress for the role, and they were rather modeling the character after her, hoping she would sign up. It is also unclear if there were other names on that wishlist, and, if there were, whether they were as high-profile as Judy Dench. Had the role made it through, it wouldn't have been the strangest thing in the world for Dench to come aboard. She filmed Artemis Fowl for Disney in 2018, a few months after this draft was written, so she probably was already in the Disney family. Additionally, it wouldn't have been her first franchise role, as she most notably played M in all Daniel Craig Bond movies.
In a few years, this will probably be one of those fun trivia details that gets brought up once in a while. Looking back, it would have been an awesome reveal if Disney had managed to keep it a secret. After all, it looks like her appearance in the film was going to last one or two scenes, and would have been a nice surprise to see in the theater. The Rise of Skywalker and keeping secrets did not pair well in 2019, but maybe Julia Louis-Dreyfus could have something to say about keeping a secret inside the Disney lot (if you know, you know).
The description of the scene fits very well inside the final version of The Rise of Skywalker, which for better or worse ended up being a very plot-heavy movie. Having Rey go to a certain place to find a thing that would help them take down the bad guys looks like any other scene from that movie. The origins of the Millennium Falcon have never really been explored on screen, but maybe we could see it later down the road if they ever decide to keep exploring the characters of Han and Chewie in any sort of continuation to Solo. Who knows, maybe Judi Dench could appear then.
For now, the next Star Wars movie coming up will be 2023's Rogue Squadron, from director Patty Jenkins.
Miguel Fernández is a Spanish student that has movies as his second passion in life. His favorite movie of all time is The Lord of the Rings, but he is also a huge Star Wars fan. However, fantasy movies are not his only cup of tea, as movies from Scorsese, Fincher, Kubrick or Hitchcock have been an obsession for him since he started to understand the language of filmmaking. He is that guy who will watch a black and white movie, just because it is in black and white.