'Obi-Wan Kenobi' Series Set Video Gives Up-Close Look at Physical Structures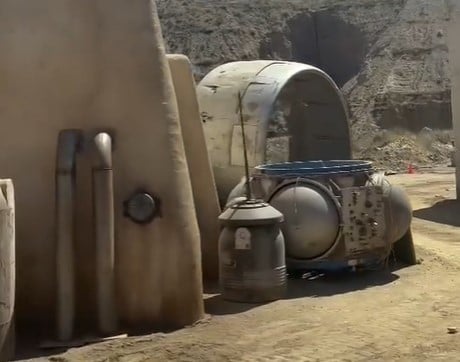 An up-close drive-through video of the Obi-Wan Kenobi series set gives an incredibly detailed look at a lot of the physical buildings and structures built for the Disney Plus show at its Southern California location. Check it out below!
The video comes from TikTok user ayalatvjr, brought to our attention by BespinBulletin, and shows an on set drive-by of the massive set productions being built for the limited series. From our perspective this spoils absolutely nothing for the show, but definitely serves as an exciting look at what they're creating for the return of Ewan McGregor's Obi-Wan Kenobi to Star Wars. Here is the video in its entirety.
The location clearly looks like Tatooine, which should come as no surprise, as the planet will be heavily featured in the series, considering Obi-Wan is exiled (and lives) there and we know Owen and Beru are returning as well. The most exciting part has to be the fact that they are following the footsteps of the Andor series, which has also built large sets for its production in the UK. It looks like the Kenobi series will utilize these physical sets in addition to the widely praised LED set known as "The Volume". The series is filming in Southern California, where The Mandalorian was filmed, so fans should expect similar production styles.
Filming for Obi-Wan Kenobi begins this month and will be a limited one-season series directed by Deborah Chow, and marking the return of Ewan McGregor as Obi-Wan for the first time since 2005's Revenge of the Sith. The series is expected to debut on Disney Plus in 2022.
John Hoey is the Lead Editor and Senior Writer for Star Wars News Net and the host of The Resistance Broadcast podcast
"For my ally is the Force, and a powerful ally it is."