Jabba the Hutt Gets a One Shot Comic for Marvel's 'War of the Bounty Hunters' Crossover Event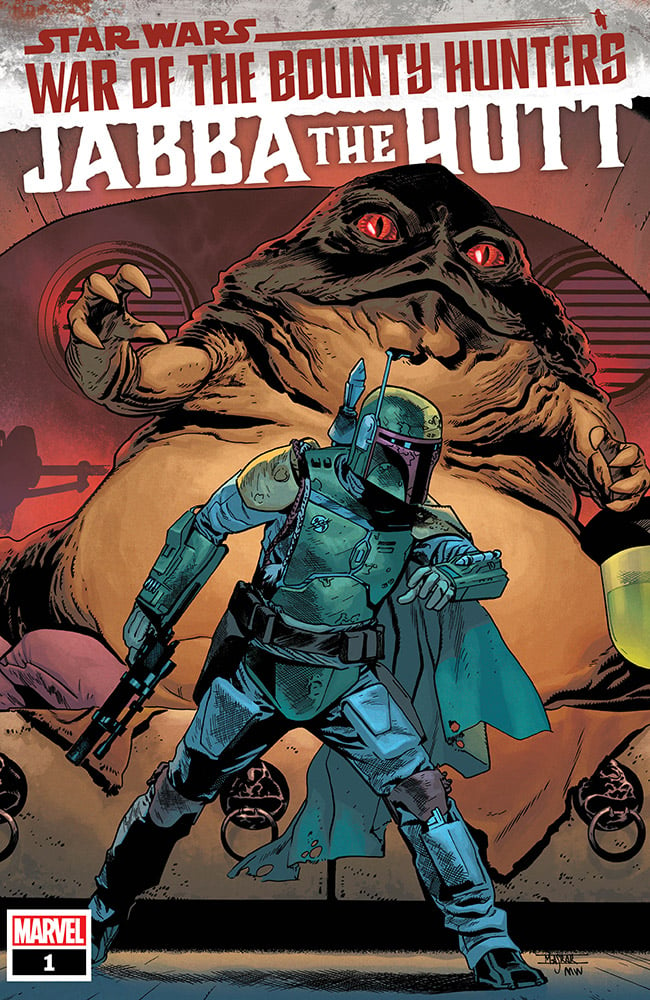 StarWars.com have just revealed a new addition to Marvel's upcoming  comic book crossover event War of the Bounty Hunters: A Jabba the Hutt one shot written by Justina Ireland (Spark of the Resistance, The High Republic: A Test of Courage) 
The event, that will detail 'Boba Fett's struggle to deliver Han Solo to Jabba the Hutt', is looking to be a massive event as it incorporates all of the Marvel post Empire Strikes Back comics (which is all but The High Republic). It makes sense that the slimo crime lord Hutt would get his own issue, considering he is the reason behind Han Solo's high bounty and Fett's relentless mission.
Here's the issues synopsis:
JABBA NEVER FORGIVES! JABBA NEVER FORGETS!

JABBA THE HUTT is one of the most powerful and ruthless gangsters in the galaxy—and BOBA FETT, his most trusted bounty hunter, has failed him. How will Jabba deal with betrayal? VIOLENTLY. And what does this have to do with a bounty hunter with ties to the HIGH REPUBLIC?
For Ireland's thoughts on taking on the issue and a look at the variant covert, jump over to StarWars.com.
This looks to be the biggest Star Wars comic book crossover we've seen since it returned to Marvel in 2015. We've seen the flagship Star Wars title crossover with the Darth Vader series in Vader Down and with Doctor Aphra in the The Screaming Citadel with one-shots to introduce the story. This is on another level, the event will kick off on May 5th with War of the Bounty Hunters Alpha 1 and will then incorporate issues of Star Wars, Darth Vader, Doctor Aphra, and Bounty Hunters from May through to July, along with War of the Boutny Hunters #1-5 that will be released from June through October. Finally, with the news of this Jabba the Hutt one-shot, we may be getting even more!
If you want to know more about the behind scenes, it's War of the Bounty Hunters Week on StarWars.com, otherwise stay tuned to Star Wars News Net for all the latest.
Alex Newman is huge Star Wars fan and loves to keep up to date with the canon. He's also loved movies for as long as he can remember. He's a massive Disney and superhero fan but will watch anything. He's worked at a cinema, a comic book store and at Disney World but is currently working in radio in London!