Doctor Aphra by Sarah Kuhn Now Available in Hardcover
Chelli Lona Aphra, better known as Doctor Aphra, has come a long way since her first appearance in Marvel's Darth Vader #3. While many fans and I keep our fingers crossed she'll pop-up in one of the many Disney+ series announced (Or, even get her own!), last summer author Sarah Kuhn and an amazing group of actors brought Doctor Aphra to life for the first time in an audiobook production. Today, you can finally add this wonderful story to your bookshelf with a gorgeous hardcover copy of Sarah Kuhn's script!

Fans of Doctor Aphra were over the moon for this audiobook and it's also a great introduction to who Chelli Lona Aphra is and her past. Currently, writer Alyssa Wong is charting Doctor Aphra's journey through the galaxy far, far away in the ongoing Marvel series. If you're feeling left behind because there are so many issues, this story is a great place to start.
This hardcover gave me an opportunity to revisit Doctor Aphra and the story is even better the second time around. It's also a very quick read! Aphra's had a winding, moral journey through both the good versus evil battle raging and her own losses and loves. The latter is the highlight of Doctor Aphra. Sana Starros, Aphra's first love, comes back into her life when she's being dispatched by Darth Vader and facing off against the Rebel Alliance. My full review from last summer is here, but the story hits even harder when revisited through the text. There were even some scenes I read along with as the audiobook played.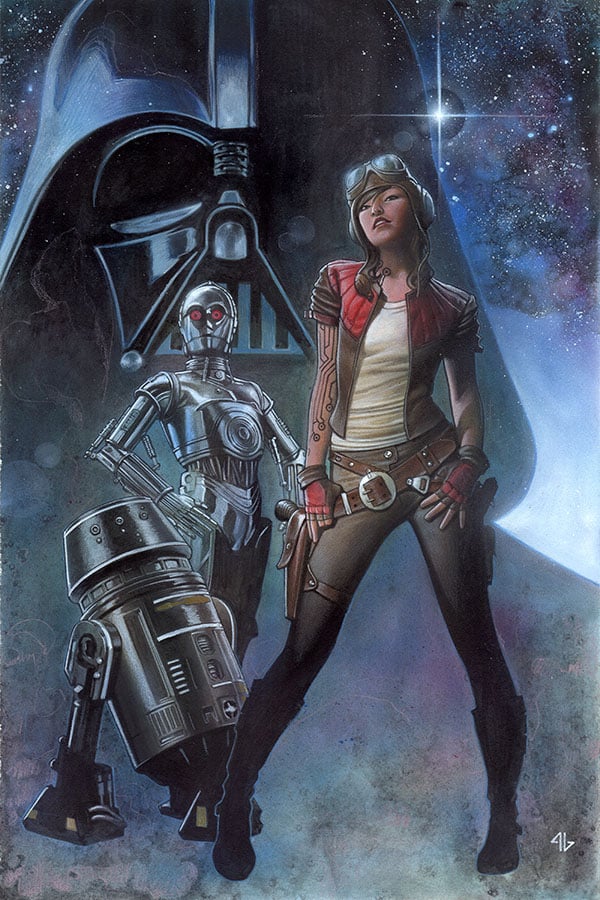 Bringing this story to the page was also no small feat. Sarah Kuhn adapted several issues across several Marvel Star Wars titles while adding in tender moments of her own. We are so lucky to have a writer as gifted as Kuhn. Flawlessly, she adapted the big moments from the comics and emphasized the weight of each one. It's also a great reminder that Star Wars is at it's best when it's a love story. You'll definitely need your tissues for the hardcover, too.
If you've been sleeping on this character you are missing out but this hardcover is the perfect way to start catching up. Add it to your summer reading and it also looks damn good on your bookshelf!
And of course, if you don't have time to read my review and want to know about the story, James Baney and I can help. The SWNN Book Discussion and What Happened in Doctor Aphra in the videos are below so you can hear our thoughts. If you've been sleeping on this character you are missing out but this hardcover is the perfect way to start catching up.
Doctor Aphra by Sarah Kuhn is now available wherever books are sold. Special thanks to Del Rey for the advance review copy!
Kyle Larson lives in Portland, Oregon. When he's not running trails, he's reading and writing.