Exclusive – Take A Look at Two New Recipes in Star Wars: Galactic Baking from Insight Editions
Looking to combine those baking skills with your fandom? Well, Insight Editions has you covered with Star Wars: Galactic Baking. After losing our collective minds of Grogu's space macaroons, we can finally set out to bake those treats and many others with this collection of far out recipes. After the success of Galaxy's Edge: Black Spire Outpost cookbook, Galactic Baking will help you come up with deserts and delicious treats to pair with those meals or enjoy on their own. And Insight Editions was kind enough to share two forthcoming recipes exclusively with us!
Pre-heat that oven, get those measuring cups ready, and put on your favorite Jedi robe…I mean apron…to embark on a delicious journey.
Though we're a little past the holiday season, this Life Day Cake looks like the galaxy far, far away version of a panettone. Grab your preferred brand of blue milk and toast the closest Wookiee to celebrate!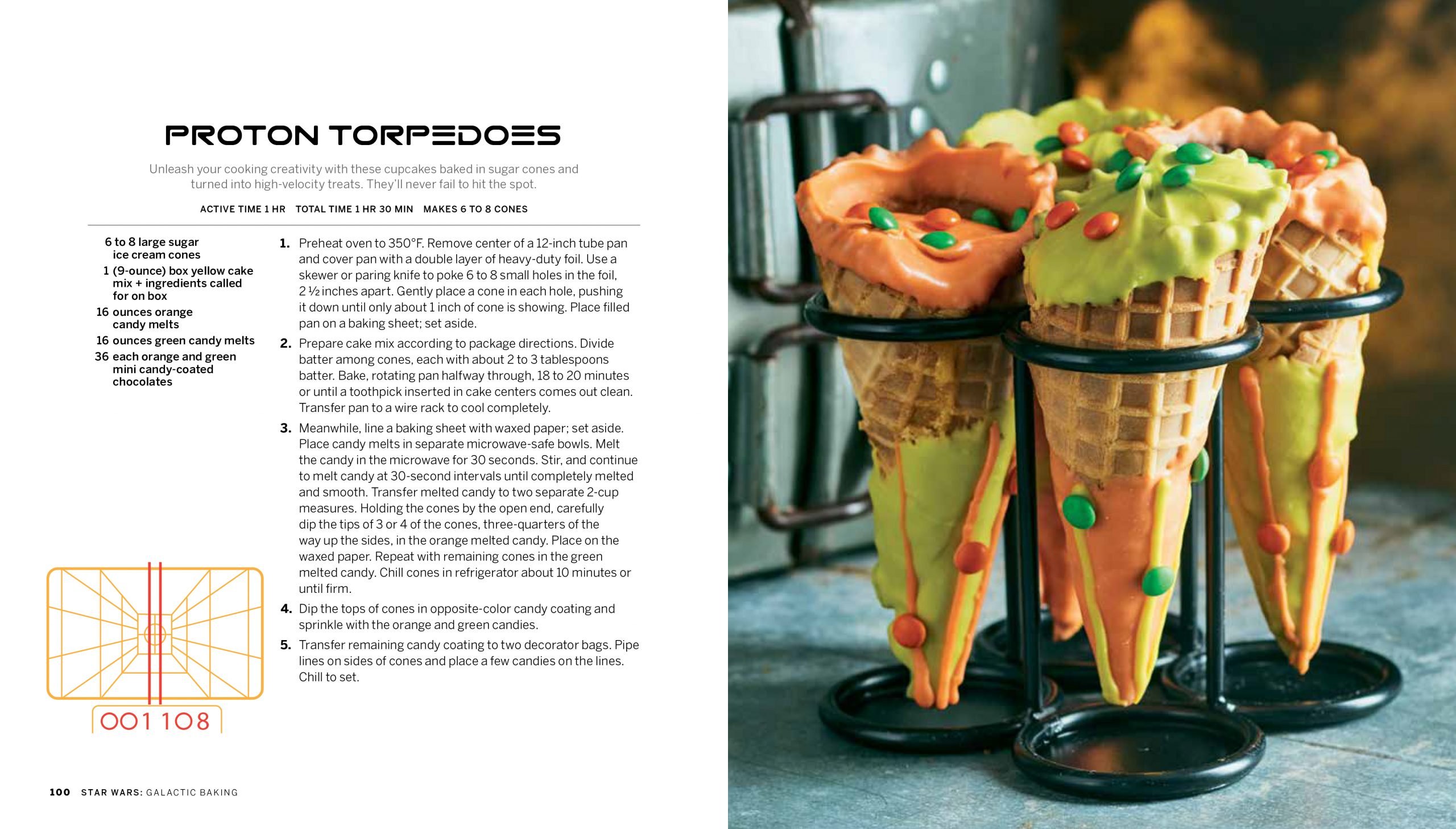 Now these Proton Torpedoes look so decadent they might even fill up a Hutt. The recipes in Galactic Baking look to not only recapture classic moments from Star Wars overall but also a visual play on the elements of the galaxy far, far away. These Proton Torpedoes will likely be racing for your mouth with the same determination as those headed for the exhaust port of the Death Star.
From Insight Editions:
Embark on a baking journey through the Star Warsgalaxy, and craft scrumptious treats inspired by fan-favorite planets with STAR WARS:GALACTIC BAKING (Insight Editions; $19.99), out on May 4, 2021–the annual Star WarsDay on "May the 4th." Get ready to tour the galaxy with this baking cookbook inspired by the snowdrifts of Hoth, the wastelands of Tatooine, and beyond. Star Wars: Galactic Bakingis the most delicious way to experience the planets, flora, and fauna of the Star Wars galaxy. Whether you're throwing a watch party or hosting members of the Galactic Senate, this cookbook is a must-have for fans of all ages. Featuring over thirty mouthwatering recipes: Star Wars: Galactic Baking features recipes such as Mustafarian Molten Lava Cakes, Cloud City Marshmallows, Life Day Cake, Loth-Cat Kibble, Keshian Spice Bread, Dagobah Bog Pie, and more. The book is packed with stunning food photography that's sure to inspire your inner chef, this cookbook will transport you to planets such as Kashyyyk, Jakku, Endor, Bespin, Coruscant, and everywhere in between. This amazing book is perfect for all baking skillsets—from Padawans to Jedi Mastersin the kitchen—and the recipes are based onelements fromthe entire Star Warstimeline, from the Skywalker Saga and beyond! This book is available for preorder wherever books are sold, and will officially launch on the annual Star Wars Day – May the 4th!
I'm already making counter space for these afternoon baking projects! This book sounds like a lot of delicious fun! The Force is strong with this sweet tooth.
Star Wars: Galactic Baking is available for pre-order now and out May 4th wherever books are sold!
Kyle Larson lives in Portland, Oregon. When he's not running trails, he's reading and writing.