'Star Wars: Light Of The Jedi' Tops New York Times Best Sellers List As 'The High Republic' Line Begins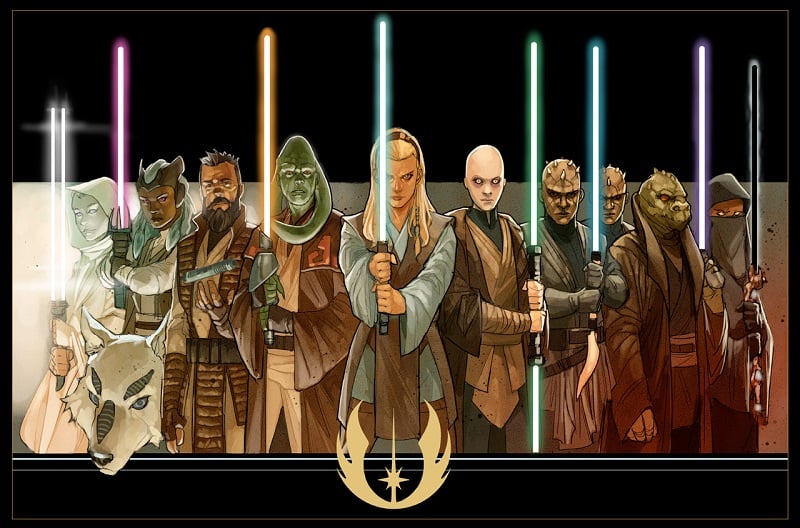 The multimedia Star Wars: The High Republic line is off to a solid start with the first book installment, Light of the Jedi, topping the charts of the Best Sellers list in The New York Times.
A week after its release, Light of the Jedi author Charles Soule is pleased to announce that his first installment in this publishing effort has managed to top the Best Sellers list. Currently, its closest competition is The Duke and I, the first installment of the Bridgerton series which just received a successful Netflix adaptation. Soule thanks the fans for Light of the Jedi's success so far:
LIGHT OF THE JEDI will debut at #1 on the New York Times bestseller list.

Thank you so much. pic.twitter.com/apIyP6O4Yf

— Charles Soule (@CharlesSoule) January 13, 2021
Set in a golden age of the Republic, The High Republic focuses on a series of stories set in an era centuries to decades before the events of The Phantom Menace, showcasing a time period never before explored in the context of Star Wars canon. While the Sith remain in hiding to plot their plan for revenge, the Jedi of this era have to deal with a variety of never-before-seen threats that surface in the aftermath of a cataclysm. A group of marauders known as the Nihil were successfully able to derail multiple ships out of hyperspace, one of which appears to be on a collision course with a star, leading to a chain reaction of events so explosive that they could kill billions of people. Light of the Jedi covers much of this backstory and showcases the daring efforts of the Jedi, who push themselves to the limit to rescue the populace of an entire star system from certain doom.
Aside from books, The High Republic is set to expand into other media including comic books, virtual reality, and even television with the series Star Wars: The Acolyte taking place at the end of this era. It's expected that the era will be thoroughly explored over the course of the next few years, and with a solid start, it seems likely that The High Republic will soon become a mainstay of the continuity as creators explores a variety of Star Wars eras beyond the Skywalker saga.
Star Wars: Light of the Jedi by Charles Soule is available now.
Grant has been a fan of Star Wars for as long as he can remember, having seen every movie on the big screen. When he's not hard at work with his college studies, he keeps himself busy by reporting on all kinds of Star Wars news for SWNN and general movie news on the sister site, Movie News Net. He served as a frequent commentator on SWNN's The Resistance Broadcast.