Updated with the Winner! The Wampa Rug Strikes Back With A Giveaway!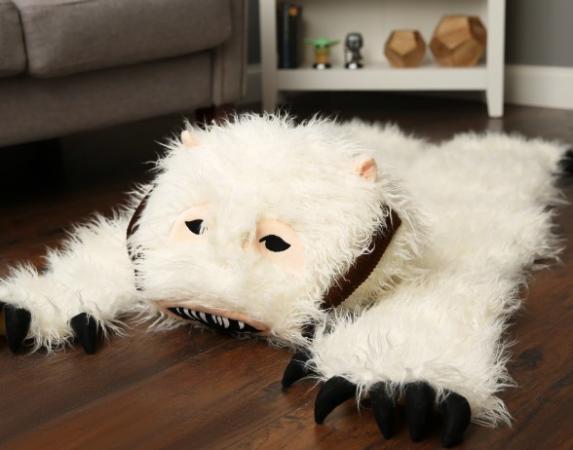 The wampa rug is back! The furry creature rug that was a favorite among Star Wars fans has returned with a new improved build and lower price. With the holidays right around the corner and those chilly winter months among us, the wampa rug seems like a great fit for any Star Wars inspired space. The new rug has just launched with a price of $59.99, and fans can purchase one here.
And don't worry, you don't have to travel to Hoth for more details, just see below! You also have a chance to win your own wampa rug!
(From FUN.COM):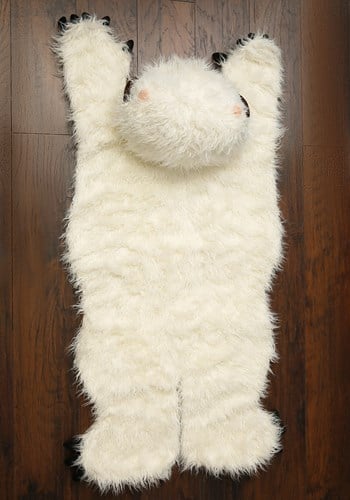 Listen, we get it. Wampas aren't exactly the most friendly critters on Hoth. You've seen Star Wars: Empire Strikes Back, right? They're known for attacking anyone who wanders too close to their den. They'll steal your Tauntaun and leave you stranded in a frozen tundra. Then, they'll freeze you to the ceiling and eat your Tauntaun for breakfast… and then plan to eat you for dinner! All that being said, it's totally not cool to hunt a Wampa for its fur. Even those angry creatures have a right to be left alone and besides, you can get a great Star Wars trophy without hunting a Wampa!

The good news is, you don't have to! With this Star Wars Wampa Fur Rug, you get a nice, soft rug for your home and not a single Wampa needs to be harmed.

This Wampa Rug is designed for those who want that Wampa-style, but still have no desire to hunt the angry beasts from Star Wars: The Empire Strikes Back! The rug recreates the look of the snow-colored fur from the movie and can be used to spruce up any home or office. Of course, it also makes sure that we leave those Wampas alone!
We've partnered with FUN.com to give you a chance to win your own personal wampa rug! Want to bring this Star Wars creature home?
To enter answer the following question in the comment section:
What is your favorite moment in THE EMPIRE STRIKES BACK?
You have until 12:00 PM Eastern on Monday, December 7th to enter. One winner will be chosen at random from the comment section (all participants must answer the question in their comment to be eligible) and contacted by SWNN for shipment information. Due to shipping limitations, the contest is limited only to participants from North America.
Stay tuned to Star Wars News Net for more giveaways and May The Force Be With You!
Update!
And the winner (picked by Google's random number generator) is: JazzNinJa.
The winner should send us an email at viralhide@gmail.com with his/her full name and address for the prize. Disqus is not giving us access to the users' emails, so we can't reach out ourselves.
Thanks to all who participated. Till next time.
Lacey is a co-host on SWNN's official podcast The Resistance Broadcast. You can see and hear her Monday and Thursday recapping the news and having deep discussions with the rest of the TRB crew. When not podcasting, Lacey provides live coverage for events like Star Wars Celebration, New York Comic Con, and more! A Star Wars Fan since 2nd grade, she has always been drawn to the characters and adventures in a galaxy far, far away. You can usually find her either watching The Force Awakens for the 100000th time, or looking for art, toys and collectibles to add to her ever-growing collection. Geek out with Lacey on Twitter and Instagram - @laceygilleran.