Pedro Pascal Physically Played The Mandalorian Much More in Season 2; Explains How He Approaches His Performance
In season 2 of The Mandalorian we have seen Din Djarin show much more vocal and physical attachment to Grogu, the character formerly known as The Child. It is hard enough to sell an audience on building a relationship with a puppet, let alone trying to pull that off beneath a mask, but it is clear Jon Favreau found the right actor for the job in Pedro Pascal. In an interview with Entertainment Weekly, the actor delves into the challenges of playing the role in season 2 and what he does to establish the character's personality and presence while covered head-to-toe in armor.
Many Star Wars fans who enjoyed season 1 of The Mandalorian don't know that Pedro Pascal spent very little time physically in the suit on set, with most of his performance coming through via voice recording. The season 2 filming schedule permitted Pascal to physically play Din Djarin much more, and the actor explains the biggest challenges with delivering a rounded character who is hidden behind a mask.
"The biggest challenge in playing Mando in season 2 is still the obvious, in that, how to in subtle ways, be it through vocal intonation or physical stillness/posture, large movements, small movements, to dramatically convey a scene and keep the character compelling because he is economical anyway, much less being armored from the tips of his toes to the top of his head. It is a physical challenge that is met creatively in terms of how technically you can achieve that. It will always be particularly unique in that regard."
Like any professional and seasoned actor, Pascal brought lessons he learned from stage acting to establish framing and posture, incorporating all of the tools he learned form the world of physical acting to make up for the lack of being able to emote and sell a performance using his face.
"I'm not even sure if I would be able to do it if it weren't for the amount of direct experience that I've had with being on stage to understand how to posture yourself, how to physically frame yourself into something and to tell a story with a gesture, with a stance, or with very, very specific vocal intonation."
The interview was done well before the reveal of The Child's name Grogu, but regardless of his name, Pascal knew that the show would be a major hit because of the adorable little green guy.
"It is why I wanted to do this show. Selfishly, I knew [the Child, a.k.a. Baby Yoda] was likely to make people fall in love with the show."
But who was Pascal's favorite person on set besides Grogu?
"I followed Amy Sedaris around like a puppy. [I was] like, 'Hey again. I'm not leaving your side until you wrap,' and she's like, 'Cool,'" Pascal says. "I love the Child — it really is adorable — and it is so fascinating to see it work, but somebody who makes you spit-laugh right into your helmet will always be my favorite thing."
While he clearly likes to joke and have fun, Pascal is also very self-aware when it comes to how fortunate he is to do what he does while understanding and never abandoning the big picture of life, the human condition. If you watch video interviews with Pedro Pascal, which I recommend, you will see a very human, very sensitive person who wears his heart on his sleeve. He is the star of one of the biggest shows in the world yet carries himself with an incredibly genuine and infectious humbleness that make you want to root for him in everything he does, even if he doesn't need it.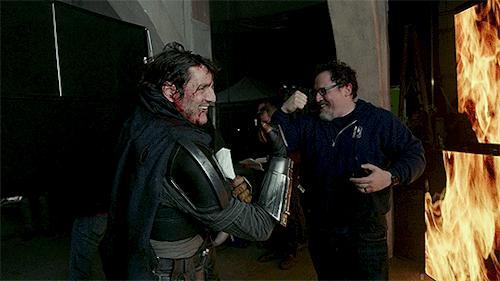 Star Wars is fortunate to have someone as talented as Pascal to lead its inaugural Disney Plus series. As Grogu continues to humanize Din Djarin and their bond grows stronger, the character will undoubtedly have some heavy scenes ahead, and they couldn't have asked for a better actor to deliver those performances. As good as The Mandalorian has been, Pascal is just scratching the surface, and we are along for the ride. Wherever he goes, we go. This is the way.
John Hoey is the Lead Editor and Senior Writer for Star Wars News Net and the host of The Resistance Broadcast podcast
"For my ally is the Force, and a powerful ally it is."