George Lucas Retired From 'Star Wars' To Spend More Time With His Family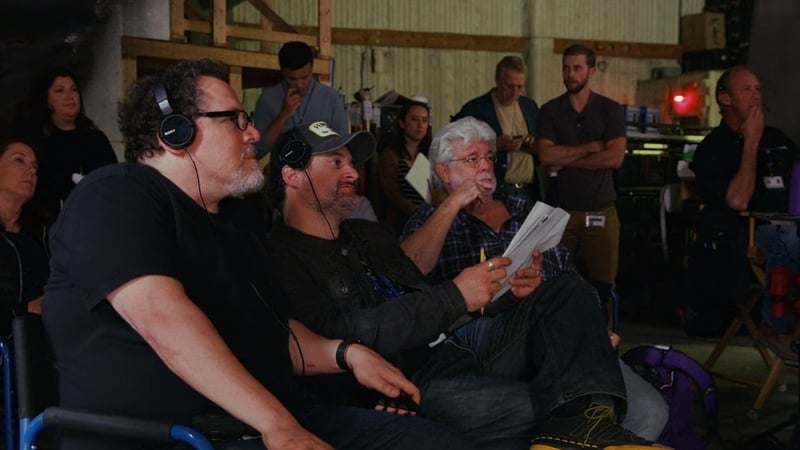 In 2012, George Lucas made the decision to sell the Star Wars franchise to The Walt Disney Company. Now it's come to light that the reason he did so was that wanted to spend more time with his wife, newborn daughter, and other children rather than invest another decade of his life developing a new trilogy.
In a new interview released in The Star Wars Archives: Episodes I-III 1999-2005, Paul Duncan got an opportunity to talk with George Lucas about his plans for the sequel trilogy, which at one point included the likes of Maul and Talon. (Those ideas were later repurposed by Lucas for the likes of The Clone Wars with Maul and a later pitch for what would become The Force Awakens with Talon, though her character was excised from the story in favor of making Leia and Han's son a villain from the start.) The big takeaway from it is that Lucas realized that he'd need a decade to complete a trilogy from start to finish if he wanted to do it his way, and that was simply time that he thought was more well-spent with his family:
"In 2012 I was 69. So the question was am I going to keep doing this for the rest of my life? Do I want to go through this again? Finally, I decided I'd rather raise my daughter and enjoy life for a while… I'm one of those micromanager guys, and I can't help it. So I figured I would forgo that, enjoy what I had, and I was looking forward to raising my daughter."
George Lucas met Mellody Hobson in 2006, and the two had a long relationship before they married in 2013. They had a child, Everest Hobson Lucas, that same year. While the sale happened in late 2012, Lucas was likely planning for marriage and becoming a father once again before signing the papers putting Lucasfilm in the hands of Bob Iger.
Check out an excerpt of the interview below:
Why did George Lucas sell Lucasfilm in 2012? He tells me why in this extract from my new book The #StarWars Archives Eps I-III. My unboxing video here: https://t.co/M907YGZsjm pic.twitter.com/MEPRStOil8

— Paul Duncan (@kershed) December 3, 2020
It's no secret that George Lucas was burned out on the fan response to the prequel trilogy at the time of release in response to hearing choruses of awful sayings like "George Lucas raped my childhood", which extended from 1997 with the controversial Special Edition changes even to 2012 with the release of Cartoon Network's final televised season of The Clone Wars. Even though his work has been reevaluated over the years, he outright said "Why would I make any more [Star Wars movies], when everybody yells at you all the time and says what a terrible person you are?" in 2012, even while he was coming up with an outline for a new trilogy for a new buyer to utilize. With that in mind, Lucas seems to indicate a bit of disappointment that he was not consulted more frequently on the sequel trilogy in spite of enjoying his retirement – although he's kept in touch with the company since the sale, as seen in the featured image where he got to watch development of The Mandalorian alongside series executive producers Dave Filoni and Jon Favreau.
The Star Wars Archives: Episodes I-III 1999-2005 is written by Paul Duncan and is available to purchase now.
Grant has been a fan of Star Wars for as long as he can remember, having seen every movie on the big screen. When he's not hard at work with his college studies, he keeps himself busy by reporting on all kinds of Star Wars news for SWNN and general movie news on the sister site, Movie News Net. He served as a frequent commentator on SWNN's The Resistance Broadcast.