Empire Magazine Reveals 'The Mandalorian' Cover
Empire Magazine has revealed the two covers for the February issue that goes on sale next week. The main image is the one above, with an extra one featuring The Child, a.k.a. Grogu, exclusive to subscribers (art by Sam Gilbey). The main cover for the issue has Rosario Dawson's Ahsoka Tano wielding those two white lightsabers, watching Din Djarin's back while he holds Grogu and wields the Beskar spear that might play a big role into this week's season finale.
Additionally, the issue will have more content from The Mandalorian inside, with an article from Ben Travis exploring the show in the context of the overall franchise, and a very extensive article pointing out up to 101 Easter eggs from the show.
The Mandalorian ends this week with the eighth and final episode of the second season, with the director yet to be revealed. It will come back for the third season, which is shooting right now, next Christmas.
Here is the main cover for February's issue of Empire Magazine: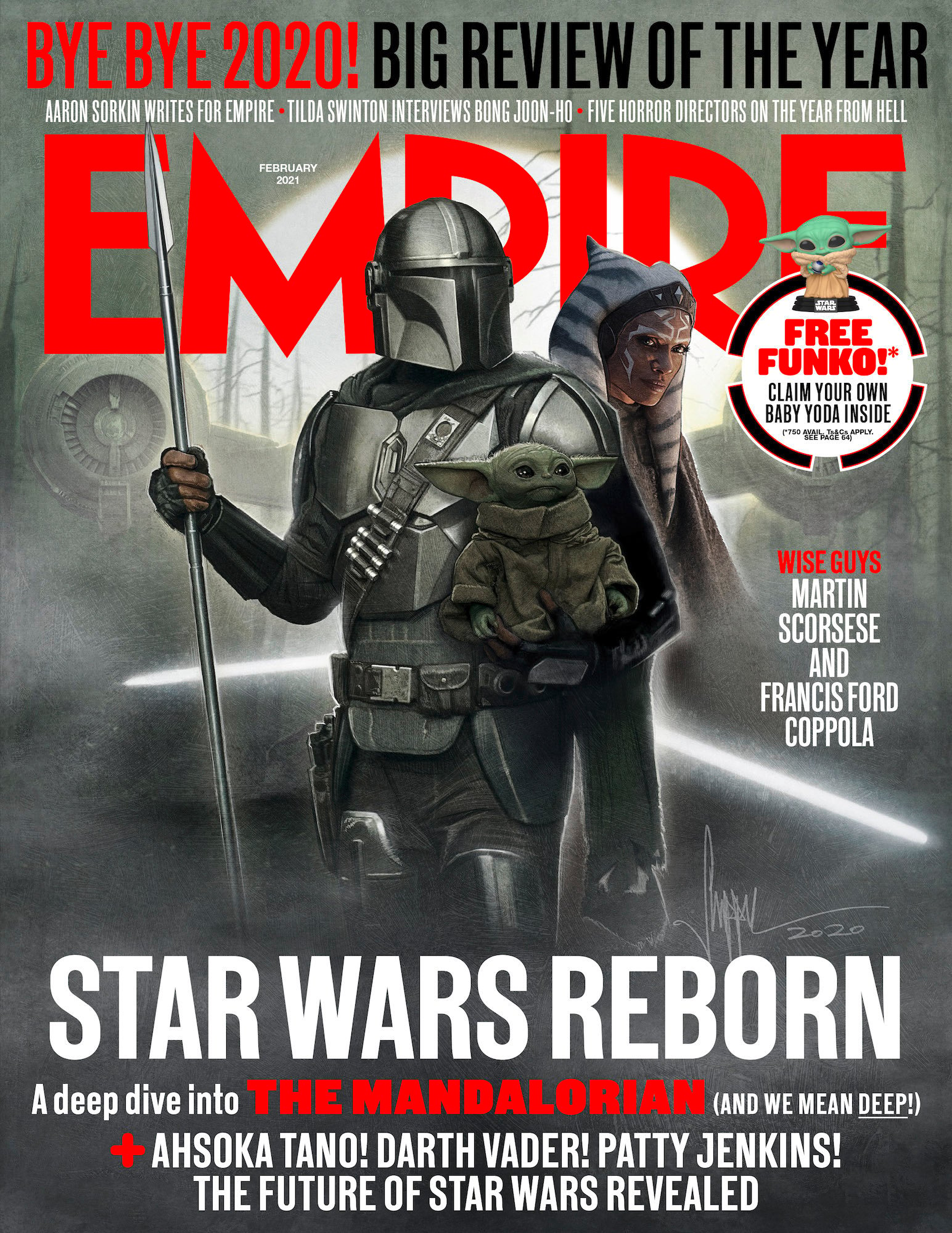 And here is the subscriber-exclusive cover:
Also the Empire's Twitter account shared a few more details about the upcoming issue. Check it out:
Empire's February issue goes on sale next week, with this exclusive #Mandalorian cover, illustrated by @paulshipper . pic.twitter.com/yjECr6QDWD

— Empire Magazine (@empiremagazine) December 15, 2020
But that's not all! Delve into the issue and you'll discover a trove of #StarWars goodness, including @BenSTravis' excellent piece on how the show saved Lucas' franchise, the secrets Baby Yoda might be hiding, and how Jon Favreau created is the ultimate space Western. pic.twitter.com/thy6poT12x

— Empire Magazine (@empiremagazine) December 15, 2020
Plus, we delve deep into the holocron to dig up 101 Mando Easter eggs you might have missed, take a comprehensive look at the future of the Star Wars universe on both big screen and small, and give you the chance to bag a free Baby Yoda Funko! pic.twitter.com/Y9dUYTBtyv

— Empire Magazine (@empiremagazine) December 15, 2020
Those lucky enough to subscribe will get this exclusive Grogu cover illustrated by @samgilbey, which shows exactly what happens when you Force steal too many space biscuits from your classmates. pic.twitter.com/qK1UW425ni

— Empire Magazine (@empiremagazine) December 15, 2020
Stay tuned for more information soon about what's inside the February issue, which is available to pre-order from https://t.co/ZdyVOGKO4J this Friday and in all good (and evil) newsagents from Thursday 24 December.

— Empire Magazine (@empiremagazine) December 15, 2020
Miguel Fernández is a Spanish student that has movies as his second passion in life. His favorite movie of all time is The Lord of the Rings, but he is also a huge Star Wars fan. However, fantasy movies are not his only cup of tea, as movies from Scorsese, Fincher, Kubrick or Hitchcock have been an obsession for him since he started to understand the language of filmmaking. He is that guy who will watch a black and white movie, just because it is in black and white.