Editorial: Why 'The Book Of Boba Fett' And 'The Mandalorian' Season 3 Will Be Two Different Shows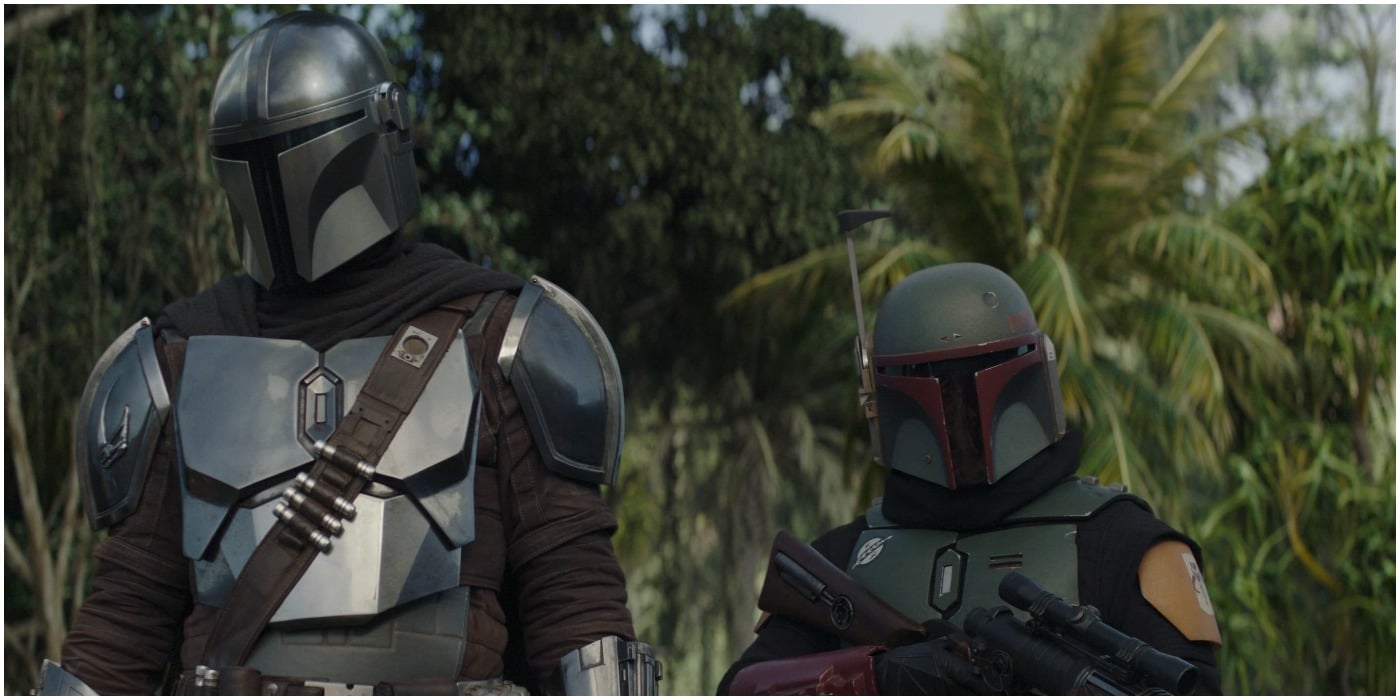 Two Mandalorians are better than one. There's been some confusion over whether or not The Mandalorian Season 3 and The Book of Boba Fett are one and the same – and from the sound of things, they're not, and both are being developed for Disney+.
The announcement of the new series came with great fanfare last night with the first-ever Star Wars post-credits scene serving as a sort of demo reel to tell audiences what to expect in a spin-off starring Boba Fett. However, due to the way the episode closed a major story arc on The Mandalorian, some fans were left wondering if this meant that the title character – played by Pedro Pascal – would not be the main character of the series anymore, and that future seasons would focus on different Mandalorians. Conventional wisdom, however, should tell us that of course they're going to do two different projects.
There have been utterly unfounded rumors from a certain self-proclaimed "insider" that Pedro Pascal wants out on the series due to a lack of "face time" without the helmet on, and that a noticeable shift would happen in the second half of the season to compensate for this (it didn't). This in spite of Pascal regularly engaging with fans of the series and recently expressing interest in having cameo appearances on The Mandalorian's many planned spin-offs. These rumors are only believable if you presume that Pedro Pascal was not informed that the role that he auditioned for would be a character who wears a mask for the vast majority of his screentime (he was informed), or that he's on set for every single scene the character is needed for (which he isn't, as his stuntmen carry a lot of the weight even though he filmed more scenes in costume this time around). Or if you conveniently forget about the fact that the person who started these rumors also insisted that Lucasfilm president Kathleen Kennedy was going to get fired after the box office underperformance of Solo, and then backpedaled to say that she only got a contract extension because nobody – in all of Hollywood – wanted to work as a CEO for Lucasfilm. While saying that J. J. Abrams, who is not a film executive, was being courted for the role just weeks prior to said contract extension.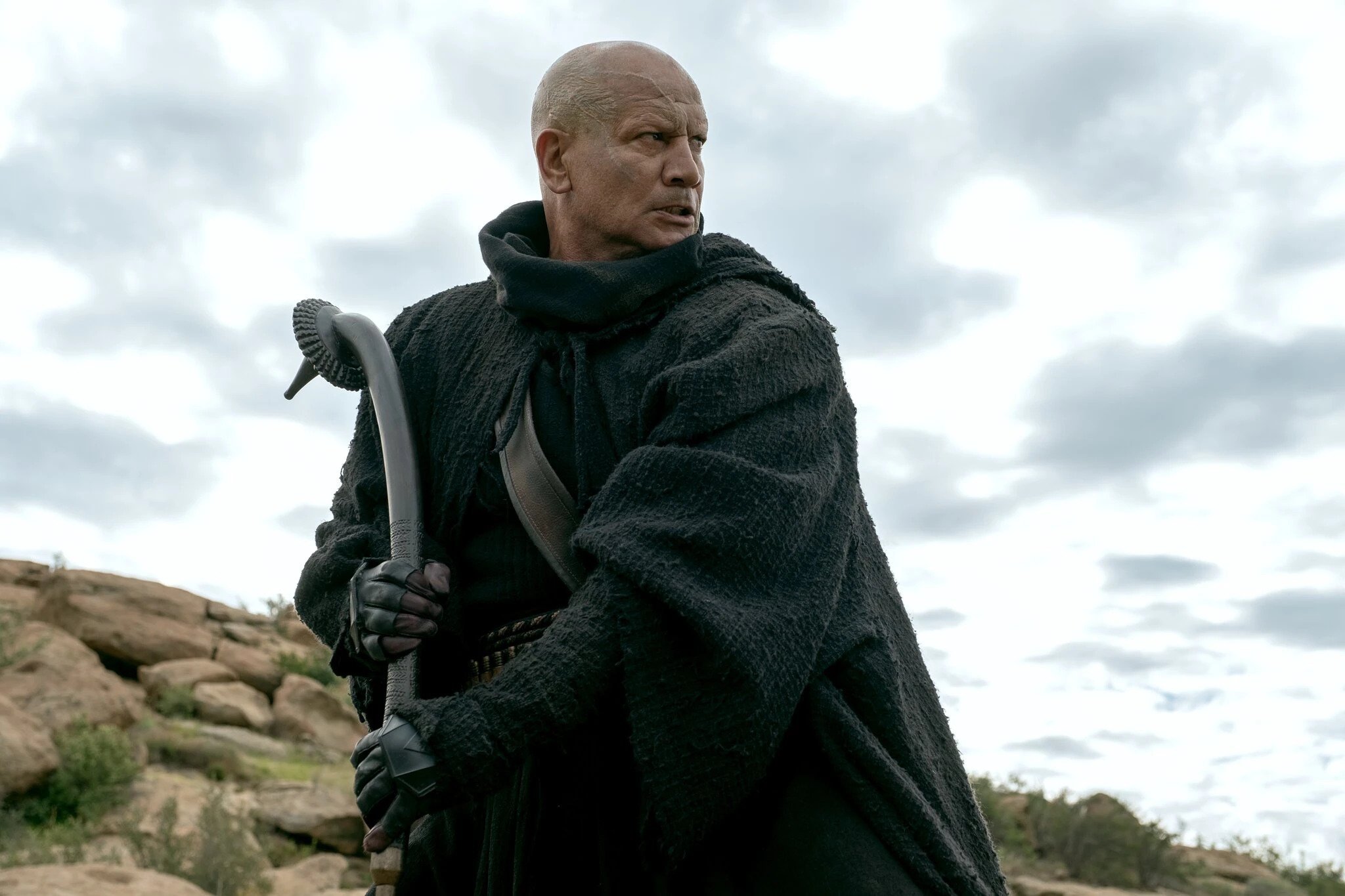 Long story short: the person who came up with this rumor isn't reliable, is now trying to position the libelous rumor as an attempt to "protect" Pascal (when the irresponsible and defamatory rumors in question could potentially hurt his ability to find new jobs elsewhere) to save face, and should be ignored. But don't just take it from us, take it from Pedro Pascal himself, as this is what he said when he was asked about rumors that he hates that his character wears a helmet:
"That is not true, actually. It's a really wonderful way of telling the story. It's always been a very clear creed for the character and the collaborative process of the whole thing, we've all been on the same page with this. So what I want is for them to make the best show possible, however they get that done."
Need more proof? Here's one of his stuntmen saying that he'll definitely be back for more:
View this post on Instagram
So Pascal isn't going anywhere. Here's what we else we know – The Mandalorian has been a massive hit for Disney+ since the service launched just over a year ago, and the powers at be want more of it. It didn't take very long for Disney to hint at the development of new spin-offs set around the same time, building upon the stories of characters introduced in the series, and there's so much internal interest that one of the show's stars has already had conversations with the showrunners about a fourth season. So why would Disney want to sacrifice one for another, when they could easily have both? During the Disney Investor Day presentation, one of the details highlighted was the fact that Lucasfilm was developing three new Volume stages around the world in order to help expedite development of live-action Star Wars content. Right now, Andor is filming, and Kenobi will begin filming early next year. That's only two of four potential Volume stages in use, and Star Wars has a lot on the "to-do" list of projects to film just for the live-action television slate alone.
The economic state of Disney is also a big factor in why we'll likely be getting more projects and not fewer. They're not at a serious risk of bankruptcy or anything so severe, but they're hurting. Disney+ is their most stable source of income in a world where the future of the theatrical industry is uncertain and they just had to lay off a bunch of their theme park employees. The reason Disney's recent presentation was stacked with information about upcoming streaming content was to iterate that, from next year onwards, Disney+ is going to be absolutely stacked with original content that all of its subsidiaries can fill, and they want audiences investing more in it so they can see a massive amount of revenue. Streaming is the most stable and most wide-reaching platform for Disney to make money off of right now, and that's why their biggest focus is on developing shows over movies; if more Mandalorian content, spin-offs included, can be provided, then that's exactly what they'll bankroll.
The thing is, The Book of Boba Fett isn't just an extension of The Mandalorian from the sound of things – it's an entirely new experience. As in, something that might appeal to people who wouldn't typically be interested in The Mandalorian. That doesn't mean that you'd be getting rid of The Mandalorian or retooling the show around a different character – you'd instead look for ways with spin-offs like The Book of Boba Fett to broaden the horizons of this franchise. And, based on what they've presented recently, broadening their horizons is exactly what they plan to do for future Star Wars installments. The spin-offs are simply an avenue for Lucasfilm to expand their brand while having the safety net of something as beloved as The Mandalorian to fall back on. Boba Fett's return has been met with widespread acclaim, so starting with him is far and away their smartest option of all the cards that they can play.
Very little is known about the series so far, other than the fact that it will see Temuera Morrison continue to play Boba Fett, and that we may also see the continued appearance of Ming-Na Wen as Fennec Shand. (Sophie Thatcher has also been cast, but right now it's not clear if it's for The Mandalorian, The Book of Boba Fett, or both.) The term used to describe the show has been "miniseries", indicating that the spin-off will have a very short run and set up the events of the next season of The Mandalorian, even if doing so isn't the ultimate goal of the narrative. Both shows are currently scheduled to release in December 2021, so it seems likely that The Book of Boba Fett is a 3-4 episode show that will segue nicely into The Mandalorian's third season as that carries on from the end of 2021 to the first few months of 2022.
The first two seasons of The Mandalorian are available to stream on Disney+. A third season has been ordered for the streaming service and will arrive in time for Christmas 2021. The spin-off The Book of Boba Fett is stated by Lucasfilm to arrive at some point in the same month. Two other spin-offs, Ahsoka and Rangers of the New Republic, are in development.
Grant has been a fan of Star Wars for as long as he can remember, having seen every movie on the big screen. When he's not hard at work with his college studies, he keeps himself busy by reporting on all kinds of Star Wars news for SWNN and general movie news on the sister site, Movie News Net. He served as a frequent commentator on SWNN's The Resistance Broadcast.