'The Mandalorian': Lucasfilm Fixes "Jeans Guy" Blooper In Chapter 12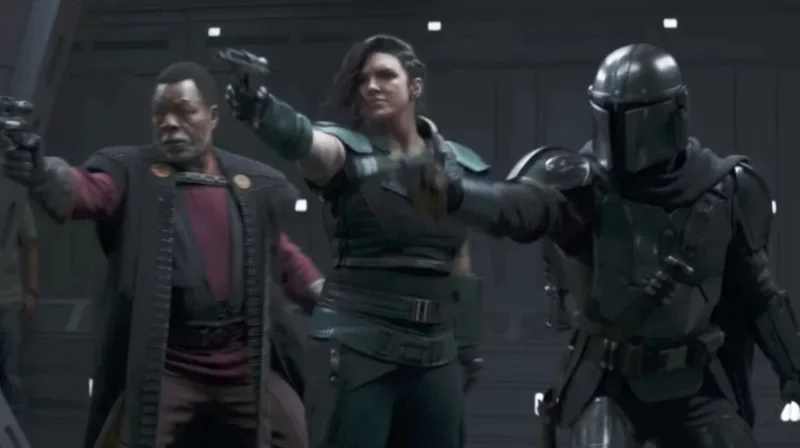 Lucasfilm have pulled a Special Edition on us with The Mandalorian Chapter 12! The great error of the shot where audiences could see a crew member wearing a T-shirt and jeans has been corrected.
While we were distracted waiting for and watching Chapter 13, Lucasfilm pulled a fast one and corrected the "Jeans Guy" shot that many a meme was made about in the episode directed by and co-starring Carl Weathers. In the midst of Din Djarin, Carasynthia Dune, and Greef Karga's big assault on an Imperial outpost on Nevarro, a crew member can be seen standing in the background of a shot where a doorway covers his face, but leaves his arms and legs exposed to the camera. Our nameless onlooker is wearing pretty pedestrian clothing unfit for the galaxy far, far away, making it clear that he wasn't meant to be in the shot. Lucasfilm didn't catch this mistake before the episode's debut a week ago, but now they've opted to fix it by digitally removing the man from the shot with the power of CGI. Check out a before and after comparison of the scene below:
RIP JEANS GUY: The now infamous "Jeans Guy" blooper in Chapter 12 of #TheMandalorian has been digitally removed. 👖 pic.twitter.com/KEMYAGFCYt

— The SWU @ #SWCA🎉 (@TheSWU) November 27, 2020
Jeans Guy's time with us was short, but not unmemorable. With only a week of screentime, the character that never was has endeared himself to the viewers of The Mandalorian that noticed him and the Star Wars fandom at large. Here are a couple of favorite gags that popped up in the past week:
BREAKING: Action figure availability for "Jeans Guy" was weeks BEFORE his featured episode of The Mandalorian.
Critics are now questioning his future appearances in upcoming episodes and demanding answers. pic.twitter.com/xPcAyU4ow9

— Project Verisim (@Project_Verisim) November 22, 2020
#TheMandalorian pic.twitter.com/yGNbTLczif

— Jordan Delgadillo (@DelgadilloArt) November 21, 2020
https://twitter.com/aliiaart/status/1330948611551715331
"Mandalorian "Jeans Guy" as a LEGO set" -Ochre_Jelly #Lego pic.twitter.com/dhYmGucQhk

— Soko Toys (@SokoToys) November 24, 2020
And lastly, we'll always have this short-lived joke article on Wookieepedia: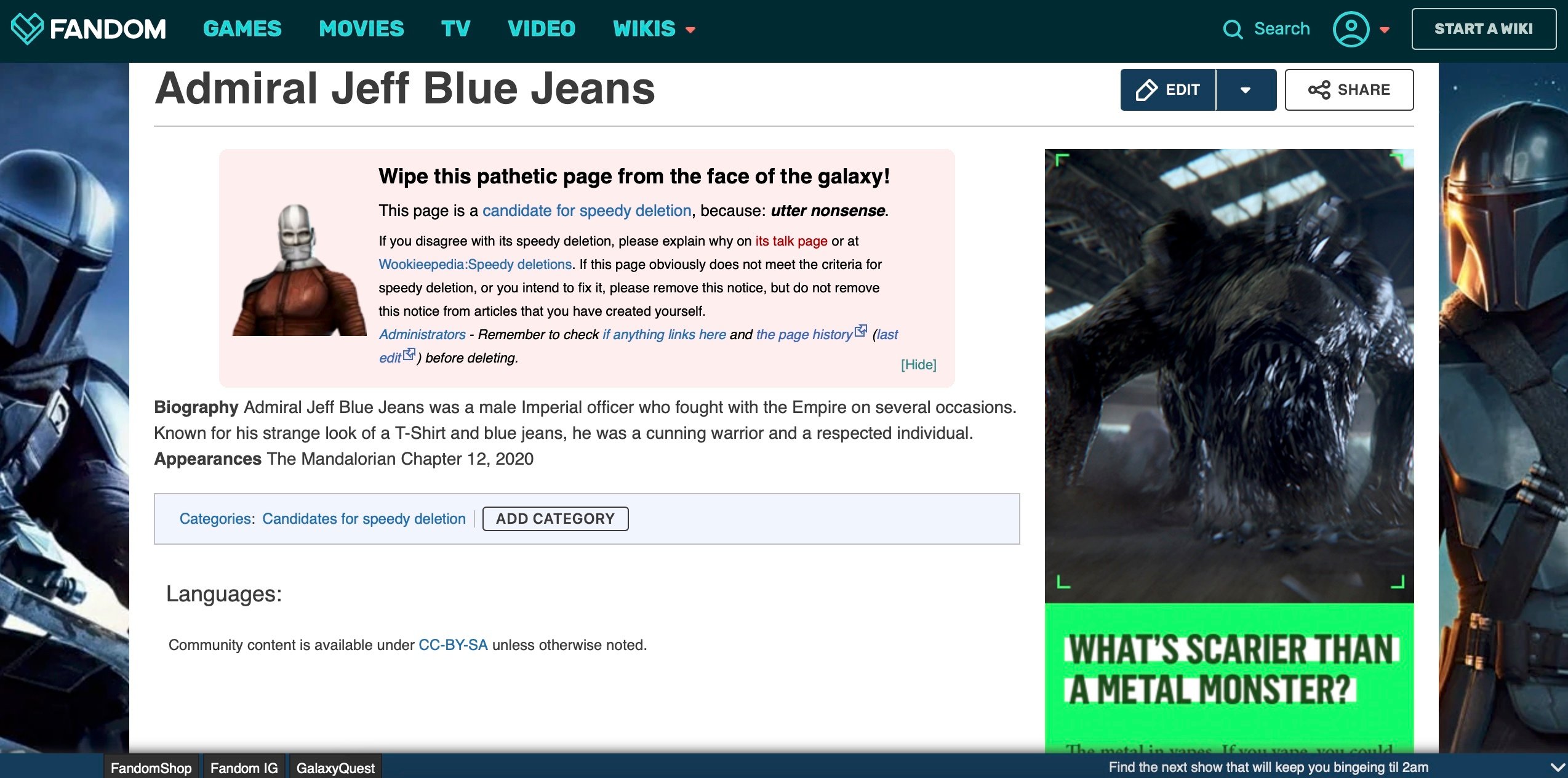 The Mandalorian is streaming exclusively on Disney+, with the first season completed and a second season in progress. A third season is currently being written by Jon Favreau and is in pre-production for a hopeful 2021 release window, while actor Giancarlo Esposito has indicated that there are plans for at least four seasons.
Grant has been a fan of Star Wars for as long as he can remember, having seen every movie on the big screen. When he's not hard at work with his college studies, he keeps himself busy by reporting on all kinds of Star Wars news for SWNN and general movie news on the sister site, Movie News Net. He served as a frequent commentator on SWNN's The Resistance Broadcast.