'Solo: A Star Wars Story' Soundtrack Being Released in Limited Edition Two-Disc Vinyl Set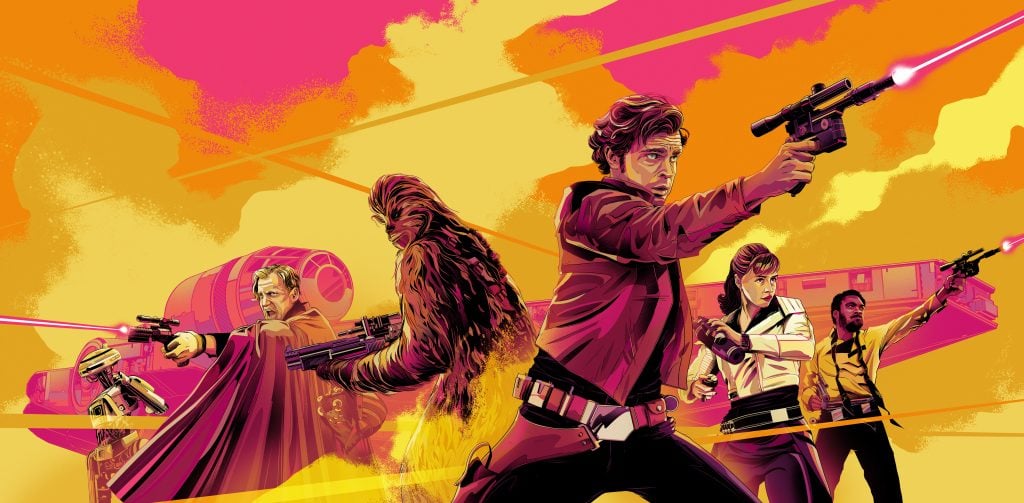 Solo: A Star Wars Story has aged incredibly well with fans and merchandise providers since its underperformance at the box office in Spring 2018. The latest output from the film is a new limited edition two-disc vinyl set of John Powell's score for the film by Mondo. We have the press release to provide you with all of the details, images, and how you can get your copy.
The limited set is priced at $35.00 and will be available to pre-order at MondoShop.com on December 2.
Mondo, in collaboration with Walt Disney Records, is proud to present the premiere vinyl release of John Powell's brilliant score to the 2018 film SOLO: A STAR WARS STORY. Available for pre-order at MondoShop.com on Wednesday, December 2, this limited edition two disc vinyl release features amazing new artwork by César Moreno and is pressed on 2x 180 Gram "Hyper Space" color vinyl.

The origin story of science-fiction's greatest rogue is a Star Wars story through and through: a rollicking adventure, full of humor and suspense – and in the grand tradition of franchise, features an epic sweeping score worthy of the biggest screen (or, in this case, speakers) imaginable.

John Williams' new "The Adventures of Han Theme" kicks things off in a spectacular fashion, setting the tone for a fantastic original score by John Powell, only the third composer to ever tackle the film series in its 40+ year legacy, to enter the Star Wars canon.
Solo on Vinyl front slipcover
SOLO: A STAR WARS STORY – Original Motion Picture Soundtrack
Han Solo Theme and Original Star Wars Music by John Williams
Score Composed and Conducted by John Powell
Artwork by César Moreno
Pressed on 2x 180 Gram "Hyper-Space" Vinyl , also available on 2x 180 Gram Black Vinyl
Disc One
Side One
The Adventures of Han (Music Composed and Conducted by John Williams)
Meet Han
Corellia Chase
Spaceport
Flying with Chewie
Side Two
Train Heist
Marauders Arrive
Chicken in the Pot
Is This Seat Taken?
L3 & Millennium Falcon
Lando's Closet
Disc Two
Side One
Mine Mission
Break Out
The Good Guy
Reminiscence Therapy
Side Two
Into the Maw
Savareen Stand-Off
Good Thing You Were Listening
Testing Allegiance
Dice & Roll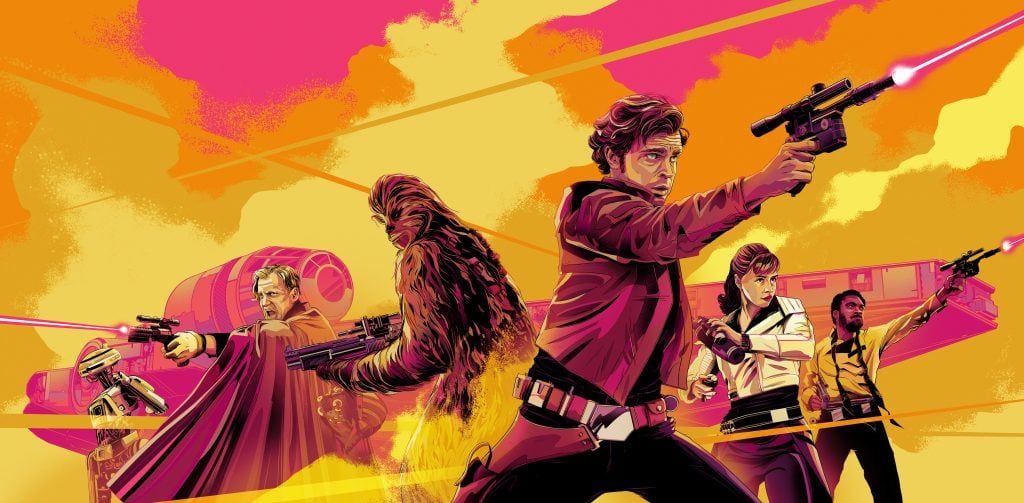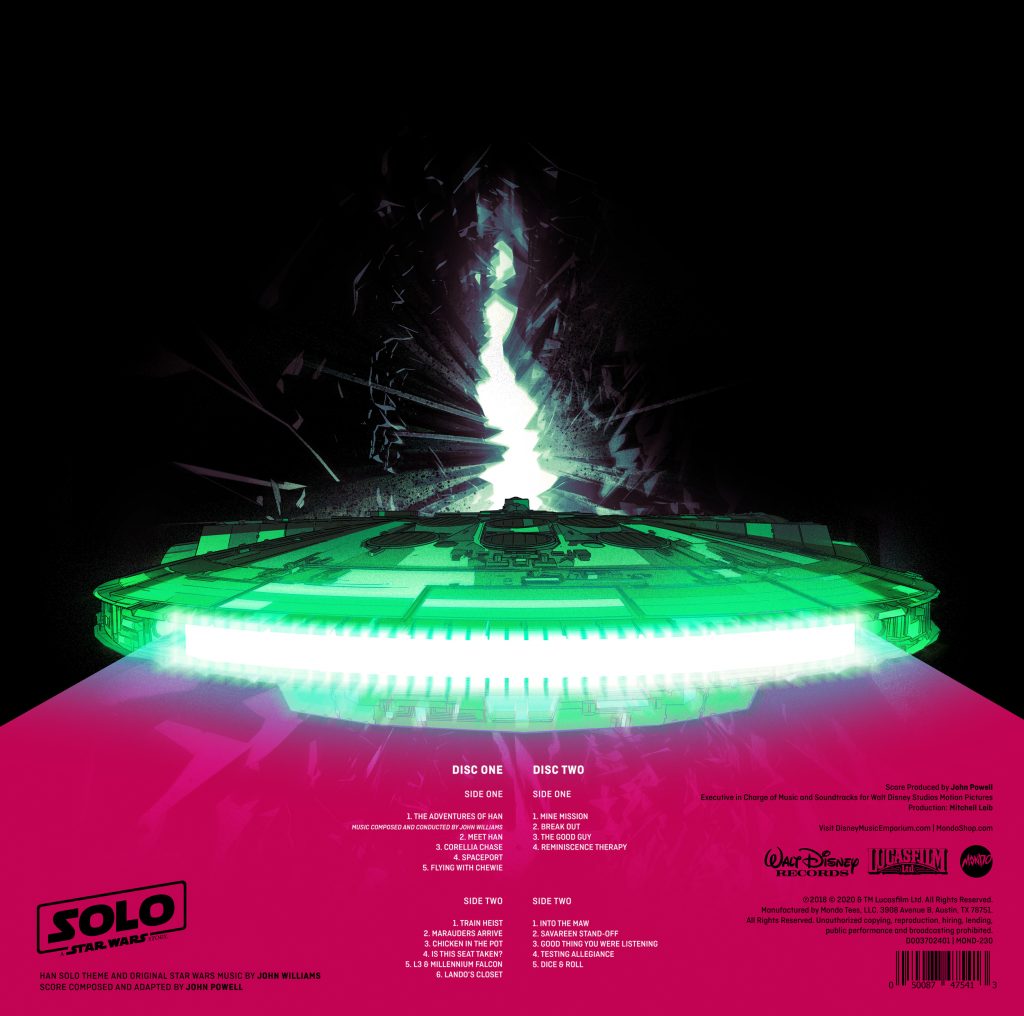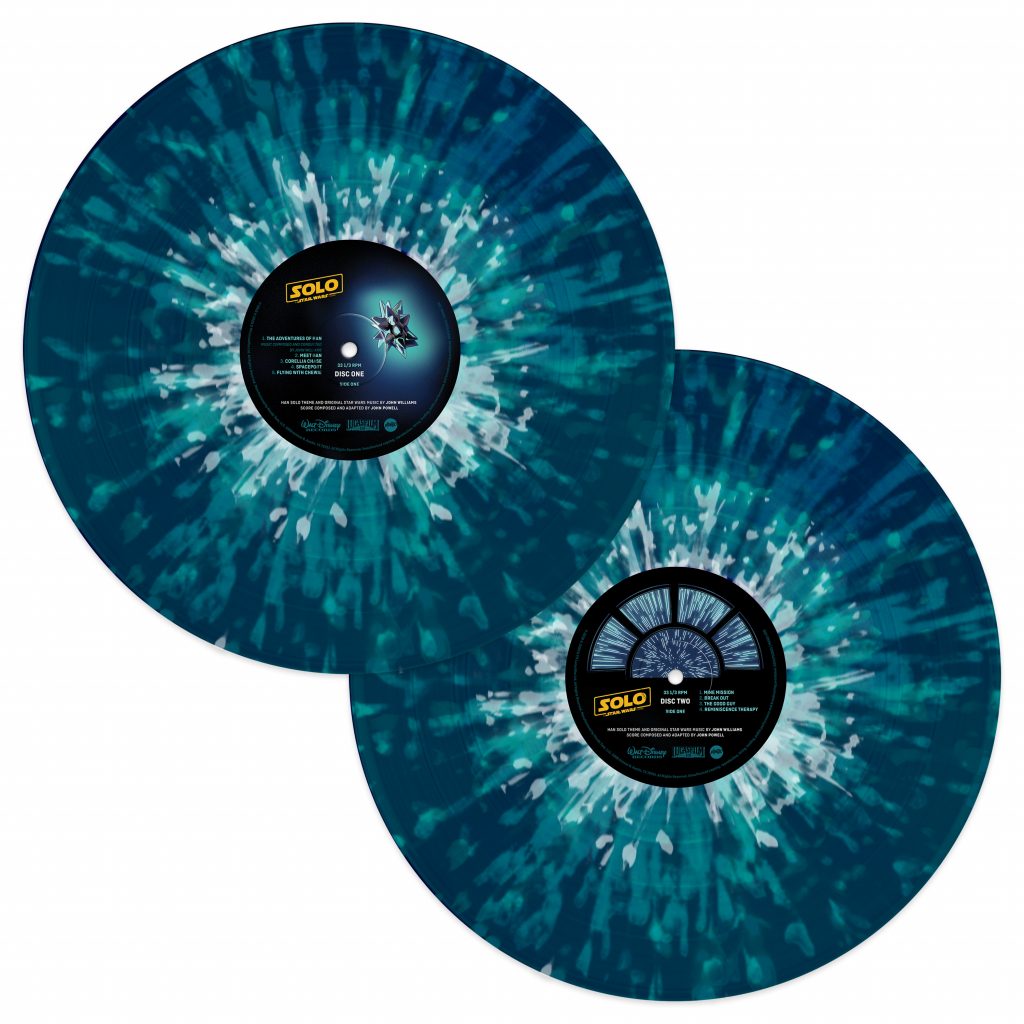 "The music of Star Wars is so essential and monumental that it seems an impossible task for any new composer to take the reins. But John Powell's original score, complimented by John Williams' new Han Solo theme, is such non-stop bombastic nostalgic fun that it proves to be essential listening for fans of the series." – Mo Shafeek, Mondo Creative Director of Music
Solo has received a lot of posthumous merch releases in the years following its initial run. The #MakeSolo2Happen campaign has certainly caught fire with fans across the globe in a push for Lucasfilm and Disney to continue the adventures of Han and Chewie and the rest of the characters that were set up perfectly at the end of the movie. While we wait for that to happen, this will be an incredible way to listen to the music from the film. Plus, the artwork is beautiful.
Be sure to pre-order your copy of this limited edition vinyl set of Solo: A Star Wars Story at MondoShop.com when it becomes available on Wednesday December 2.
John Hoey is the Lead Editor and Senior Writer for Star Wars News Net and the host of The Resistance Broadcast podcast
"For my ally is the Force, and a powerful ally it is."