Ron Howard Tells 'Lights, Camera, Barstool' That Growing Fan Support For 'Solo' Bodes Well for Future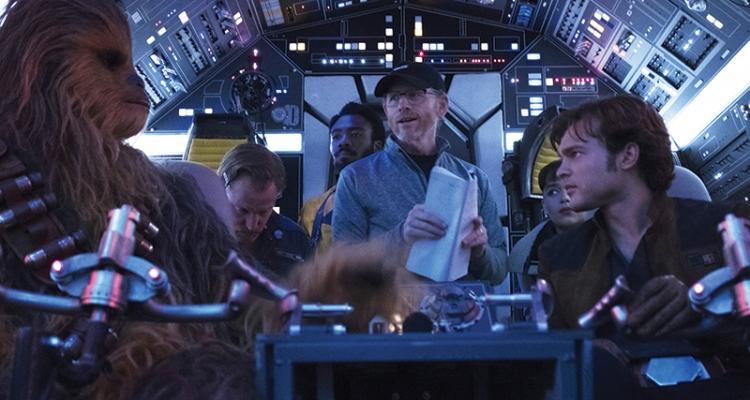 As more and more fans come around to love (or even finally see) Solo: A Star Wars Story, the #MakeSolo2Happen campaign continues to pick up steam. Ron Howard was interviewed by movie podcast Lights, Camera, Barstool and was asked about the rumblings that keep popping up about a potential Solo sequel or Disney Plus series.
The podcast asked Howard if there were any rumblings with Disney Plus and Solo, and while the filmmaker said nothing was in development, he seemed quite optimistic about the potential and future.
No rumblings, though, and this is not a spoiler or anything, but I think there is interest in those characters. I think there's interest in the gangster world somewhere down the line. But I can assure you there is nothing being developed right now for a movie or Disney Plus. But, one great thing is there has been a lot of affection shown for Solo, and so of course that keeps boding well for them to eventually turn it around."
Ron Howard is no stranger to the growing support for Solo, as the director has acknowledged it many times over the last two years. The legendary filmmaker is reuniting with Lucasfilm once again, serving as executive producer for the upcoming Willow Disney Plus series in which Solo co-scribe Jon Kasdan will serve as showrunner and write the series' pilot.
Speaking of Jon Kasdan, he (likely tongue-in-cheek) tweeted about a 'Solo 2' recently, which drove fans (including myself) into a bit of a heart-tugging frenzy.
Still feel a twinge of regret this didn't make the cut. Guess we'll just have to do it in Solo 2. https://t.co/Y8P1GDuSq1

— Jon Kasdan (@JonKasdan) October 30, 2020
It's likely the writer was just having some fun, but he is not only well aware of the #MakeSolo2Happen movement, he too has directly acknowledged it and encouraged fans to keep showing their love for Solo, revealing he has the stories for more adventures ready to be told. Kasdan's stories involve Han Solo working with the Hutts in a crime war with the Pykes and Crimson Dawn, which is in line with the "gangster world" Ron Howard told Lights, Camera, Barstool Lucasfilm was interested in exploring for those characters. Where there is smoke there is fire?
Beyond grateful & galvanized by the #MakeSolo2Happen energy on Twitter today. Means so much to everyone involved & ur enthusiasm makes it possible for us to keep advocating for it! 'Cause, the Maker knows, there's a WAR story set in a Galaxy Far Far Away that's yet to be told… pic.twitter.com/8Y3YEhC4SU

— Jon Kasdan (@JonKasdan) May 23, 2019
In the interview Howard also touched on Harrison Ford's private praise for the film and Ehrenreich's performance, as well as his own love for the cast.
Harrison Ford liked Solo and very much and was supportive when he saw it. He was so gracious and complimentary to Alden. He said some things publicly but privately it was really great to see him put his hand on Alden's shoulder and say "great job kid", and Alden worked so hard and it was a very high-risk situation for him and he was a cool customer and was really a pleasure to work with, as was that entire cast, they are just a great bunch."
Keep sharing your love for Solo and keep using the hashtag #MakeSolo2Happen. Disney and Lucasfilm are aware of it, they are always watching and listening, and the most important part is they know it is a positive, unifying, and growing fan movement. Never tell us the odds.
SOURCE: Lights, Camera, Barstool 
John Hoey is the Lead Editor and Senior Writer for Star Wars News Net and the host of The Resistance Broadcast podcast
"For my ally is the Force, and a powerful ally it is."