'LEGO Star Wars Holiday Special' Trailer and Poster Have Arrived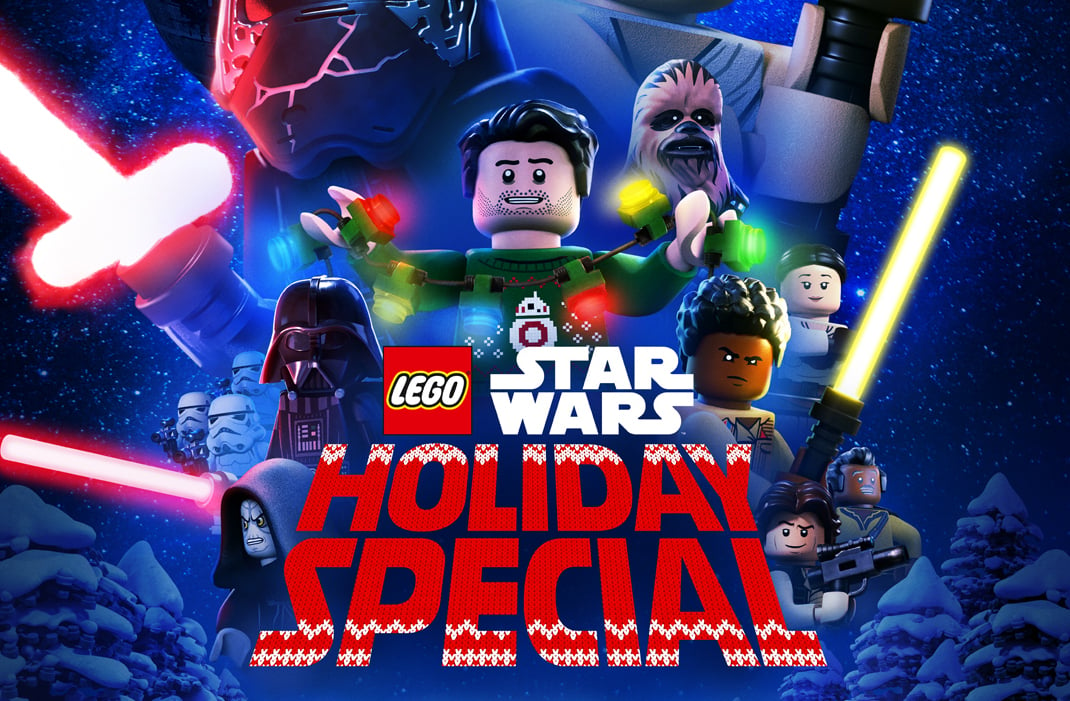 Back in August, Disney announced they would be paying homage to the infamous Star Wars Holiday Special, which premiered on CBS on November 17, 1978, by releasing a new version of that idea exactly 42 years later. In collaboration with LEGO, they said that on November 17, 2020, Disney Plus subscribers would have the pleasure of watching LEGO Star Wars Holiday Special, a new adventure set after the events of last year's Star Wars: The Rise of Skywalker, and that would revisit the three trilogies to honor their biggest moments.
Today, Disney and LEGO have released the first trailer, as well as the official poster (see below). The official synopsis for LEGO Star Wars Holiday Special reads:
Directly following the events of "Star Wars: The Rise of Skywalker," Rey leaves her friends to prepare for Life Day as she sets off on a new adventure with BB-8 to gain a deeper knowledge of the Force. At a mysterious Jedi Temple, she is hurled into a cross-timeline adventure through beloved moments in Star Wars cinematic history, coming into contact with Luke Skywalker, Darth Vader, Yoda, Obi-Wan and other iconic heroes and villains from all nine Skywalker saga films. But will she make it back in time for the Life Day feast and learn the true meaning of holiday spirit?
The teaser trailer expands upon the synopsis, showing us some of how Rey travels to the past to disrupt some of the biggest moments from the original trilogy, including appearing on Luke's X-wing during the trench run on the first Death Star, or popping up on the Emperor's throne room while Luke fights Vader. We also see other scenarios from this alternate reality, like a shirtless Kylo Ren showing up in front of Emperor Palpatine, or Rey fighting Vader, something that had already been teased last week. Check out the trailer here:
The LEGO Star Wars Holiday Special brings back franchise stars Kelly Marie Tran (Rose Tico), Billy Dee Williams (Lando Calrissian) and Anthony Daniels (C-3PO), as well as Star Wars: The Clone Wars vets Matt Lanter (Anakin Skywalker), Tom Kane (Yoda, Qui-Gon Jinn), James Arnold Taylor (Obi-Wan Kenobi), and Dee Bradley Baker (clone troopers). It will have a runtime of 45 minutes.
The special will premiere exclusively on Disney Plus on November 17. Here is the official poster:
Miguel Fernández is a Spanish student that has movies as his second passion in life. His favorite movie of all time is The Lord of the Rings, but he is also a huge Star Wars fan. However, fantasy movies are not his only cup of tea, as movies from Scorsese, Fincher, Kubrick or Hitchcock have been an obsession for him since he started to understand the language of filmmaking. He is that guy who will watch a black and white movie, just because it is in black and white.