Ewan McGregor Did In-Costume Camera Tests for Kenobi Disney Plus Series on the Set of 'The Mandalorian'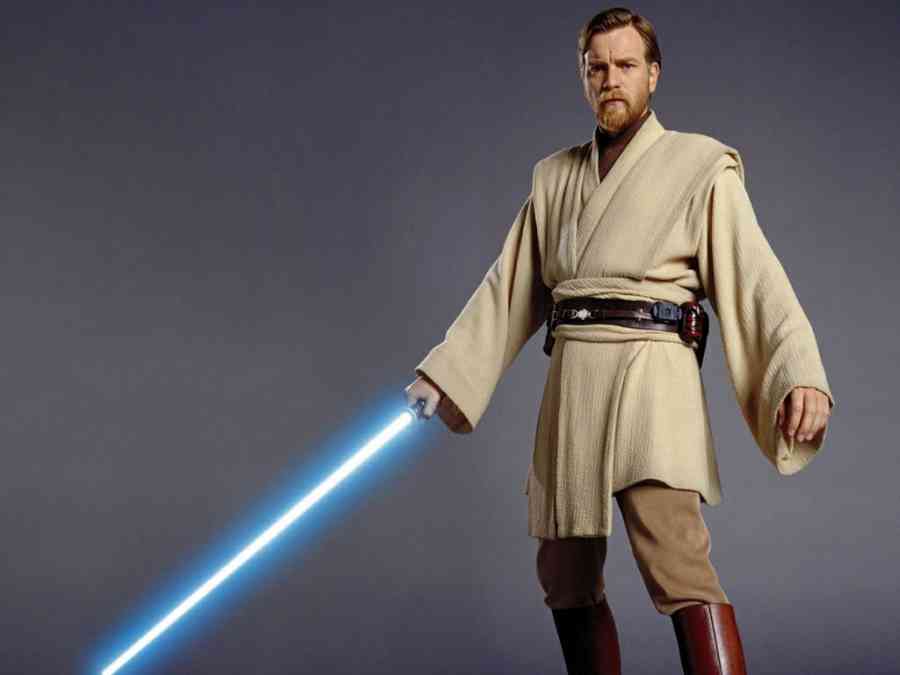 The untitled Obi-Wan Kenobi Disney Plus series is currently scheduled to begin filming in March, 2021, but pre-production is well underway. On the latest episode of the Happy Sad Confused podcast, Ewan McGregor revealed he went to the set of The Mandalorian to do some in-costume camera tests with his show's director Deborah Chow (also a director for The Mandalorian).
Before we delve into the quotes, take a moment and embrace the fact that Ewan McGregor has officially put his beige robe and brown boots back on, likely to test his look against the new Volume LED technology that ILM and Jon Favreau have developed for The Mandalorian, which the Kenobi series will also utilize. McGregor spoke with Josh Horowitz about his excitement for the series and his early preparations so far, and I have transcribed the Star Wars/Kenobi series section of the interview below.
JOSH HOROWITZ: "How's the lightsaber training, are you ready? This is a long time coming. Do you feel ready to get back on set and return to Obi-Wan?"

EWAN McGREGOR: "Yes. I really am very excited about it. It's been a long time coming. I mean we've been talking about doing it, Lucasfilm and Disney, I dunno for four, five, maybe more years and it's just taken a while to come to fruition. I am excited about the fact that it's a series as opposed to a movie, it gives us more space, and mainly I am excited about it because of The Mandalorian series which I just thought was really good, and we're going to adopt some of that technology that they utilized in that filming and I'm working with Deborah Chow who directed some Mandalorian. I'm really excited about working with her, I think she's really good. We did a couple of tests. When we were going to make a film earlier we did some testing and it was great working with her."
There are two indications, to me anyway, that the camera test may have happened during the filming of The Mandalorian season 1. First, McGregor mentions doing the tests while the Kenobi project was still being developed as a film, and we exclusively broke the news that the project was being made as a Disney Plus series in February of 2019. The second indication is that Deborah Chow was not involved with the production of The Mandalorian season 2, having only directed episodes for season 1. It is of course possible Chow returned to set during the production for season 2 for this singular purpose, but the first indication from McGregor dispels that possibility. McGregor likely did this in-costume camera test anywhere from October 2018 to January 2019. Regardless of when it happened it's simply awesome to know Ewan McGregor has been back in his Jedi attire for the first time in 15 years. The interview briefly continues, with McGregor fondly recalling this experience.
HOROWITZ: "Did you actually get into character or was that to premature for a camera test?"

McGREGOR: "No, we kind of did it properly. It was funny walking on set because it was a lot of The Mandalorian crew and I walked on, and for it was a big moment, I walked into the dressing room and there were my beige cloaks and my belts and boots and it was like, oh my God, it was my old costume, it was amazing."
Below is a behind-the-scenes shot of Ewan McGregor getting into wardrobe filming 2005's Revenge of the Sith, so I imagine his test looked something like this, just with no more green screen (so uncivilized) now that they have the incredible Volume technology. With these new special effects Obi-Wan shall become more powerful than we could possibly imagine. It's safe to say I am as excited as McGregor is, though we must be patient as the series won't be arriving for a while.
The untitled Obi-Wan Kenobi Disney Plus series is currently scheduled to start filming in March 2021, which likely sets it up for a release sometime in 2022.
John Hoey is the Lead Editor and Senior Writer for Star Wars News Net and the host of The Resistance Broadcast podcast
"For my ally is the Force, and a powerful ally it is."