'Solo: A Star Wars Story' Live Watch Along Party This Friday Night 9/25!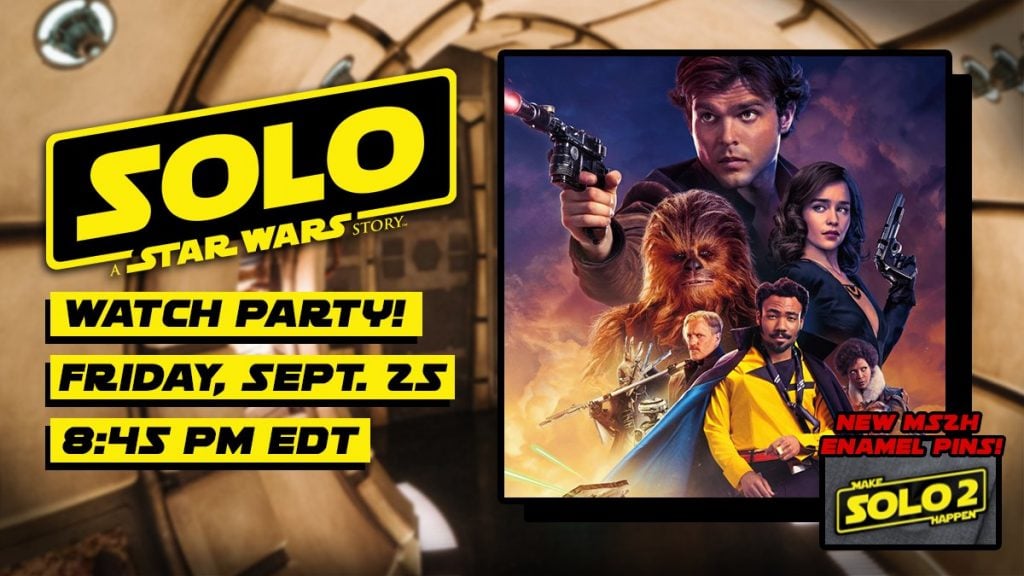 Join us LIVE this Friday night at 8:45 EDT for the Solo: A Star Wars Story watch party on our YouTube Channel! The Resistance Broadcast will be doing a live stream commentary of the movie and the live chat will be open for all fans to hang out and chat about the movie while watching Solo with us on your preferred platform. The love for Solo is growing as we continue the hopes Lucasfilm decides to #MakeSolo2Happen in a movie or Disney Plus series.
Other Things to Know
We will have a movie timer clock on the live stream so if you are late or have to leave for a bit you can come back and match up your movie with our progress.
The YouTube Superchat feature will be available if you would like your comments about Solo read by TRB as a part of their commentary of the movie, which will live permanently on the YouTube channel after the event.
After the movie we will stay on the live stream for a bit to give our final thoughts on the movie and respond to more of the comments in the live chat.
#MakeSolo2Happen Enamel Pins and Merch On Sale!
In addition to the live stream commentary, we are releasing #MakeSolo2Happen enamel pins (1.5 inch) in limited supply, so be sure to grab yours before they are gone. We will post the links to buy them Friday and mention it on the live stream as well. Resistance Broadcast patrons will have an opportunity to pick up a pin an hour before they go public. In addition to the pins, we are bringing back the red variant shirt and making all Make Solo 2 Happen merch 10% off.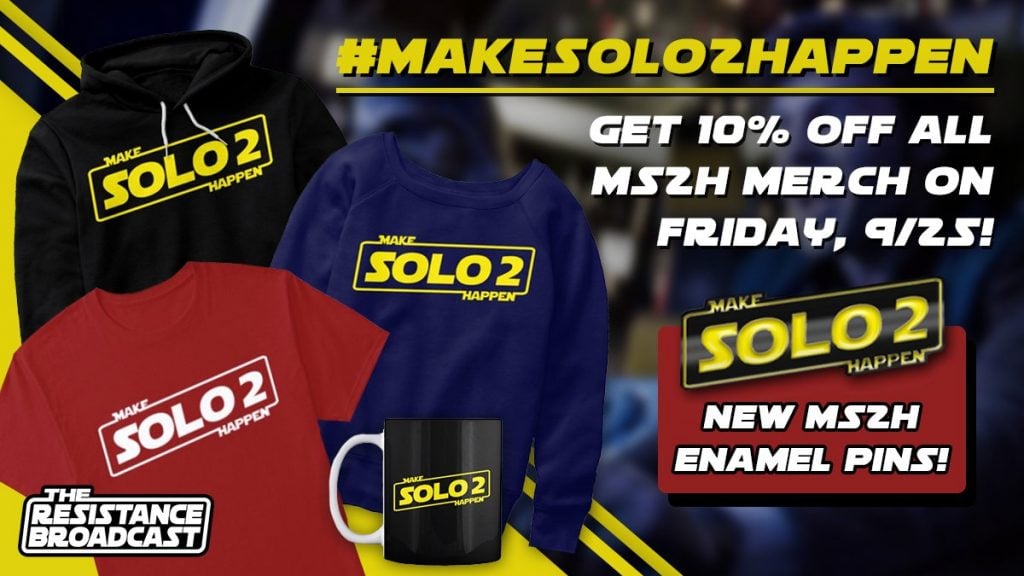 Any questions about the event can be sent to resistancebroadcast@gmail.com or find us on Twitter at @RBatSWNN, but the basics are pretty simple. At 8:45 on Friday join us on our YouTube channel and watch Solo with us. We have a really good feeling about this, can't wait to hang with you all Friday night!
John Hoey is the Lead Editor and Senior Writer for Star Wars News Net and the host of The Resistance Broadcast podcast
"For my ally is the Force, and a powerful ally it is."