New Photos From 'The Mandalorian' Give First Look at Season 2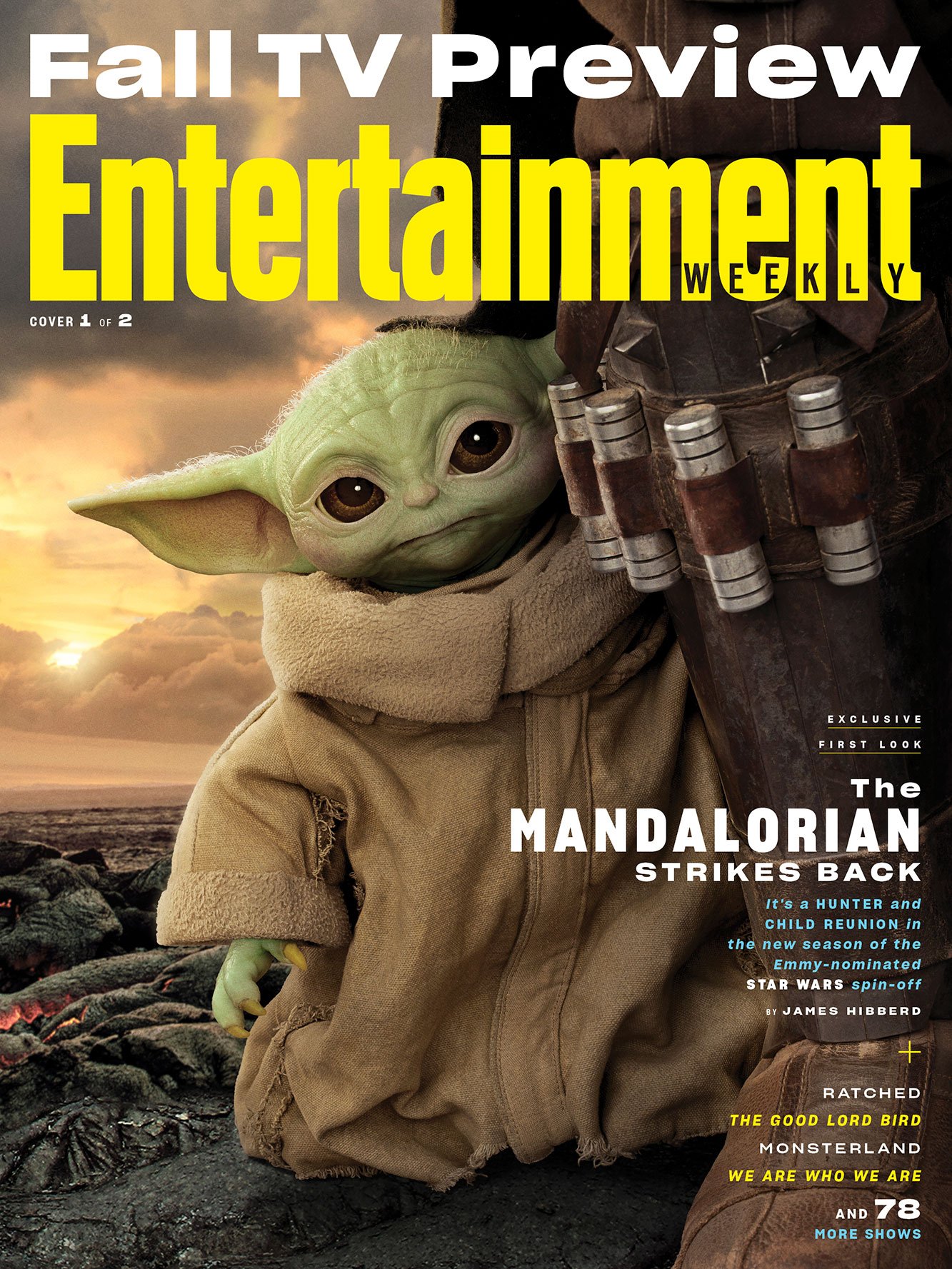 Baby Yoda is back. As we get closer to October 30, the premiere date for the second season of The Mandalorian, the show's marketing campaign is ramping up. Last week, we learned about the premiere date, and now we are getting our first look images at season 2, as well as a ton of information and quotes from the cast and crew of Disney Plus' hit show.
Entertainment Weekly is exclusively showing the first official images at the new season, which don't really show us much, except definitely confirming that it exists. However, they are also dropping a lot of information that Mandalorian fans all over the world will be very pleased to hear. Jon Favreau, the showrunner, was asked about the overwhelming success of the first season, and why did that happen. Here's what he said:
I think it was the fact it was live-action Star Wars on TV for the first time," he says. "Having worked on bigger, higher-profile films, there's a much different set of standards that you're judged by. We've benefited from the smallness of our world.
Star Wars veteran Dave Filoni also talked about his partnership with Favreau, and how it helped them create such a special show in the first place:
Quite simply: We didn't overthink things. George started with these very iconic characters whose relationships are very clear, and then introduced what's at stake — for us, the [fate of] the Child," says Filoni. "An audience tends to enjoy a story by sticking to tropes and characters they understand — like a gunslinger in the Old West. So it was a clear story and a fun adventure even if you've never seen anything [in the Star Wars universe].
The EW article also teased a lot of things about the upcoming season. By now, we've known for a while that the Outer Rim will be very present in the second season and that the story will mainly focus on Giancarlo Esposito's Moff Gideon chasing down Din Djarin, our main character, and his crew, including the ever-adorable Child, or as the world knows him, Baby Yoda. About this, Favreau said:
The new season is about introducing a larger story in the world. The stories become less isolated, yet each episode has its own flavor, and hopefully we're bringing a lot more scope to the show.
And Filoni added:
Everything gets bigger, the stakes get higher, but also the personal story between the Child and the Mandalorian develops in a way I think people will enjoy.
Giancarlo Esposito (Moff Gideon) said about the storyline for the new season:
I'll be going toe-to-toe with Mando. It's an iconic battle. I want to disarm him mentally as well. Who knows? Maybe there's an opportunity to get him to fight some battles for me. You may think I'm a villain, but I'm trying to harness some energy and some powers for a path that could be best for all. You'll get to see him be somewhat diplomatic and more of a manipulator.

It's so exciting for me to be in a show where I can wear a cape and own it, and where I can have a lightsaber and really own it.
He will also command "a larger vehicle, hint-hint," and spent some time with the Child.
However, we should also expect new storylines focused on other things. This is nothing strange to Mandalorian fans, with our first season having some episodes like The Prisoner that deviated from the show's main plot but still developed our beloved characters and their emotional journeys. Favreau said:
As we introduce other characters, there are opportunities to follow different storylines. The world was really captivated by Game of Thrones and how that evolved as the characters followed different storylines — that's very appealing to me as an audience member.
Over the past six to eight months, we've been hearing a lot of names attached to the new season, from Rosario Dawson reportedly playing fan-favorite Ahsoka Tano, to Temuera Morrison playing a yet-to-be-revealed character (will it be Boba Fett, a clone trooper, both?), and including Katee Sackhoff playing Bo-Katan in live-action (she also voiced her in the animated shows) or Timothy Olyphant. About all of these new castmembers, Gina Carano had this to say:
Some of them are true, some are not sure
She also pointed out that actors only received the scripts from the episodes they were in.
Another roster of names attached to the second season is that of the directors. We've now learned that the creator and showrunner, Jon Favreau, will helm the premiere episode of the season (airing October 30), and we also have names like Dave Filoni, Carl Weathers (who plays Greef Karga on the show), Robert Rodriguez, or Peyton Reed. Returning directors from the first season are Bryce Dallas Howard and Rick Famuyiwa. This season will be eight episodes long as well.
We've also learned now that the creator himself, George Lucas, visited the set when Dave Filoni was directing his episode. Filming for the season ended four days before the pandemic hit back in March, so principal photography was not affected. However, as Favreau pointed out, the biggest challenge of the postproduction process was pulling off Ludwig Göransson's score:
We had to have people either recording remotely, or in much smaller groups, distanced very far apart. I'm hearing the music now as we're mixing episodes, and it's remarkable what they were able to achieve under the circumstances.
The second season of The Mandalorian premieres exclusively on Disney+ on October 30, 2020. The marketing campaign is now kicking off, so we should be getting our first trailer any day now.
Miguel Fernández is a Spanish student that has movies as his second passion in life. His favorite movie of all time is The Lord of the Rings, but he is also a huge Star Wars fan. However, fantasy movies are not his only cup of tea, as movies from Scorsese, Fincher, Kubrick or Hitchcock have been an obsession for him since he started to understand the language of filmmaking. He is that guy who will watch a black and white movie, just because it is in black and white.