The Sims 4 Getting Star Wars Batuu Expansion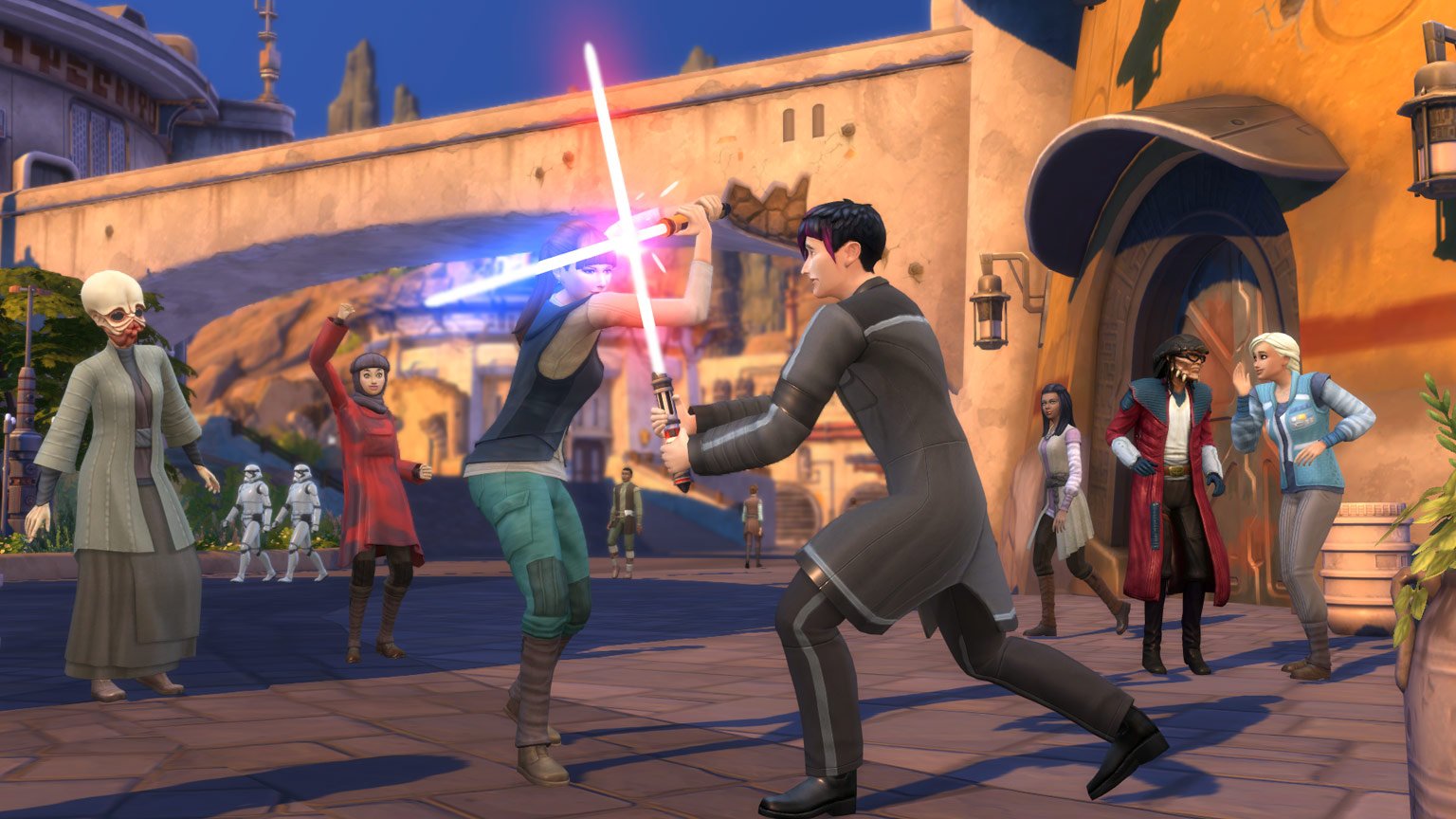 A Star Wars expansion is arriving on The Sims 4 next month, letting players live out their Sim lives on Batuu.
A trailer released by EA at this year's virtual Gamescom event revealed Sim characters hanging out on the Outer Rim world, the site of the Star Wars-themed park at Disney World. The human Sims character was accompanied by a wide variety of species, including twi'leks, weequay, bith and mirialians.
First Order stormtroopers, an R2 astromech droid and the Millennium Falcon were also seen in the trailer, along with some Star Wars "celebrities" in Rey, Kylo Ren and Hondo Ohnaka. There's even a brief snap of a Dianoga at one point.
The trailer shows players getting their hands on a lightsaber and dualing other characters (whether they were other players or NPCs was unclear), as well as sneaking into restricted areas and stealing items from chests and even TIE fighters.
In a galaxy far, far away, deep into the Outer Rim, the world of Batuu awaits your Sim. The Sims 4 Star Wars Journey to Batuu Game Pack is available September 8! Create your unique #TheSimsxStarWars story: https://t.co/OrpnA7VfUK#JourneyToBatuu pic.twitter.com/t5npF4Fmfh

— The Sims (@TheSims) August 27, 2020
Presumably the expansion will let players build a regular Sims life for themselves on Batuu, giving gamers a chance to see what it's like to live a regular life in the Star Wars universe. The expansion will arrive on September 8, 2020.
Josh is a huge Star Wars fan, who has spent far too much time wondering if any Star Wars character could defeat Thanos with all the Infinity Stones.