LEGO Star Wars Reveals Details About New Luke/Darth Vader Bespin Duel Set for The Empire Strikes Back's 40th Anniversary
In celebration of the films 40th anniversary, Target is releasing a new exclusive The Empire Strikes Back LEGO set showcasing the iconic reveal of Darth Vader as Luke's father on Cloud City. StarWars.com interviewed LEGO Star Wars design director Jens Kronvold Frederiksen about how LEGO redesigned the iconic scene.
I can't think of a more iconic moment from Empire to celebrate with a LEGO set. I'd imagine it was something of a no-brainer, but at the same time, there's probably extra pressure to get it right.
You are right. I am sure for many, this is THE most important moment, and we feel the same! So it is an obvious scene to choose as a set. Another good reason is that this scene has only been available as part of the two bigger Cloud City sets. This is the first time it is made as a separate model.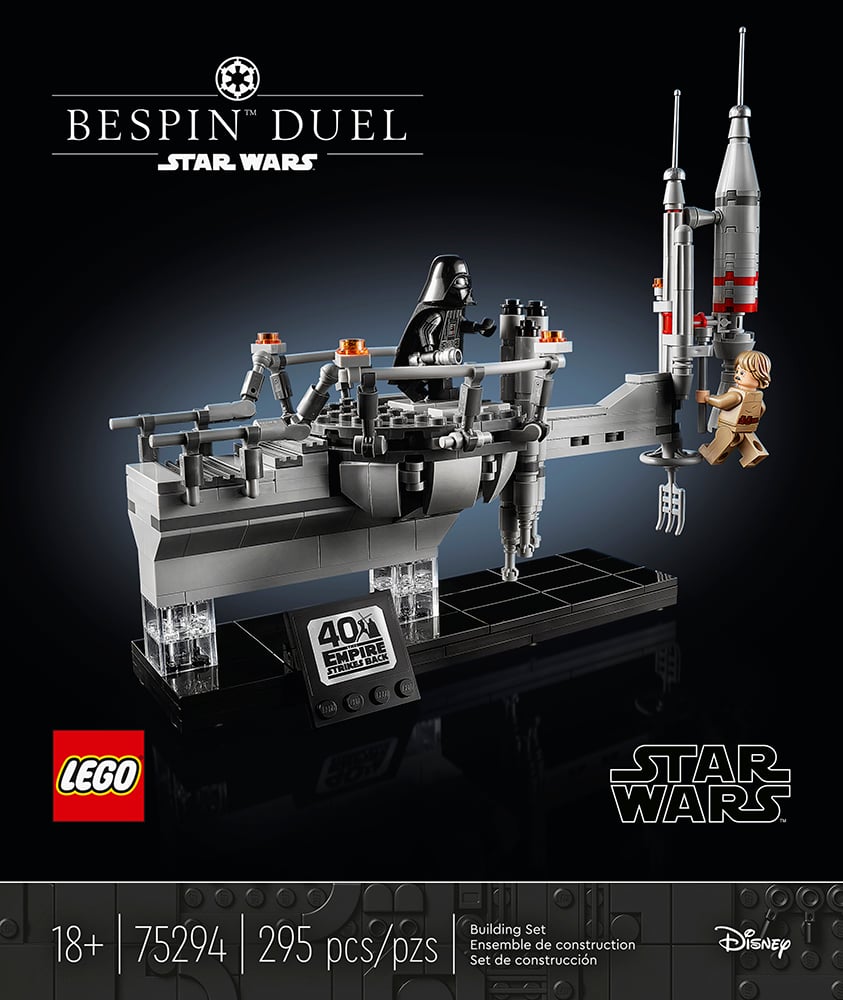 Did you uncover anything in your research that surprised you?
We received some black-and-white pictures from Lucasfilm from the original movie set when The Empire Strikes Back was filmed. I had never seen them before! It was very interesting to see behind the scenes of a movie we have seen so many times.
I love the details, like the three sliced columns near Vader, that you were able to carry over from the film. How important is it to you to get those storytelling elements and details into a build like this?
As mentioned before, this is more a model thought for display, so it is very important to get every little detail right. And, by the way, the storytelling. Therefore, Luke and Vader do not have their lightsabers. [Note: At this point in the film, Luke has lost his lightsaber, and Vader has turned his off.] The model reflects the moment after the lightsaber duel is over, and Vader tells Luke, "I am your father." But, since everybody wants lightsabers with their LEGO minifigures, the lightsabers ARE included in the set. On the back of the bridge there are two small clips holding a blue and a red lightsaber.
For the full interview go to Starwars.com. The LEGO Star Wars Bespin Duel set is available August 27 on Target.com.
Alex Newman is huge Star Wars fan and loves to keep up to date with the canon. He's also loved movies for as long as he can remember. He's a massive Disney and superhero fan but will watch anything. He's worked at a cinema, a comic book store and at Disney World but is currently working in radio in London!