Celebrate Star Wars With Empire40 – A Fan Made Live-Stream Celebration on August 2nd
Star Wars Celebration may be cancelled but that's not going to stop the fan community from celebrating the 40th anniversary of one of the greatest movies of all time. Farthest From have gathered together Star Wars creatives, fans, and special guests to create Empire40,  a special nine-hour livestream event celebrating The Empire Strikes Back.
Taking place tomorrow, August 2nd, the festivities begin at 9AM (ET) with a special introduction and will stream live from Farthest From's Facebook page. with some (but not all) content  hosted simultaneously on All The Cool Stuff's YouTube channel and the newly created Empire40 YouTube page. There's even a trailer to get you in the mood!
https://www.youtube.com/watch?v=lhOcnSPTjTw
Following on from May's 'Farthest From 22 LIVE' online event which replaced the physical running of the 'Farthest From Vintage Toy Show' with an online extravaganza featuring Anthony Daniels and Brian Herring, Dave Tree of All The Cool Stuff has brought together a team of creatives to create Empire40, a livestream event celebrating the 40th anniversary of 'The Empire Strikes Back'.

The livestream is split into three distinct segments. Opening the show is 'Hoth', followed by 'Dagobah' and finally 'Bespin' with content tailored to match each of those unique portions of the film.

Content includes fresh interviews with 'Empire' editor Paul Hirsch, Norwegian Unit Director Peter MacDonald and Second Assistant Camera Madelyn Most, Dak Ralter Actor John Morton, former Lucasfilm Senior Editor J.W. Rinzler, Marvel Comics legend Walt Simonson and 'Rogue One' Director Gareth Edwards as well as vintage interviews with Director Irvin Kershner and an unseen interview with the late Alan Harris.

The stream also features a selection of podcasts from across the spectrum including the award-winning Rebel Force Radio, The Vintage Rebellion, Skywalking Through Neverland and Fantha Tracks podcasts Desert Planet Discs and Making Tracks. There are panels featuring experts from around the collecting world including the Retro Gamer, Jedi News and SWCA, messages from fandom and the cast and crew of the saga as well as musical performances from Blues Harvest and Darth Elvis, specially produced commercials and quizzes based upon the three key locations of 'Empire' – Hoth, Dagobah and Bespin.

Kicking off at 2.00 pm UK, 3.00 pm CET, 9.00 am EST, 6.00 am PST with a very special introduction, the stream will run for an estimated 9 hours and can be found at:

https://www.facebook.com/FarthestFromToyShow
Thanks to our friend Mark Newbold of Fantha Tracks for the heads up.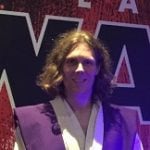 Chris is a lifelong fan of Star Wars, Disney, and super heroes who can't quite believe this golden age of movies and TV we're living in. Having written blogs dedicated to Disney's Aladdin musical and Star Wars Celebration, Chris is excited to be part of the SWNN and MNN teams.