Ludwig Göransson to Begin Writing Music for 'The Mandalorian' Season 2 Soon; Releases Music Video for Show's Theme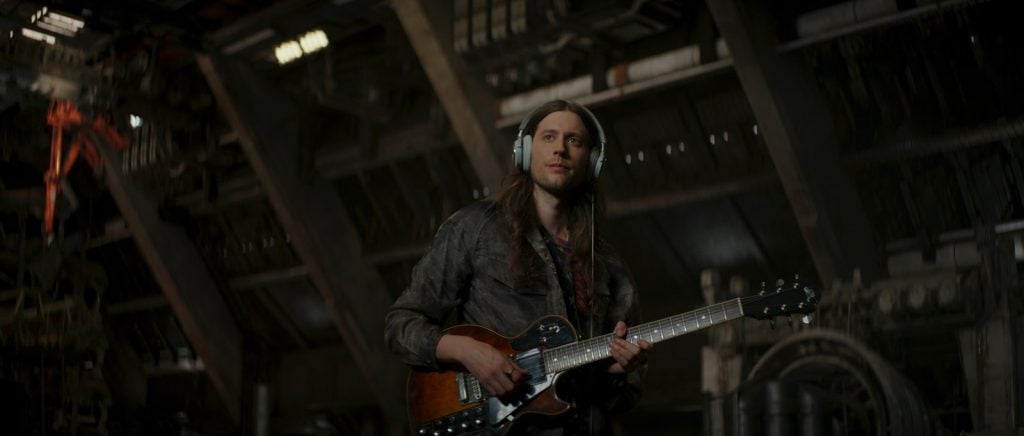 The Mandalorian composer Ludwig Göransson spoke with Vanity Fair about his process in developing his unique sounding score for the series which is showcased in a brand new music video for the show's main theme. Göransson also revealed that he is about to begin writing the music for the show's second season, which will debut on Disney Plus this October.
First off, let's start with Göransson's new music video of the main theme from The Mandalorian:
In speaking with Vanity Fair's Anthony Breznican, Ludwig Göransson delved into the parallels between being a lone creator developing the music that would tell the story and serve as the emotional cadence for a lone masked gunslinger in The Mandalorian. He explains his process, which came after meeting with Jon Favreau, understanding what the show's creator wanted and the immense level of freedoms he granted Ludwig to develop a new sound for Star Wars.
"I read the script early on, and I had a conversation with [creator and executive producer] Jon Favreau about what we're trying to do. He showed me some artwork and pictures. I got very inspired, and I just closed myself off in my studio for a month and surrounded myself with all different instruments. I just started recording myself. It felt like meditation. This was how I used to write music as a kid."

"I wanted to get back a little bit into that mentality, because I remember watching Star Wars for the first time as a kid. The music, especially, had such an impact on me. I wanted to reconnect. It was kind of like a journey in itself. Each instrument brought me to another."

"You're following this character throughout the show, and he wears a helmet, so he doesn't have any facial expressions. I'm the facial expression. The music is the facial expression, telling how he feels going through this journey. That was my start. And I created these songs, but that was just me playing all the instruments. That was the skeleton of the score."
Breznican brings up Ennio Morricone who just passed away. The legendary composer is most known for his iconic Western scores, including the Sergio Leone films, like the Clint Eastwood classic The Good, the Bad, and the Ugly. He asked Göransson if he was inspired by the late legend.
"Of course. I don't know how you can be in this field and not be inspired by his achievements and his music. Just the way he experimented in production, the way he brought in different styles of instruments combined with each other, and he really pushed the envelope so far and he made it also sound so simple and so close. In The Good, the Bad, and the Ugly, it's a similar idea, is that it's two notes. But immediately when you hear it, it resonates with your whole body. That was a magic power that Ennio had, to be able to make these interesting combinations."
Göransson didn't go into creating music for The Mandalorian with the intention of deliberately sounding different than John Williams' classic Star Wars sound, but he was given creative liberties to branch out by Favreau and Filoni. Instead of delving into John Williams' sound, he went back to explore Williams' mentality approaching scores in his earlier years before Star Wars, related to the legendary composer in a much different, and perhaps even more profound way than trying to echo his sound for this franchise.
"I didn't set my mind that I wanted to do something completely different. Obviously, Favreau and Dave Filoni, they were extremely encouraging of experimentation. They left the doors open…. I'm familiar with the Star Wars music, but I think for this show, in particular, I also wanted to pay homage to John Williams. I was really interested in the headspace that John Williams was in when he was writing this music in the '70s. What was his sound back then? What was the music that he was writing? He had been a prolific composer long before Star Wars. I went back and listened to a bunch of his old scores and also listened to the way that he experimented with production and sounds. There's so much material.
I remember there was this specific score for a movie called Earthquake that he did, I think, in 1964. I bought a bunch of vinyls, and I listened to that at home and studied that score, especially the main theme, I thought was extremely interesting. I was very intrigued by the headspace that he was in when he was tackling Star Wars and what he'd done before that, more so than Star Wars today."
What would a discussion about The Mandalorian be without discussing "The Child" right? The theme of "Baby Yoda" evolves throughout the season, but was developed from the perspective of Din Djarin and how he views him, which Göransson reveals was a brilliant angle pitched by Favreau. How the music surrounding Baby Yoda evolved throughout the season, slowly building in pair with Mando's music until they finally unite, is simplistic and makes sense as a concept, but its execution is pure mastery.
"Me, and Jon, and Dave, we had a lot of conversations about how to musically portray the baby. And Jon  was very smart about, Let's portray him through the Mandalorian's eyes. Let's play him the way the Mandalorian perceives him. He doesn't think, Oh, what is this cute thing? He's like, What the hell is this?

It's a struggle for him because the baby turns out to be the thing that makes him human. It turns out to be the thing that gets him these feelings that he doesn't understand in the beginning. The music is more playing just struggles that the Mandalorian's going through when he's dealing with this thing. Should he take the baby, and get his money, and give it to the bad guys? Or should he keep it and protect it? It's a constant struggle. And I think that's what the music is trying to portray.

It's definitely in the instrumentation and the baby's theme that we gave him in the first season, which is kind of the first hint of pure human emotion that we play for Mandalorian. It's electric guitars, actually, playing the broken children's tune that comes up kind of sad. But throughout the season, it builds and builds. And in the end of episode eight, it really connects them. It takes on a different dimension, and it really connects the two together."
Ludwig Göransson also revealed he will begin writing the score for season 2 of The Mandalorian soon. The season debuts on Disney Plus this October.
You can view the interview in its entire here at Vanity Fair.
John Hoey is the Lead Editor and Senior Writer for Star Wars News Net and the host of The Resistance Broadcast podcast
"For my ally is the Force, and a powerful ally it is."