Review – Star Wars: The Ultimate Pop-Up Galaxy Limited Edition from Insight Editions
We were pretty crazy about Star Wars: The Ultimate Pop-Up Galaxy when we got our hands on it last November. Our own Jordan Pate put it to the test and loved it, so we were thrilled when this limited edition was announced. Insight Editions continues to put some incredible collectible works in the hands of Star Wars fans and this is easily one of the most elegant and interactive pieces of work we've seen. Pop-up engineer Matthew Reinhart and artist Kevin M. Wilson poured the visuals of nine films (The Rise of Skywalker is only glimpsed) into one pop-up book and this limited edition celebrates that accomplishment.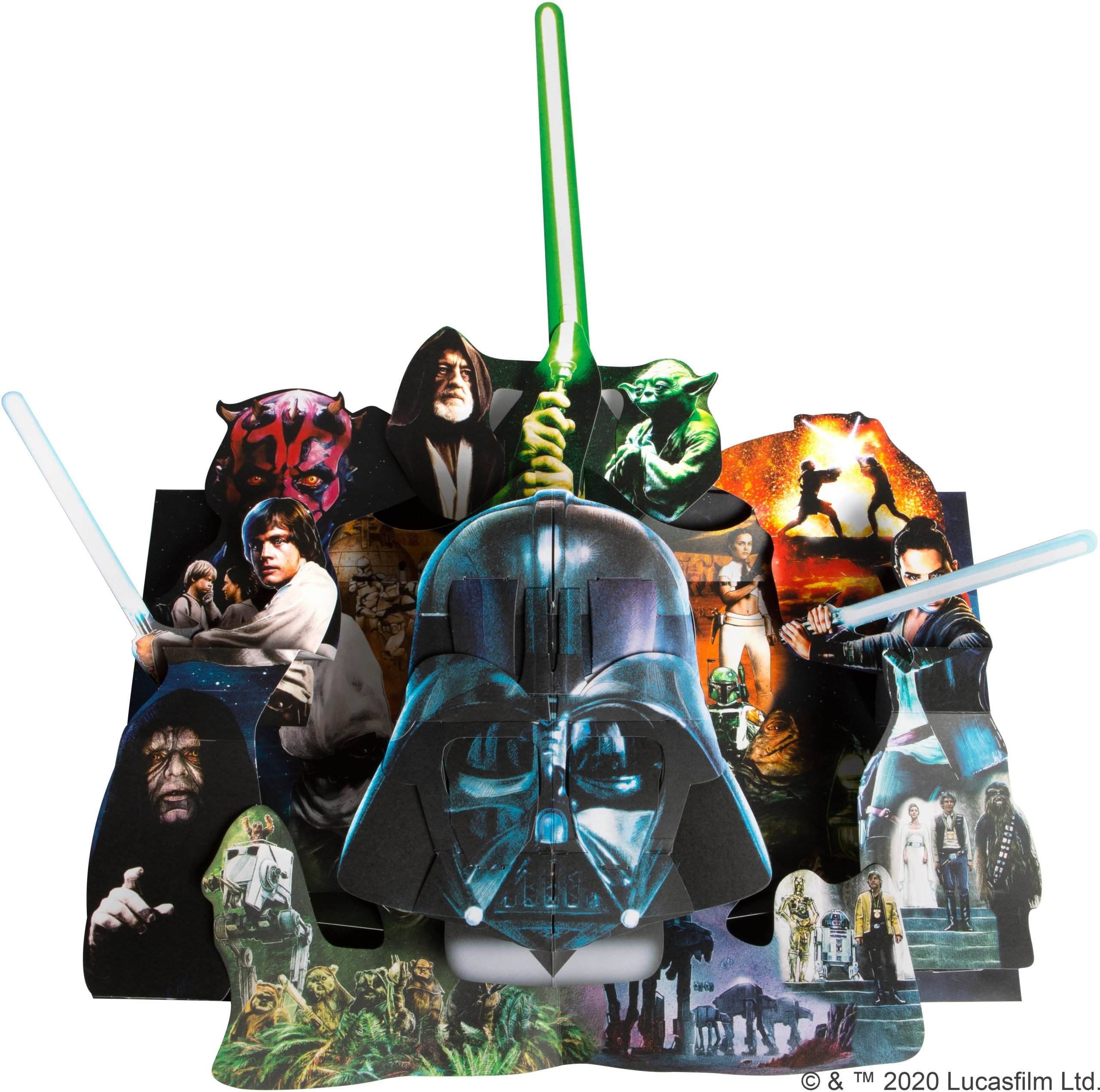 In addition to a stunning black-and-silver hardcover case, this limited edition contains a special pop-up poster signed by Matthew Reinhart himself, as well as the numeration of what printing you received. There were only five-hundred constructed so you'll know which number is yours. It reminds me of the old days of comic-books and baseball cards fans obsessively tried to get, only Insight Editions deliver this one right to your front door. The poster itself is awesome! You are greeted by the iconic visage of Darth Vader but when you pull the tab…
…you get Kylo Ren. Not to mention the incredible art from Kevin M. Wilson depicting some of your favorite moments in the saga. Below is a picture of what it looks like on my kitchen table, just to give you an impression of the size and how the lightsabers come right for you when you open it up.
This book is very difficult to photograph because none of the pictures do it justice. There is just so much going on in every diorama/pop-up.
Also, it seems like they've tightened some of the functionality of the pop-ups. I have the original edition and some of the pop-ups were difficult to make work at first but in this limited edition they function perfectly. Here's one of my favorites from one of my favorite scenes. You can see to the right how the pull of a tab changes the entire pop-up. Again, this is very hard to photograph because Reinhart and Wilson put so much detail into each diorama.
I'm even more impressed than I was the first time I looked at this last fall. This limited edition Star Wars: The Ultimate Pop-Up Galaxy is definitely a boon for collectors out there. If you haven't picked up the original this is the one you should get. I've had my original copy for a while and I'm still discovering art or functions of the diorama pop-ups. The engineering by Reinhart is incredible as these come out of the book and bring a scene to life. The limited poster and hardcover also give you a special piece of this project to own forever. This is definitely a collectible that keeps on giving and I promise it looks damn good on a shelf next to all your other favorite Star Wars books.
RATING: 10/10
Star Wars: The Ultimate Pop-Up Galaxy Limited Edition is available from online retailers (Sideshow and Amazon) currently! Get your eyes on one of the most dynamic Insight Editions projects out there!
Special thanks to Insight Editions for the review copy!
Kyle Larson lives in Portland, Oregon. When he's not running trails, he's reading and writing.