Review – Disney Gallery: The Mandalorian Episode 8 "Connections" – A Reminder of Why I Loved Star Wars to Begin With
The Disney Gallery documentary series on The Mandalorian concludes with "Connections", an episode dedicated to the Easter eggs, fan service, references, and cameos that bind the Star Wars galaxy, its creators, and its fans together. This final episode had me smiling and laughing out loud throughout its 38 minutes. It is the perfect episode to end the series, serving as a valuable and much needed reminder that Star Wars is very, very fun.
My biggest takeaway from this episode is how funny it was. If you played with action figures as a kid you will relate to this episode in a way that will vault you back to simpler times, where your mind could wander to a galaxy far, far away and create adventures using whatever 3.75 inch plastic hero or villain you had at your fingertips in that moment.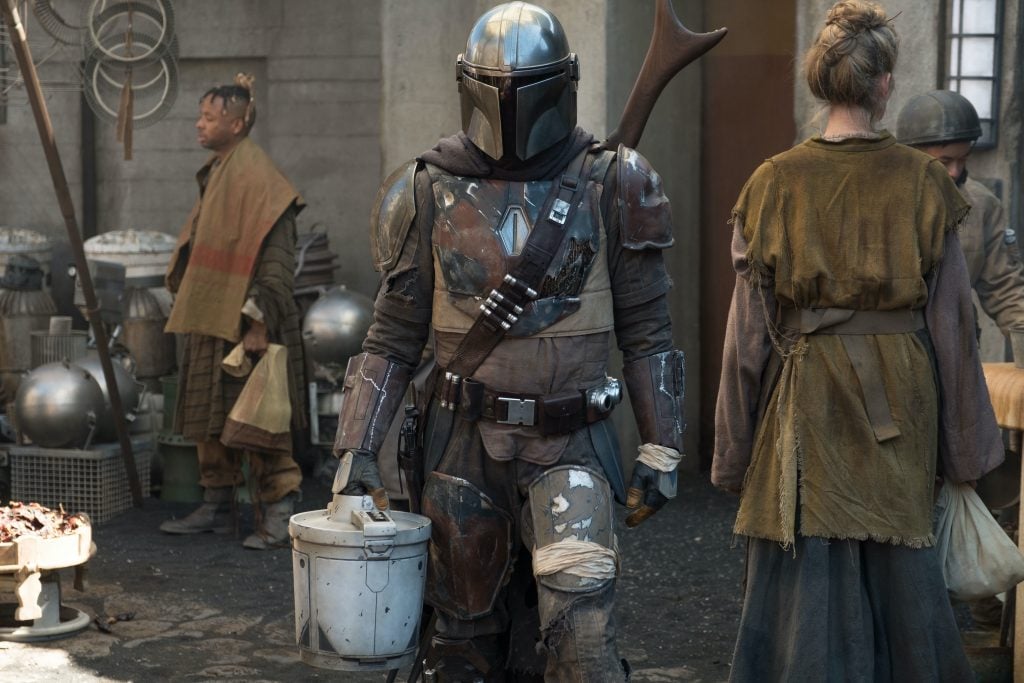 From referencing fans at Star Wars Celebration with Willrow Hood's "Ice Cream Maker" to dialing down the visual effects on the Quarren species because they didn't want it to look "too good", Favreau and company clearly have the right balance in place on capturing the spirit of what made Star Wars great to begin with, while fully understanding and respecting their place in all of this. As Favreau explains:
"Because we're not George Lucas. We're just filmmakers who grew up watching it. Just because we say it, doesn't mean it's cool."
The underlying charm of The Mandalorian is brought to the surface in making it a point to tell stories about fringe characters or species throughout the franchise's history, the action figure "peg warmers" as Dave Filoni calls them. They approached it from their imaginations, but not their imaginations now, the memories of their imaginations as kids. IG-88 was made out of spare parts from the original Mos Eisley cantina set to simply serve as a background piece to Boba Fett for The Empire Strikes Back, and he didn't move because he was literally bolted to the floor. But as Filoni explains, kids don't see any of that. Kids see a stoic assassin and he is badass and cool because he doesn't move. This is the lens I wish we adults can attempt to continue viewing Star Wars through, the same lens we viewed our introduction to Star Wars through.
The spirit of The Mandalorian is rooted in what it was like being a kid, playing with the toys you had, and making the most out of it. Filoni uses an example many of us who have older siblings can relate to:
"Your older brother took all the cool toys and we got left with ugnaughts, jawas, and other peg warmers. But somehow we got a Boba Fett figure and painted him silver and made him cooler."
Sometimes you need to put the Joseph Campbell books away and remind yourself what made you love Star Wars to begin with. As George Lucas and now Dave Filoni continue to say over and over again, it's a story made for kids. Sometimes we need to bring it back to that root reason, take out our toys, and let our imagination create an adventure.
The nods in this series span all of Star Wars, from the Kenner troop transport which was only made for toys and never featured in any content, to the Darksaber from The Clone Wars, even Boba Fett's prong gun from the maligned Holiday Special. It's all in there, but not in an over-bearing "we're going to make sure you get this reference" sort of way. Favreau knows the delicate balance and nails it every time.
Other fun highlights:
George Lucas acknowledging the Boba Fett prong gun and stone-facing Favreau that it really wasn't his doing.
Mark Hamill voiced the bartender droid in the Mos Eisley cantina, which is the same droid from Jabba's Palace that gives droids jobs, and told Artoo he was a "feisty little one."
R5-D4 rolls by in the Mos Eisley cantina, having never left Tatooine after busting his motivator at Lars Homestead. Filoni even asked the crew to apply some burn marks and oil at the spot his motivator blew. It is such an unnecessary yet amazing use of detail for that reason.
The 501st were brought in to add to the population of stormtroopers with Moff Gideon in the final episode of season 1. It was cool to see these die-hard fans get an opportunity like this, and their sincerity and joy is evident. A very cool moment.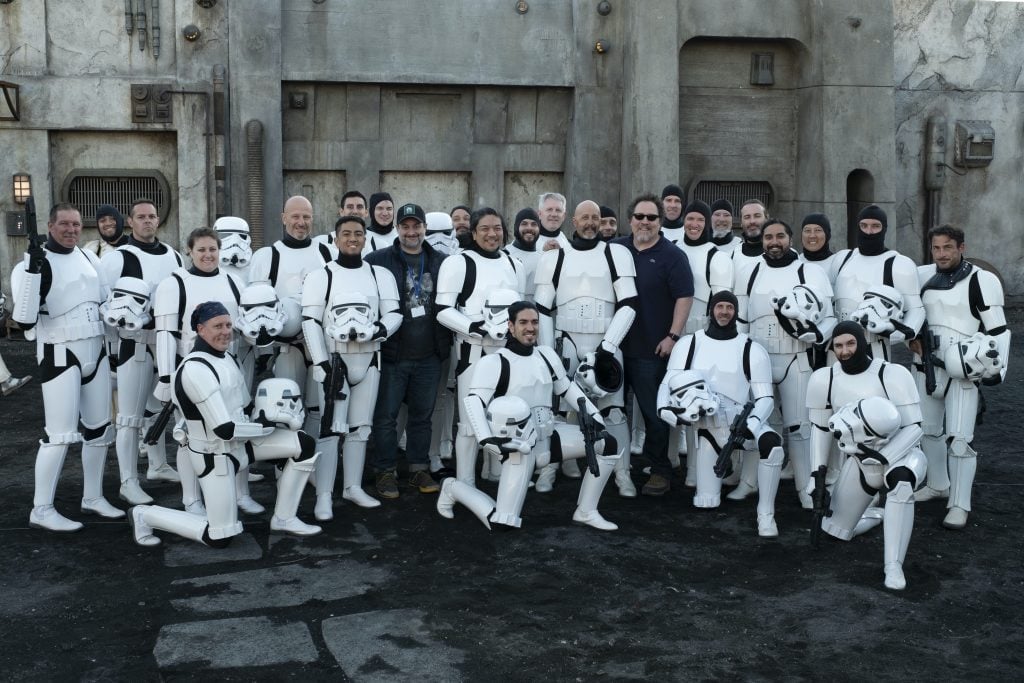 The entire episode had me smiling and laughing, but the end was the best part: Favreau insisting that directors Deborah Chow, Dave Filoni, and Rick Famuyiwa play X-wing pilots at the end of chapter 6. Filoni's reluctance seems pure which adds to the fun of it. Favreau's direction on how Filoni should deliver his lines had me leaning over laughing, telling him to just be as bored and casual as possible. Add to the fact that they had to use the X-wing cockpit from the X-wing at Galaxy's Edge in Orlando and the whole situation just felt so charming and accessible.
The relationship between Favreau and Filoni is tighter than I anticipated and they seem to feed off of each other well, in a relationship that I hope continues beyond The Mandalorian. For now I'll relish in the fact that there's plenty more Mando to come this October when season two arrives, and I am eager to see what Favreau, Filoni, and company decide to do with their action figures this time, including new ones they may have picked up along the way.
Please also check out The Mando Fan Show later today on the SWNN YouTube channel or your favorite podcast feed, as we give our takes discussing this episode of the documentary.