Review: No One Left Behind in IDW's The Clone Wars – Battle Tales
New comic alert! It's been a drought for creators and readers due to the current state of things, so when a new Star Wars comic arrives there's much to celebrate. The SWNN staff have been looking forward to The Clone Wars: Battle Tales  for a while now. We had a chance to talk with writer Michael Moreci a couple months ago (this series was originally supposed to debut in April and run concurrent with the final season of The Clone Wars), so we're thrilled the first issue is finally out in the world. This series is intended to be a prequel to The Clone Wars film and series. After that phenomenal final season I'm so excited this will give us a little bit more story. This first issue brings us a lot of familiar faces but the best part is they don't really know what to think of each other yet. SPOILERS AHEAD….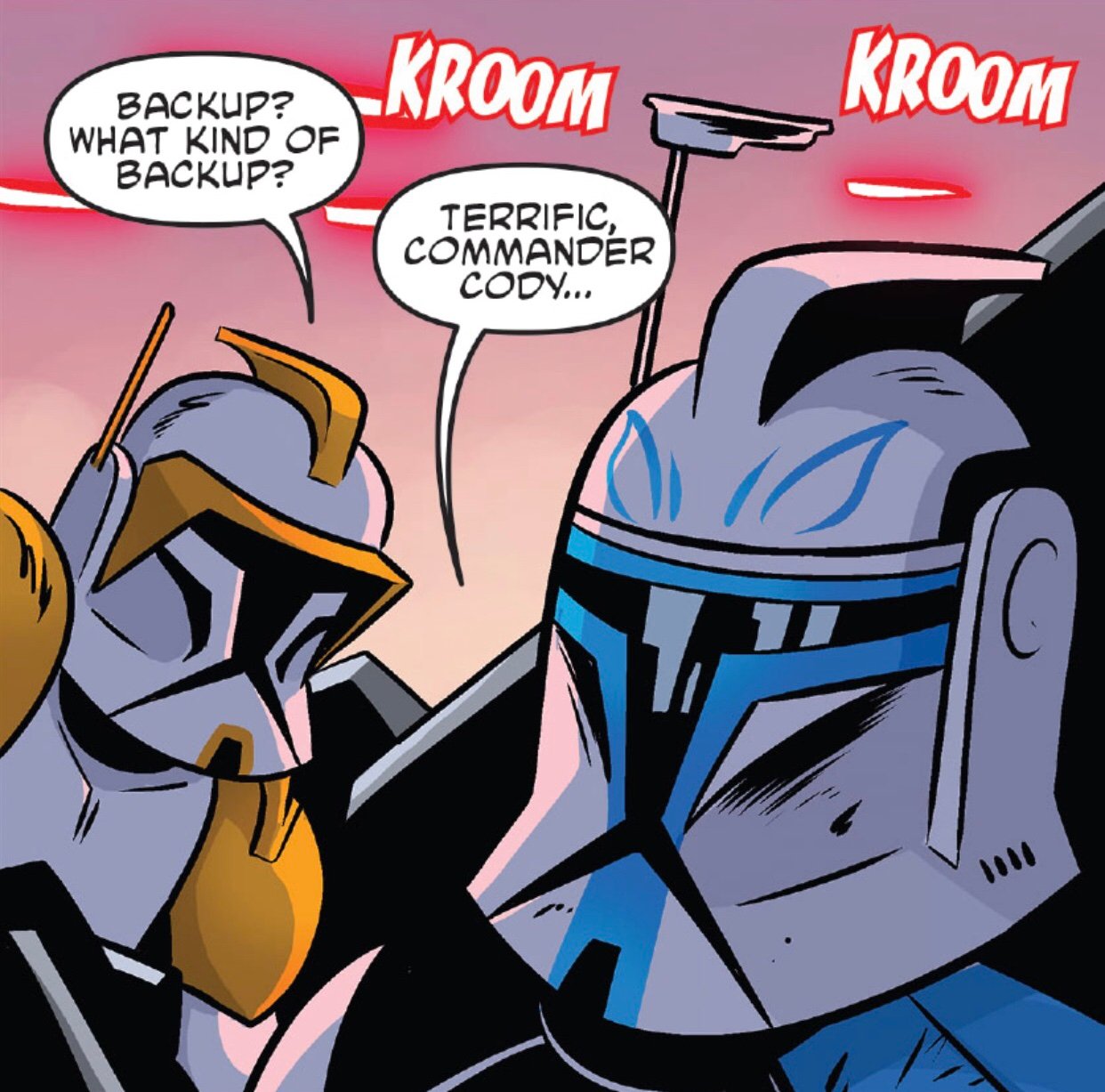 The issue begins on a planet we've never been to before, Hisseen. Moreci establishes this takes place just before the Battle of Christophsis, the battle which opened The Clone Wars film. We're dropped into the middle of a it, each side throwing all their firepower at the other. When the super battledroids arrive, Captain Rex and Commander Cody have to regroup and figure out how best to protect the people of Hisseen. As an eager commander is ready to prove his worth and deploy more troops against the droids, Rex sees a super battledroid levitate, telling him some unexpected reinforcements have arrived.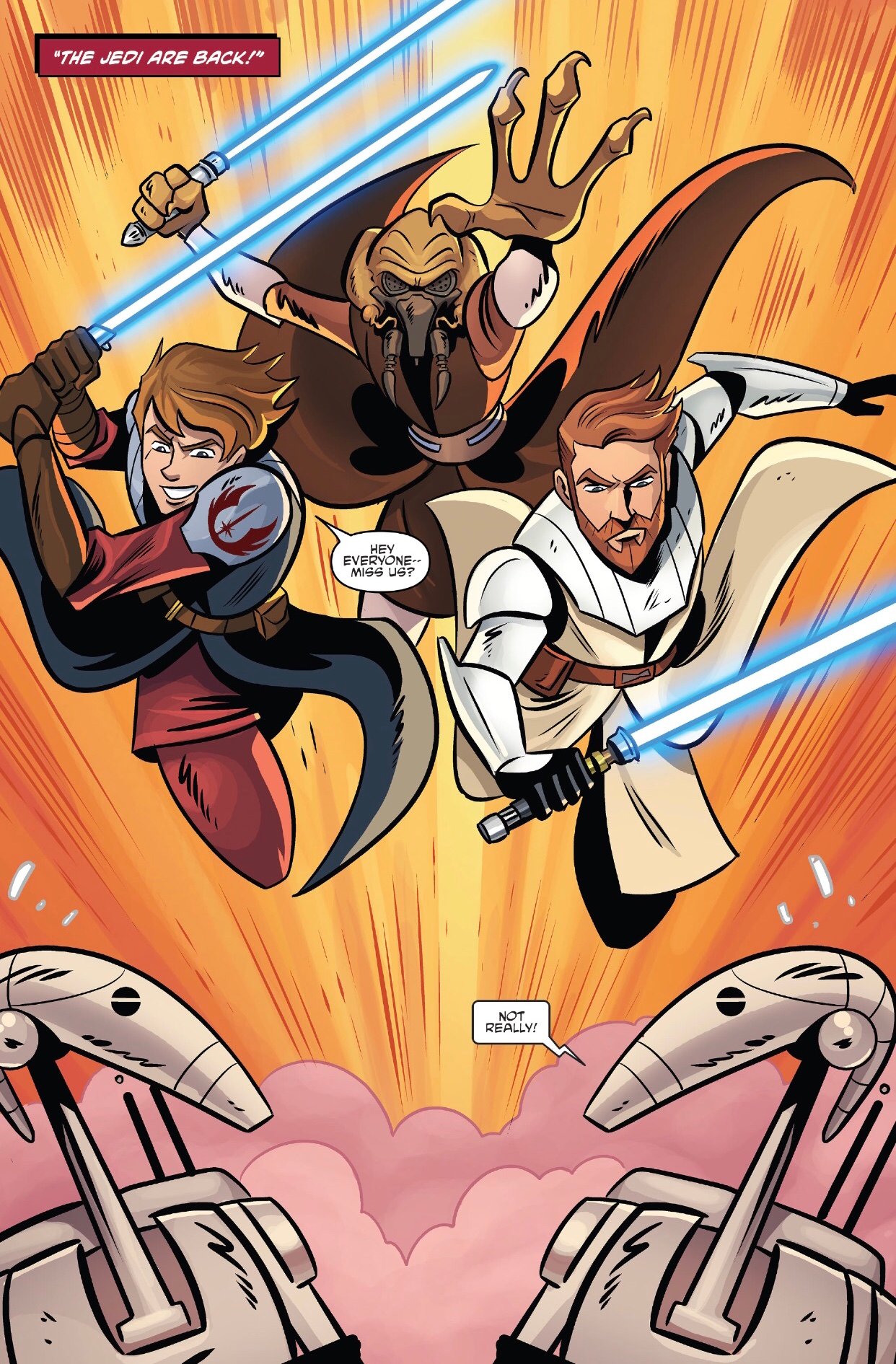 And here come the Jedi! What's interesting about their arrival is Moreci implies most of the clones have only heard about them, especially Anakin. After the Jedi dispatch the droids, Plo Koon tells the clones to stay focused on protecting the people of Hisseen because they are preparing to crash a meeting involving Count Dooku, Asaj Ventress (more Ventress content, please) and the leader of the Hisseenian people.
While the other clones seem to express apprehension about their place in the trenches and being used for cannon fodder, Rex reassures them there is at least one Jedi who will always fight for them. Commander Cody mentions he's heard about Anakin's tendencies to ignore orders or "stick to the plan", so Rex decides to tell his fellow soldier a story about why he has faith in Anakin Skywalker. Moreci absolutely nailed the dialogue between the clones. I can hear Dee Bradley Baker in my head each time I read a phrase of their dialogue. I'm also very thrilled this story is being told through the lens of the clones.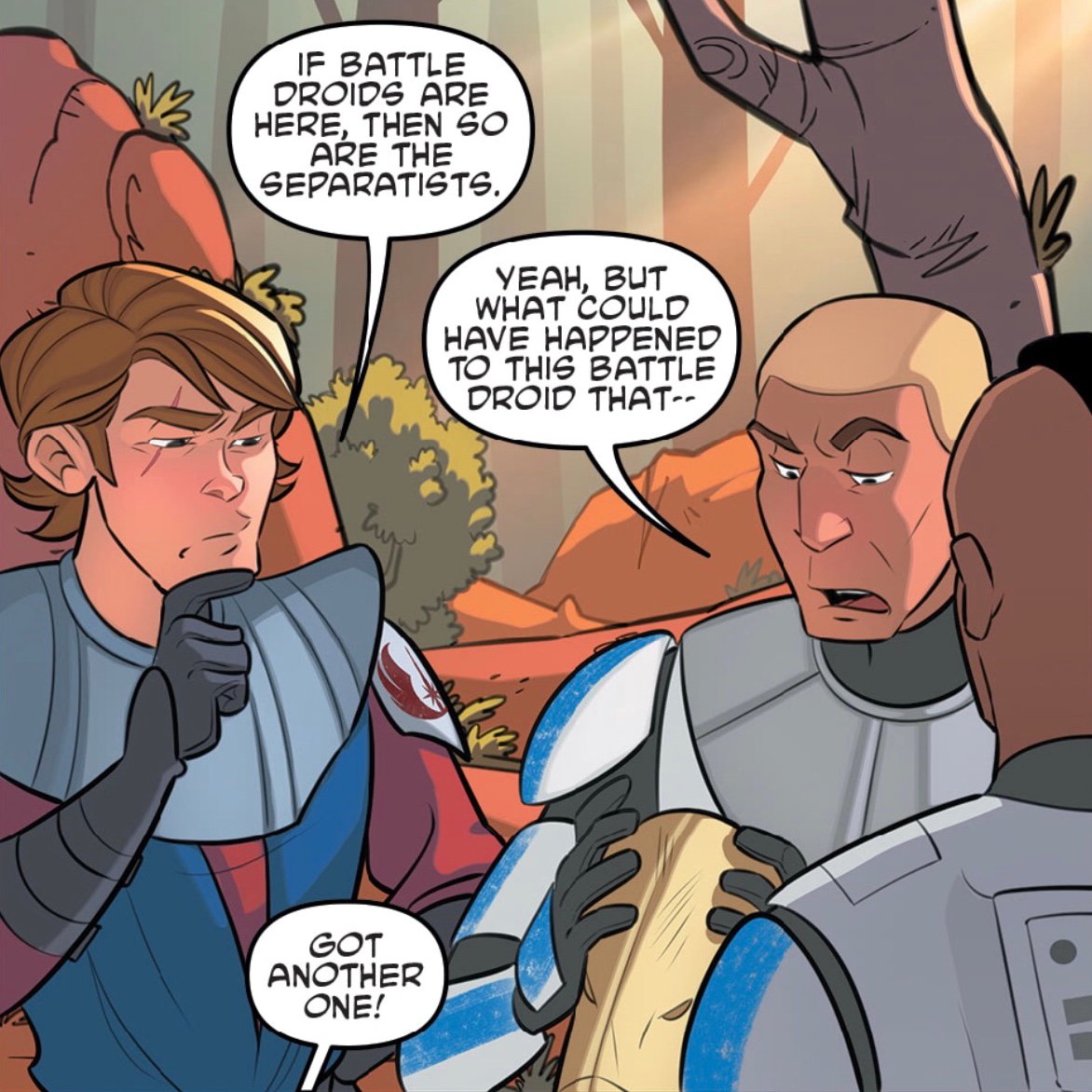 We flashback to the planet of Benglor, with the clones and Anakin slogging through a hot, humid wasteland on a reconnaissance mission to search for Separatist activity. They continue to find pieces of battledroids and a strange goo (found by Hardcase, shoutout to Jordan Pate). As much as they love seeing droids torn to pieces, Anakin and the clones have to admit the randomness is odd. Anakin starts to realize these are almost like breadcrumbs a predator would lay out. Just as he does, the predator reveals themselves.
We haven't seen this creature before but they've led Anakin and the clones to their trap. Unfortunately, trooper Bellow has been gobbled up by the creature. Anakin realizes the creature has lured them in and orders everyone back. Hothead Hardcase won't have it and charges in full steam to avenge Bellow. Anakin orders Rex to lead a retreat, but Rex resists because he doesn't want to leave Hardcase behind. Anakin assures him that no one will ever be left behind while he's commanding.
Anakin tries to reason with the creature but they're not having it, so he goes full "Rey" and takes out a tree with a boomerang lightsaber technique. The fallen tree limbs keep the creature confined so Hardcase can be retrieved. Anakin is the first person to come down on Hardcase about respecting the chain-of-command and following orders. He hopes that the tree will be enough, but the creature is still determined to take them out. Rex has returned, so together they fight together.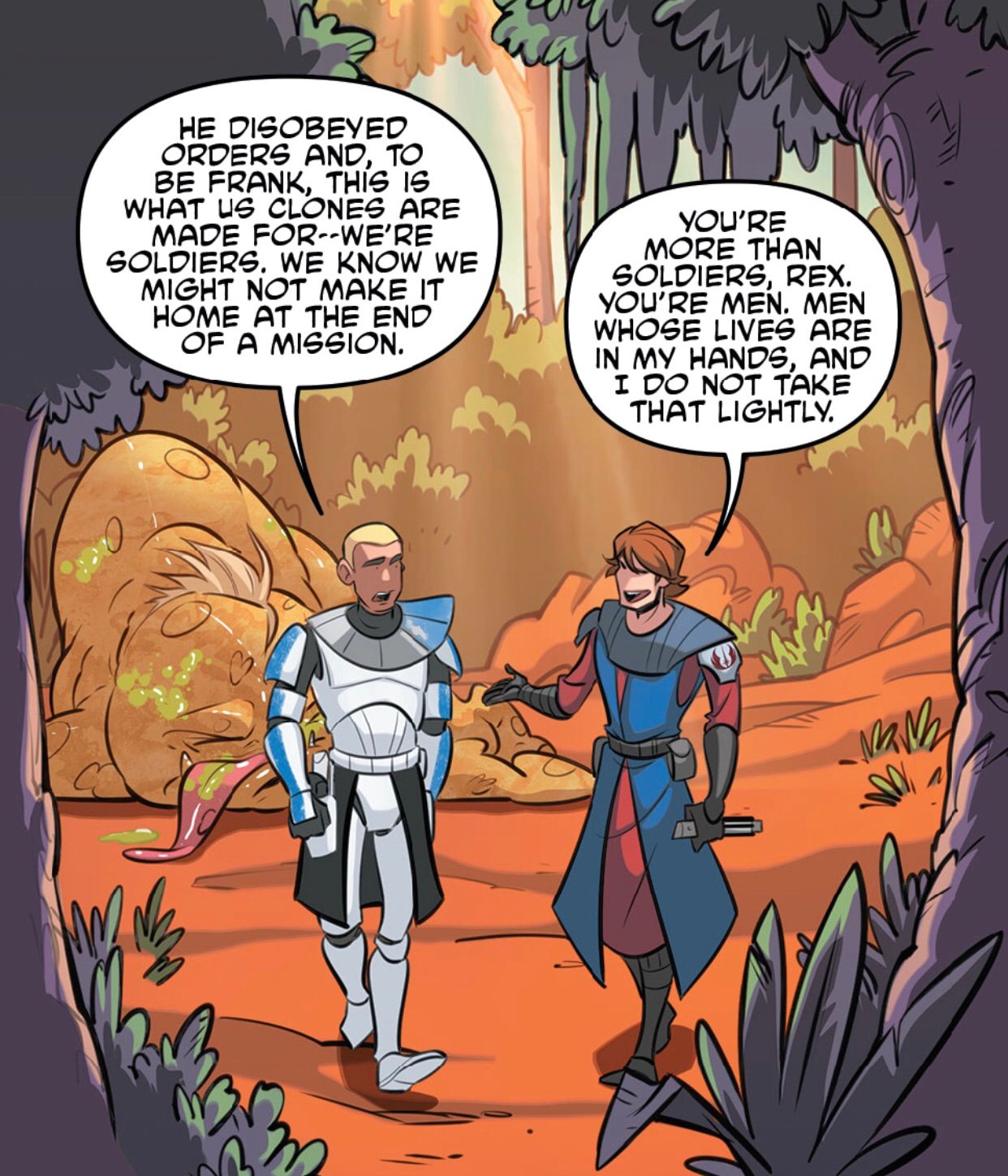 Lovely moment here between Rex and Anakin. Rex is prepared to relegate himself to cannon fodder but Anakin reminds him that all beings are worthy. This relationship Anakin has with the clones has always been one of his most endearing qualities to me. I'm so glad Moreci decided to highlight it. The clones don't know their place in the universe or in this story but Anakin reminds them they are very worthy. Anakin knows what it feels like to be dehumanized and I imagine he's well aware of they hypocrisy of the Jedi sending the clones out to die on the frontlines. There are a lot of problems with Anakin but his regard of the clones is not one of them. I always think back to the opening scene of Revenge of the Sith when Anakin wanted to go back and help the clones in distress. He fights alongside them and makes sure to remind them that they fight with him, not for him.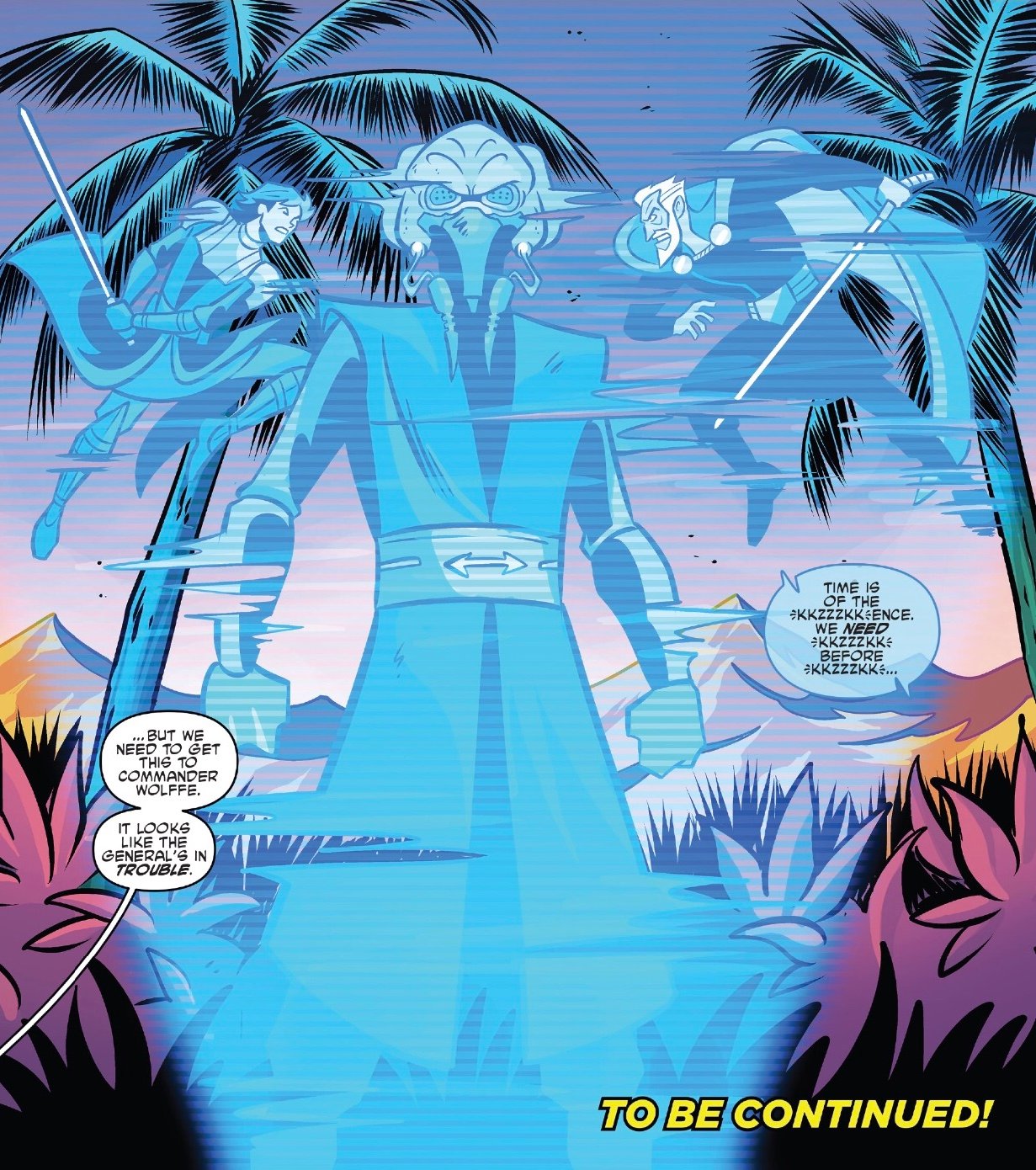 Whoa!! It looks like we are about to get a full-scale lightsaber battle in the next issue as the clones arrive to help. The clones received a transmission from Plo Koon and it looks like Anakin has caught up with Dooku. Personally, I love these little Anakin versus Dooku skirmishes which lead to their final confrontation. Hopefully the next issue is not far behind this one.
Bravo to writer Michael Moreci and the artists Derek Charm, Arianna Florean, Mario del Pennion, Luis Antonio Delgado, and Valentina Taddeo for bringing the spirit of The Clone Wars to these pages. This is an excellent first issue, not only establishing the time but also the uncertainty both clones and Jedi will navigate as they learn to fight together. I feel very confident this book will bring Clone Wars fans a lot of smiles and can't wait to see what the next issue brings. Also, there's a bonus preview comic of Tales from Vader's Castle about the Ghost (yes, that Ghost from Rebels) ending up on Mustafar and potentially bringing something back which will haunt Hera and Kanan. So…if a Clone Wars comic can't compel you maybe that will.
RATING: 8/10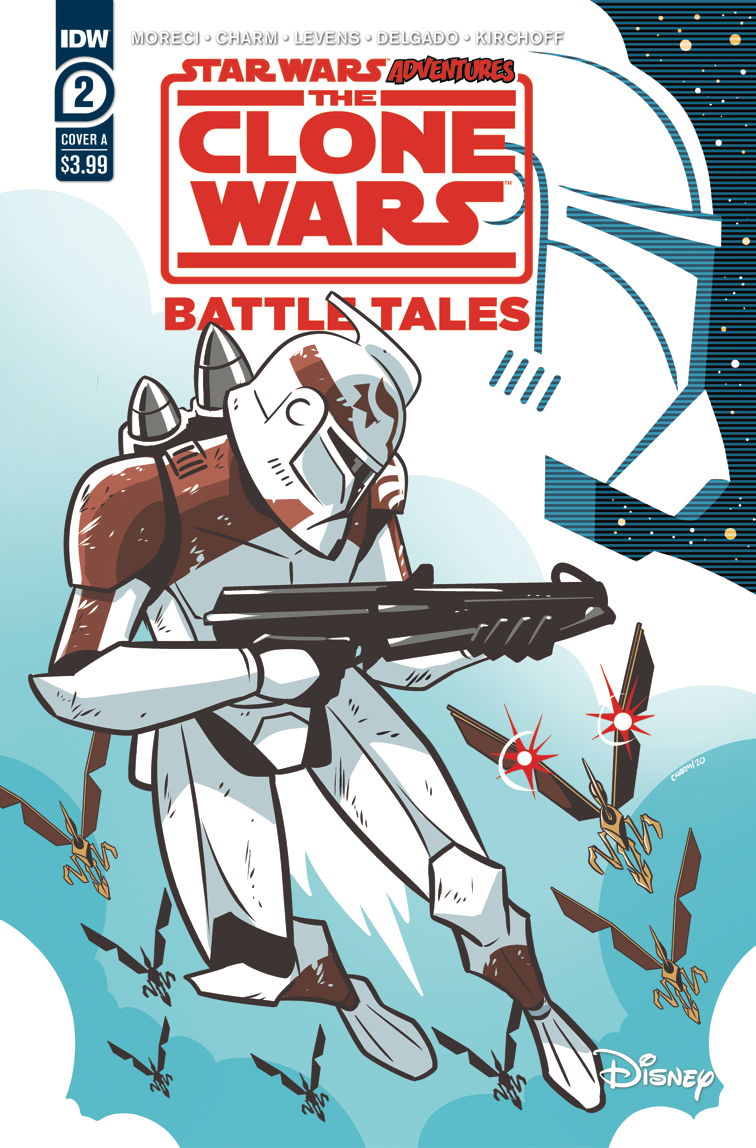 Kyle Larson lives in Portland, Oregon. When he's not running trails, he's reading and writing.