Review – Disney Gallery: The Mandalorian Episode 3 "Cast"
It's Friday, so you know what that means. Another episode of Disney Gallery: The Mandalorian is available to enjoy on Disney +! In this week's episode, part three of the eight-part series, executive producers Jon Favreau and Dave Filoni sit down with three of the show's cast members to talk about their experience on set.
This episode was short and sweet. Clocking in at twenty-six minutes, the third episode of the documentary is the shortest one yet, and it definitely feels that way. That's not to say I didn't enjoy every minute of it, but I guess I was expecting a little more from this episode, especially with the fantastic cast that Favreau and company assembled for this show.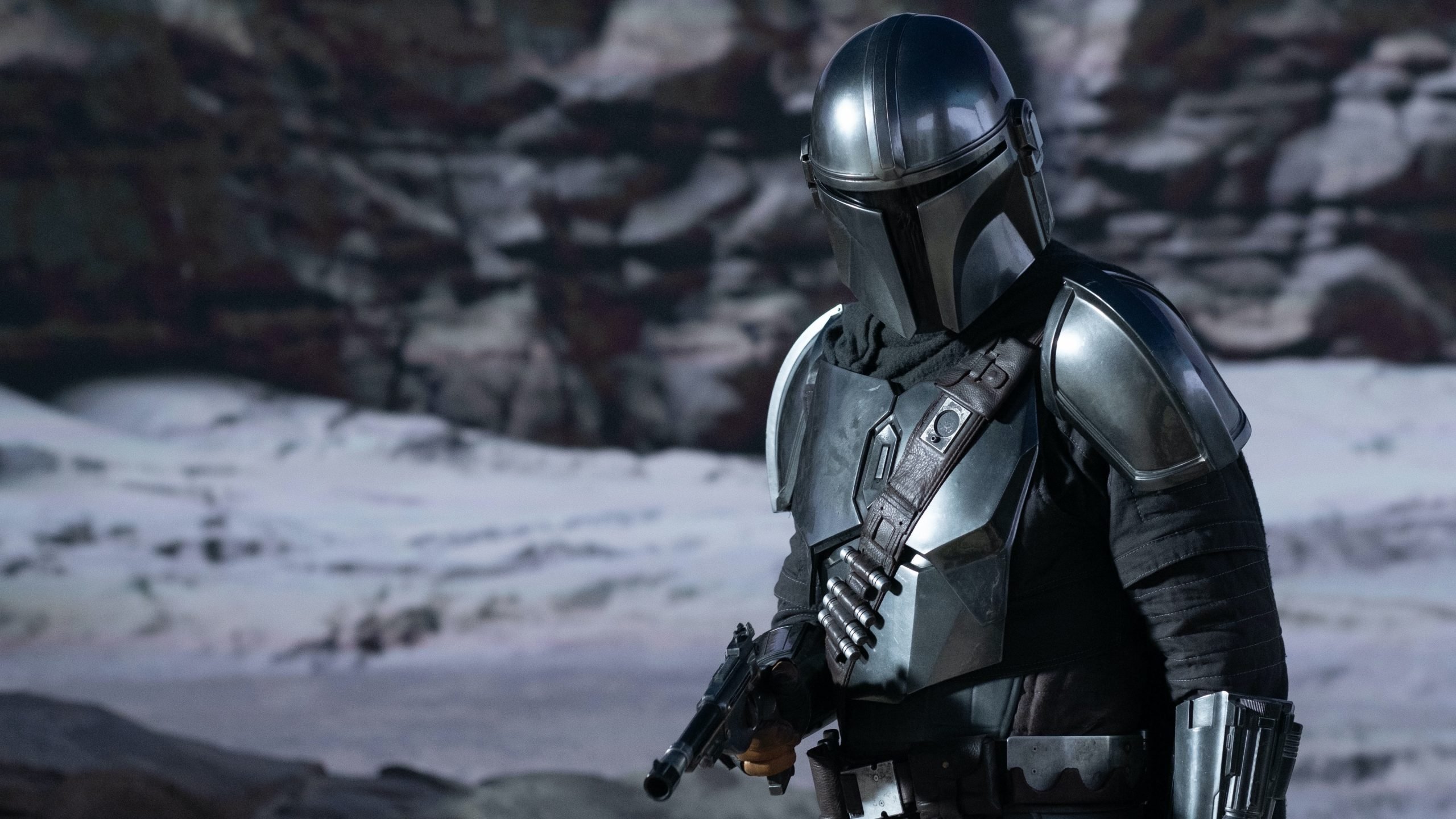 First up, we hear from the Mandalorian himself, Pedro Pascal, who (as you may or may not know) was actually one of three actors that worked to bring the character to life. I really appreciated Pascal's humility when talking about the stunt performers who may have actually spent more time in the suit than he did. He described his part in the show as "playing third fiddle" to the two other men, but it was clear he didn't mean this in a negative way. He was in awe of what the other guys brought to the table, and for good reason.
The two stunt men that bring physicality to the Mandalorian are Lateef Crowder and Brendan Wayne and they each served very specific roles on the show. When you see Mando in hand-to-hand combat and getting very physical, it's probably Lateef under the hood. But the gunplay is all Brendan Wayne. The show didn't mention it, but Wayne is actually the grandson of actor John Wayne, so it should come as no surprise that he's the one bringing that specific vibe to the character.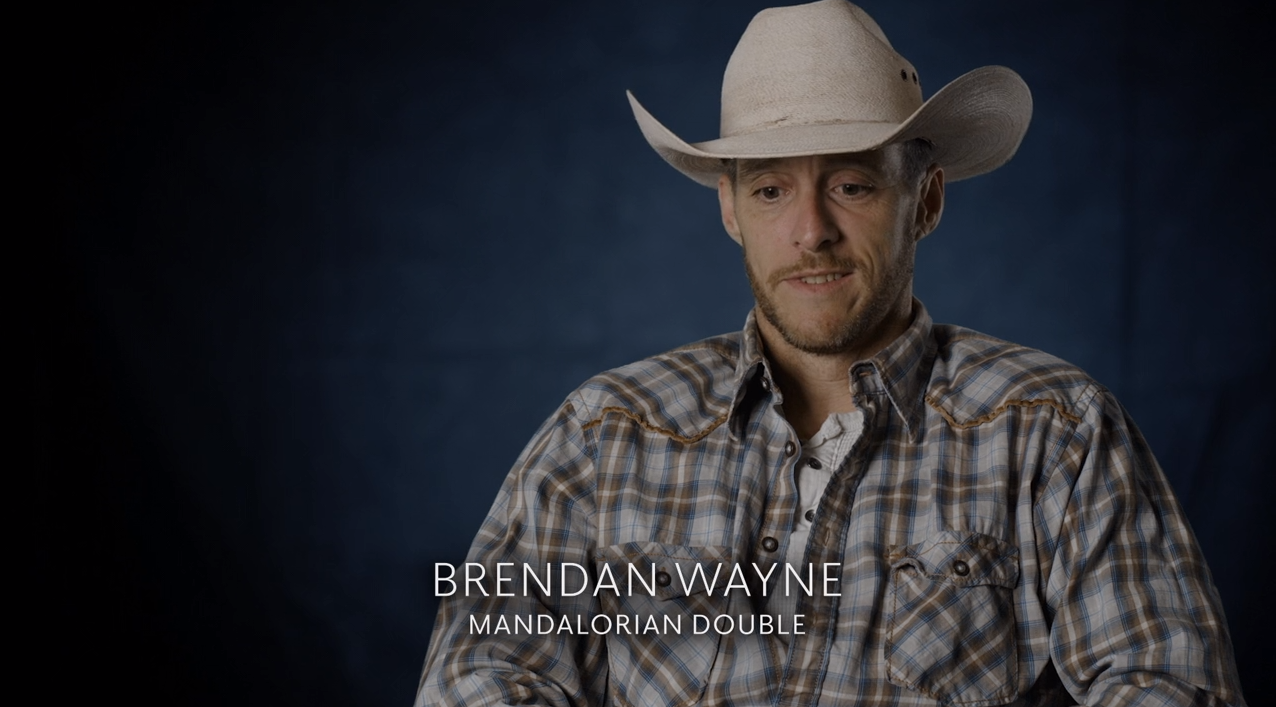 But the physicality of the Mandalorian is only half of the performance, as so much has to be sold with the voice of the character. Carl Weathers (Greef Karga) describes how difficult it is to act against Mando, as so much of how you read a person during conversation is seen in the face and their body language.
Because of this limitation, with the character always behind a mask, the voice is really important to sell the audience on his humanity. Director Deborah Chow also mentioned how difficult it was to get the right tone with the character, revealing that she often directed the actor to be very still the majority of the time so that every action and movement Mando makes seems important and means something.
It was really cool to see Pascal in the recording booth and to witness how he brought the character to life through his voice. Because of the nature of his performance, they were really able to spend time making sure the character said exactly what they wanted him to say, at times, even re-writing Pascal's lines on the spot while recording.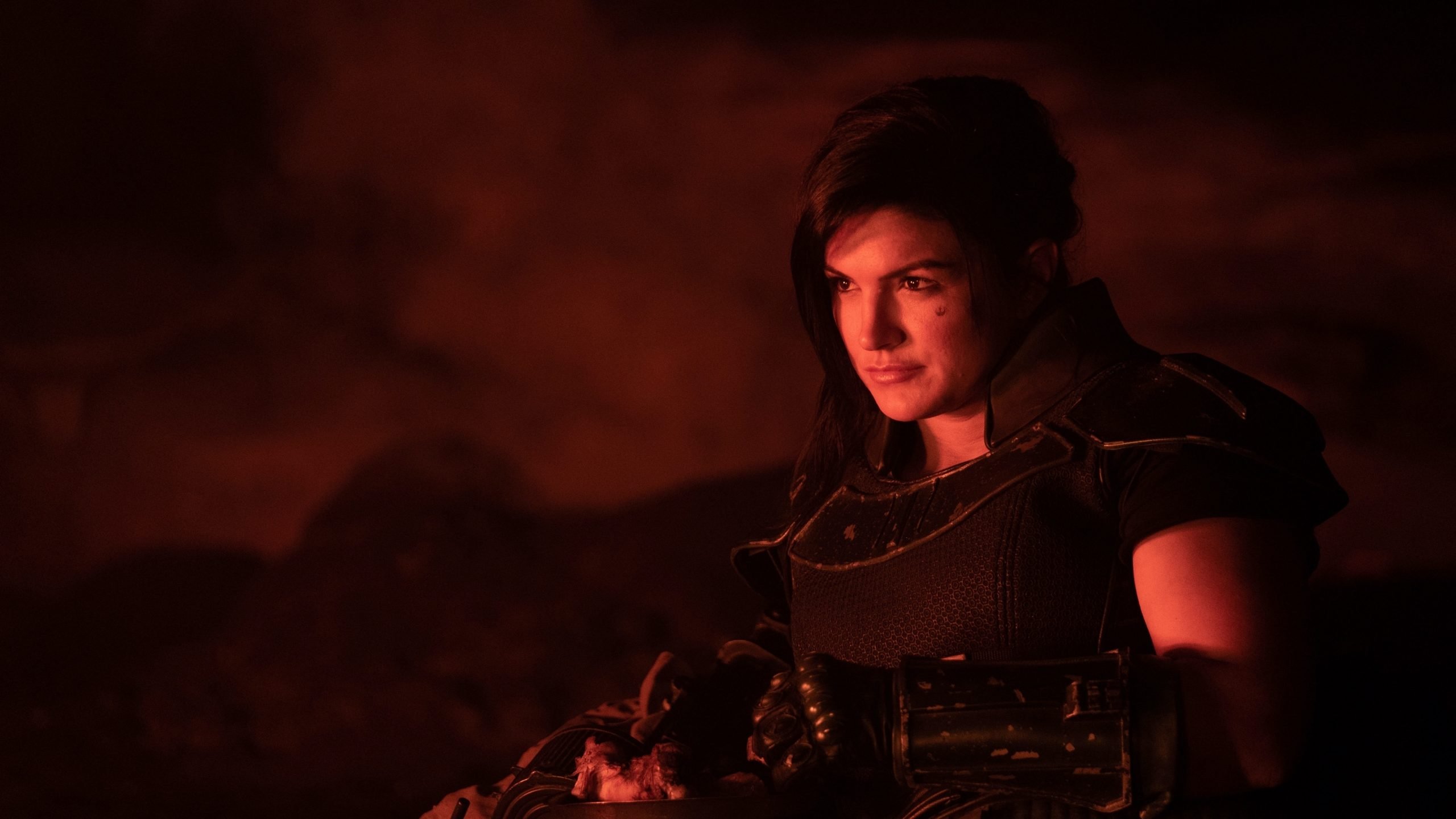 Next up is actress and former mixed martial artist Gina Carano (Cara Dune), whom I absolutely adore. Despite her fierce physicality and tough persona that comes through in her character, Carano seems to be a very shy and humble person. She mentions how, although she's had several roles in movies and television, she doesn't feel like a typical Hollywood actress.
Favreau talks about how he found her and how much he wanted her specifically for the role of Cara Dune. Pascal even mentions that when he was first brought in that he saw concept images of Cara and instantly recognized Carano, possibly even before she was actually cast in the role. It seems Carano was always meant to play this character, and I'm glad she did. While she was not cast for her acting chops per se, her unique skillset that had been forged by a history in martial arts makes her perfect for the role. Favreau mentions that a lot of actors in the early days of Hollywood came from a similar mold.
The early cowboys on film were actually guys who knew how to rope, ride, and shoot. Martial artists over the years have also become movie stars, not for their ability to move people with their words, but because of their physicality. The physical nature of Cara Dune is a large part of who she is, and Carano is fantastic for her.
Director Bryce Dallas Howard spoke to her performance as well, highlighting how much easier it was for her to sell the action sequences and fighting scenes having actually taken and given punches in real life. It's evident when someone really knows what they're doing. So in essence, Carano was a two-in-one get for the producers. She needs no stunt double (not to say they never used one) as she is capable of doing just about anything they threw at her. When you see Cara punching someone out, it's Carano. When you see Cara dragging a wounded Mando off the street, that's actually her making it look so easy.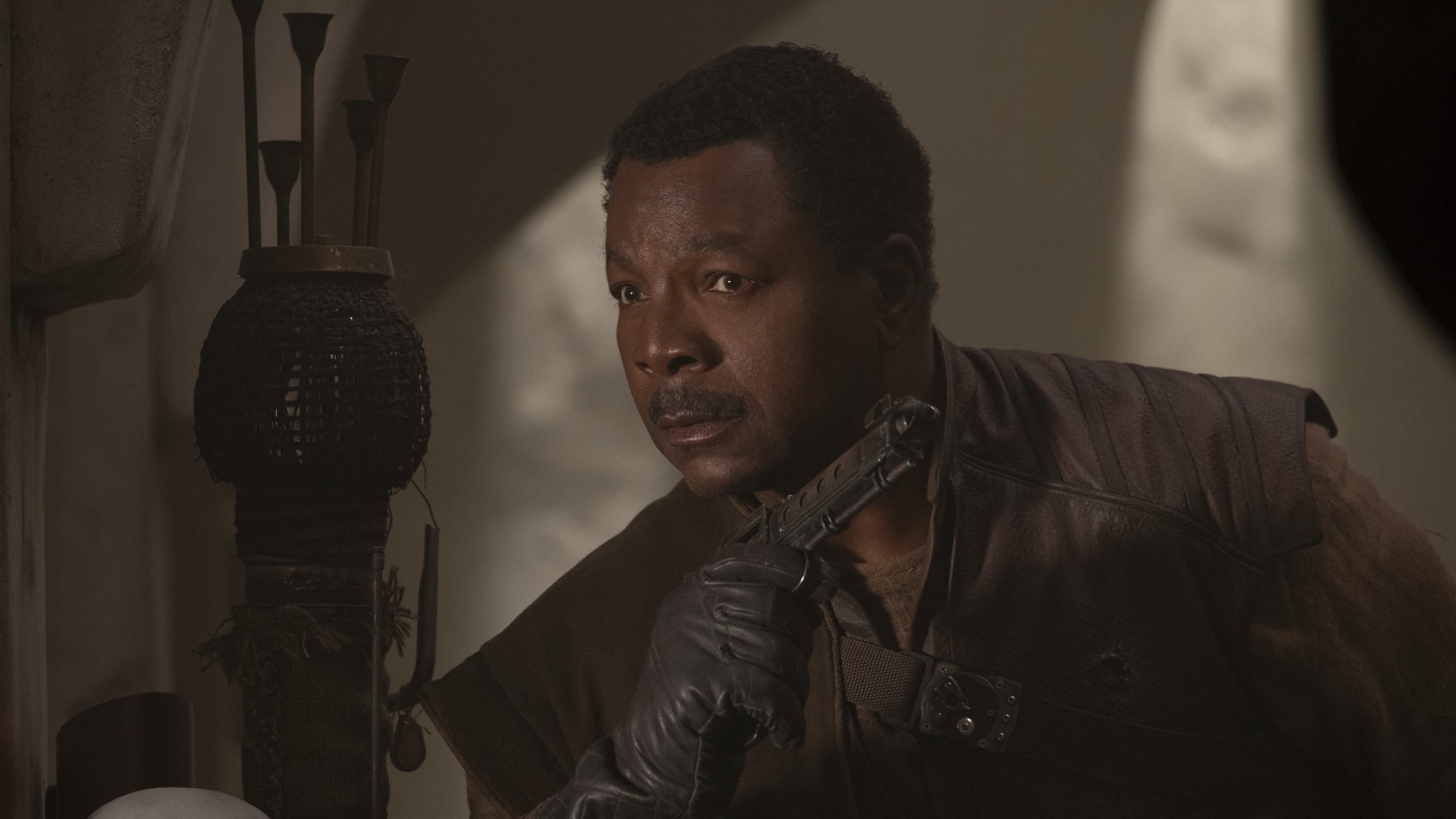 Lastly, lets talk about the veteran actor in the room, Carl Weathers, who needs no introduction. Favreau and Filoni reveal that Carl was originally brought in to play Karga as an alien in prosthetics. But when they actually sat down across from him, they came to the decision that they didn't want to hide his face under anything. So, the character of Greef Karga became a human in his final iteration.
They also go on to say that the character was only meant to be in the first episode, only to later return in episode three to be killed off by the titular hero. And that was supposed to be it for Karga, but one thing led to another and Weathers' character became a little bit more important as things developed.
Carano talks about how helpful Weathers was to her as an actor and how much she looked up to him. He brought a certain gravitas to the set when he was around that really helped put her at ease and the two seem like they've become good friends in their time together.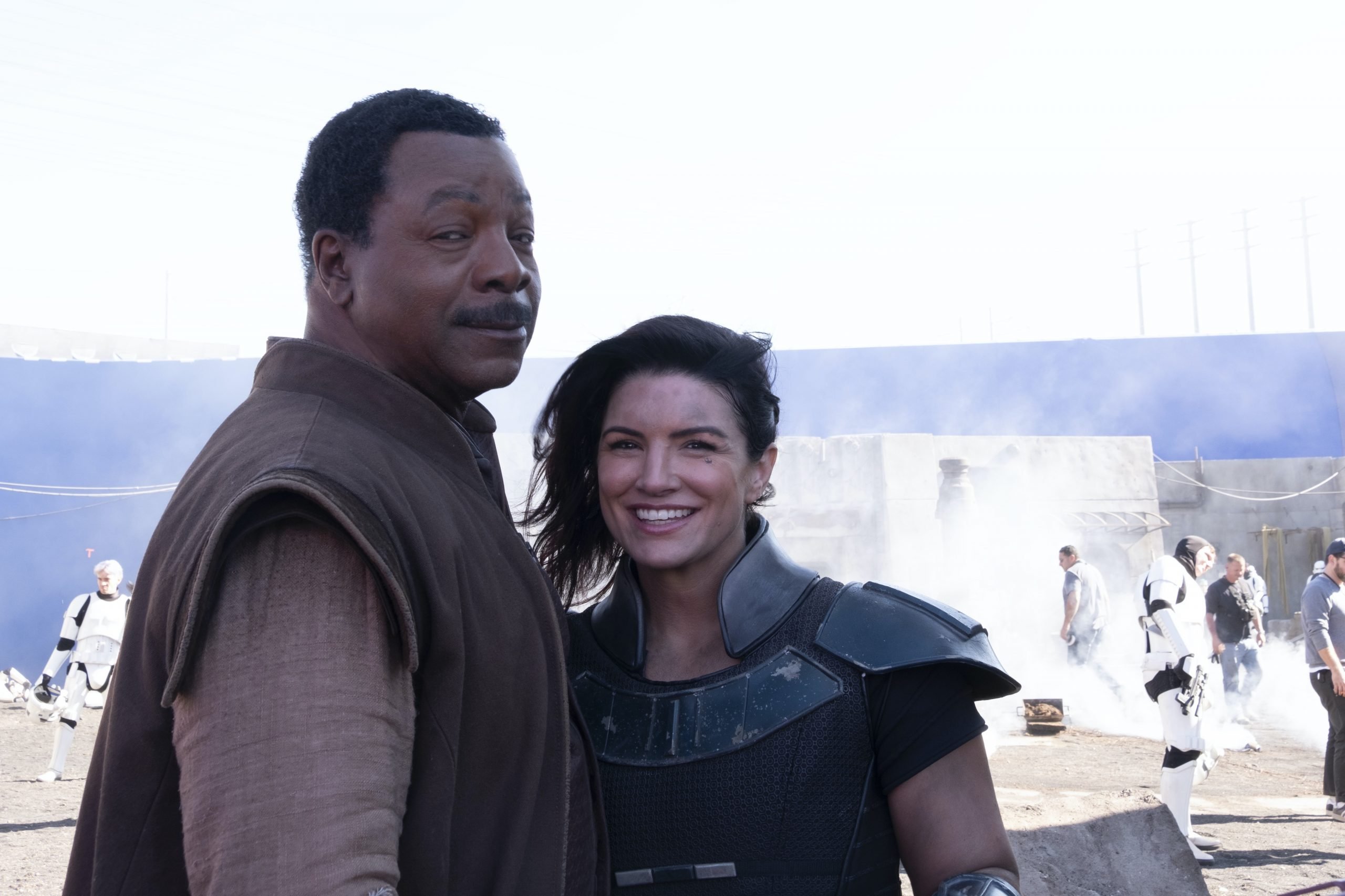 If you're remotely interested in this show, you've probably already seen The Mandalorian, which means you've most likely subscribed to Disney + already, so there's really no reason for you to not check this out. I enjoyed the half hour I got to spend with the cast in this episode, and I can't wait to see what behind-the-scenes glimpses we'll get next week.
It would have been great to hear from some of the other cast members as well, like Giancarlo Esposito, Nick Nolte and Werner Herzog, but maybe we'll hear more from them in future episodes. I feel like there were some missed opportunities this week, but I guess in the end they only had so much time and so much room at the table.
Disney Gallery: The Mandalorian episode three, "Cast", is available to stream now on Disney +.
Jordan Pate is Co-Lead Editor and Senior Writer for Star Wars News Net, of which he is also a member of the book and comic review team. He loves all things Star Wars, but when he's not spending time in the galaxy far far away, he might be found in our own galaxy hanging out in Gotham City or at 1407 Graymalkin Lane, Salem Center, NY.