Review – Disney Gallery: The Mandalorian Episode 1 "Directing" Will Make a Filoni Fan Out of Anyone
The Mandalorian documentary series kicks off with an episode about directing. The episode clocks in at 32 minutes, grounded by a roundtable with Executive Producer/Writer Jon Favreau and his directors: Rick Famuyiwa, Deborah Chow, Bryce Dallas Howard, Taika Waititi, and of course Executive Producer Dave Filoni, who serves as the bookends of the episode. Here is my review for episode 1 of Disney Gallery: The Mandalorian which is aptly titled "Directing".
First, I want to list my personal takeaways I wrote down as I was watching.
The directors worked in a much more collaborative effort together than I had imagined. There is a lot of footage of the five directors together many times during production, feeding off one another. I imagined each director worked in their own bubble and passed the baton, with Favreau and Filoni being the connectivity but this episode changed my perspective on that entirely.
Pedro Pascal is featured for only one brief moment (he appears for ten seconds to praise Filoni). His role was mostly doing voice work post-production so I completely understand why, as he wasn't in the suit aside from his helmet removing shot in chapter 8. But, it is still kind of weird to have the star of a series virtually non-existent in a docu-series about the making of the show.
This documentary is going to turn me into a Dave Filoni fan. More on that later.
DAVE FILONI
"I'm very honored to have Jon (Favreau) here as a mentor."
The episode starts with a focus on Dave Filoni and his journey to Star Wars. He tells Favreau and his fellow Mandalorian directors about how he got the job at Lucasfilm, in what turned out to be a very funny and endearing story. It humbles Filoni and I connected with him as a fan in a way I haven't before. That was all well and good, but I wanted to find out about his work on this show and they give it to us immediately and in great detail.
Out of the five directors, the episode spends the most amount of time on Filoni. He talks about having Favreau as a mentor, which immediately draws parallels to something he would say about George Lucas. That is not to compare Favreau to Lucas in the world of Star Wars, but it does in terms of his talent and skill in filmmaking. The episode then takes us into the process of the other directors, while shifting back to the roundtable throughout the show.
DEBORAH CHOW
"I really liked killing stormtroopers."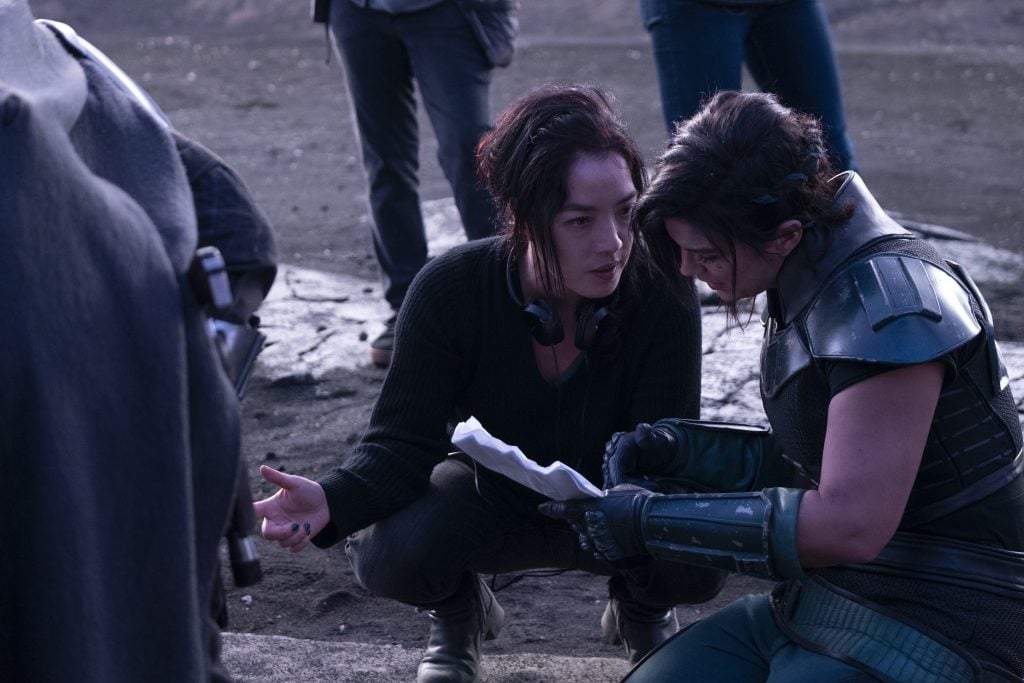 Star Wars fans that are excited for the upcoming Kenobi series will walk away from this episode with increased confidence. That series is in great hands. Jon Favreau, who is the king of process and execution, was impressed by Chow's plan and preparedness. Gina Carano praised Chow's efficiency and getting everything out of her actors. Chow says her approach is all about finding life in shots, and she has zero hesitation throwing out the shot design or blueprint if it means capturing something real. She likes letting her work breathe and unfold naturally.
RICK FAMUYIWA
"Star Wars was a big part of my life, and just a big part of who I am creatively."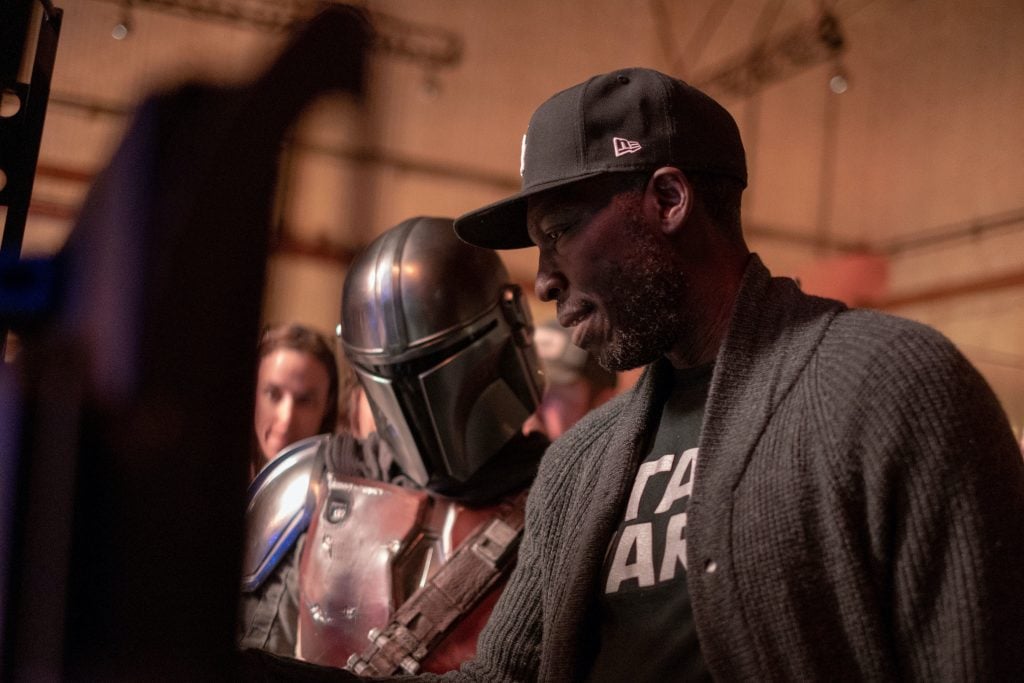 The section on Famuyiwa is our first confirmation that Pedro Pascal is not doing the live-action work, as it starts with a funny bit of banter between the stuntman (grandson of John Wayne) and the director. Famuyiwa gives off a very relaxed and laid back vibe as he is directing. He was in awe of the "volume", the state of the art technology that creates the virtual background environments and elements for the show. If you haven't heard about this technology before watching this documentary, prepare to have your mind blown. The director reveals that while directing chapter 2, he was standing right up against the volume wall – which was creating the jawa sandcrawler. Standing literally an inch from the wall you wouldn't be able to decide whether it was real or not. He said this technology has really vaulted what they are able to do and direct within real scale, to which the impact of that is immeasurable.
By the way, the first film he ever saw in a theater was "Star Wars" in 1977. He is old school.
BRYCE DALLAS HOWARD
"When I watch Jurassic Park, the power of storytelling is immense, but if the magic act doesn't work, then everything fails."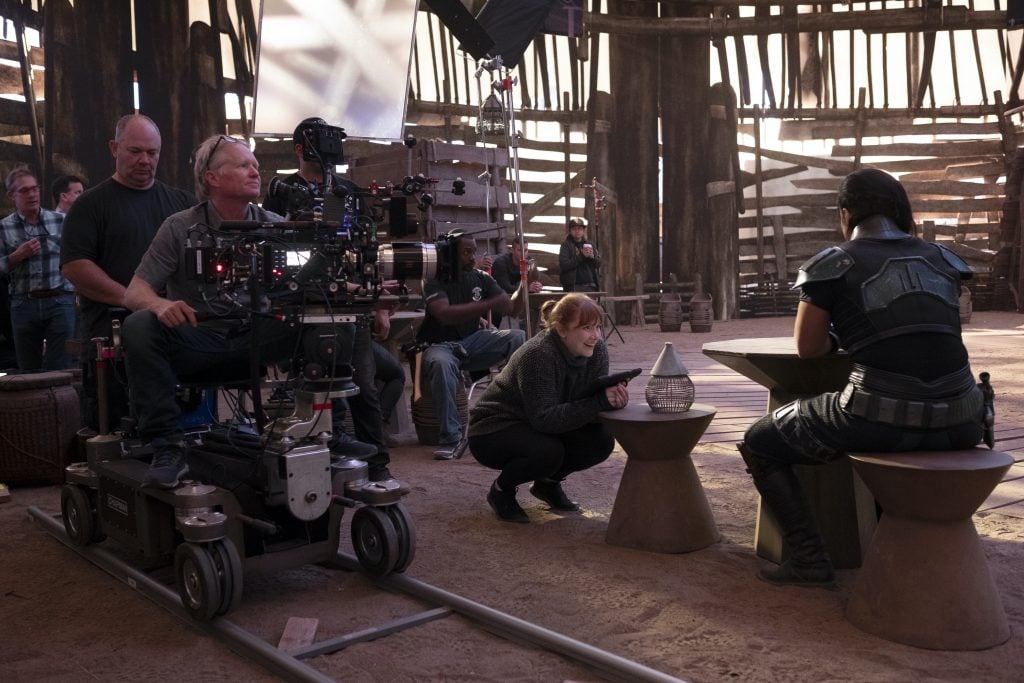 The rookie on the block, but no stranger to sets, Bryce Dallas Howard impresses in this episode. During the directors roundtable discussion, Jon Favreau revealed he gave Howard chapter 4 because it would be one of, if not the hardest, to direct. "We threw you into the deep end," admits Favreau. But, he said he did that because she was new and would have no scale to measure it against. Favreau believed that would help her handle it without having any pre-conceived notions, and the gamble worked. Gina Carano lauded Howard for being a fierce director who "will not take no for an answer."
Howard familial ties to George Lucas and Star Wars spans decades, being the daughter of Ron Howard, and the franchise's legacy and importance is not lost on her. She said this work was not about her relationship with Star Wars, but that it was about all of our relationship with Star Wars. I don't care if that felt cliche or not, it landed with me.
TAIKA WAITITI
"The Mandalorian (the show itself) doesn't take itself 100% seriously, but it does believe in itself."
I laughed out loud at the start of Taika Waititi's portion of the episode, as he started by deadpan saying he didn't care much for Bryce Dallas Howard, or any of the other directors, and overall not enjoying his experience making the show. He was obviously kidding, but it's hilarious. Waititi didn't start directing until he was 30, and due to his early low budget pre-Thor Ragnarok films, he learned how to be very resourceful and scrounge and scrap to use anything and everything he could find to make his films work. I believe he has carried that mentality with him into these situations where he can have everything at his disposal. It is able to keep him looking for creative solutions, which makes me think of Spielberg stepping on wood planks to shoot sand in the air to simulate missed gunfire in his early Super-8 films.
Favreau loves that Waititi knows how to make humor work, saying "Taika knows how to find the humor in the action. But that's a lot different than making fun of the action. We don't make fun of it."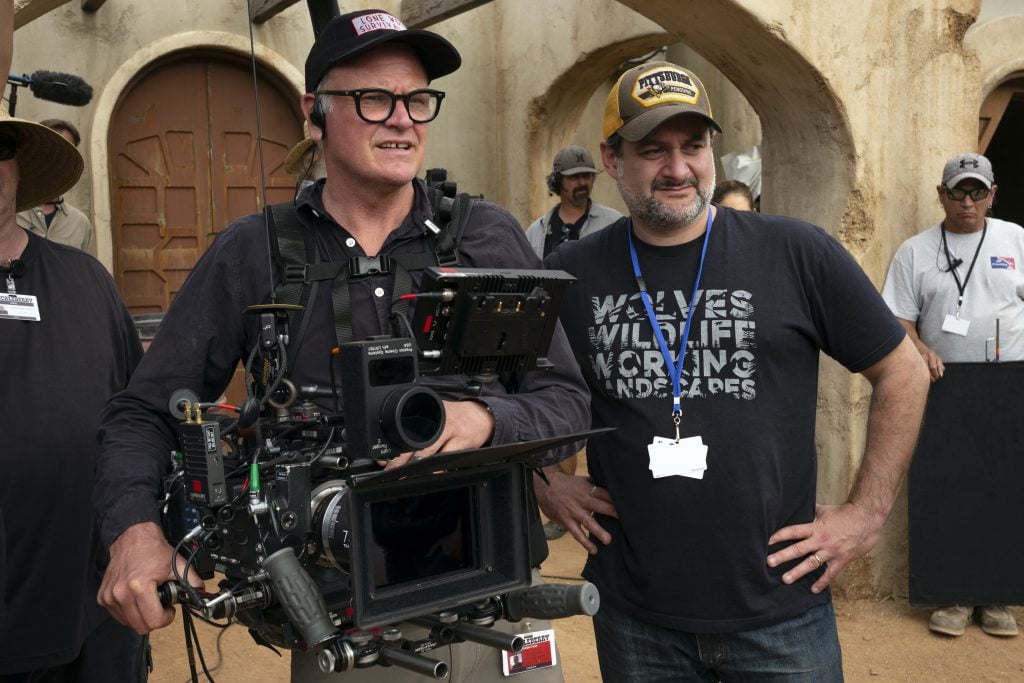 The episode brings us full circle, back to Filoni to talk about how this is like Star Wars school, even for him as he is continuing his "education" as he puts it, delving into the world of live action Star Wars. This brings me to my biggest personal takeaway from this episode. I like Dave Filoni a lot more than I did going into it. I was always aware of his heir-apparent to George Lucas status, and perhaps that aura made me wrongly look at him as entitled. Even if you're not the biggest fan of Dave Filoni's work, I think you will still walk away from this episode, and likely this entire documentary, as a fan of his, if only for the simple fact that he lives, breathes, and absolutely unconditionally loves Star Wars. He respects and preserves George Lucas's vision for his creation. As long as Dave Filoni is involved with Star Wars storytelling, no matter where the franchise goes, there will always be one arm securely holding on to its roots.
"We wouldn't be able to do this show without Dave Filoni" – Pedro Pascal
Oh there you are Pedro! And you know what? I'm beginning to agree with you.
John Hoey is the Lead Editor and Senior Writer for Star Wars News Net and the host of The Resistance Broadcast podcast
"For my ally is the Force, and a powerful ally it is."