#MakeSolo2Happen Day is This Monday May 25!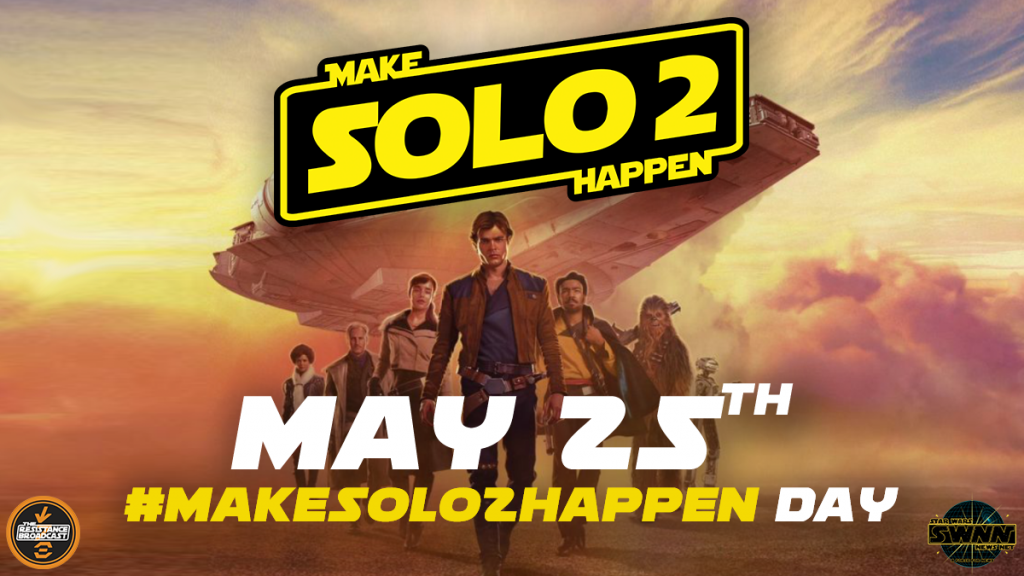 If you are a fan of Solo: A Star Wars Story and would like to see the continued adventures of Han, Chewie, and the other great characters from the film, then join the fun next Monday May 25 for #MakeSolo2Happen Day! How to get involved is simple, post to your social media accounts using the hashtag #MakeSolo2Happen showing your love for Solo and the hope for more stories to be told in a film or Disney Plus series! Here is how the movement got started.
I came up with "Make Solo 2 Happen" initially as a tongue-in-cheek thing because I really loved Solo but it didn't do as well as other Star Wars movies at the box office. To me it became the first Star Wars underdog story since the original film and I endeared myself even more to it. I felt the need to root for it. That feeling caught on and started gaining attention with more and more fans, which I first really noticed when I wore my "Make Solo 2 Happen" T-shirt at New York Comic Con 2018. People were really into it. Since that day it has been an active campaign of positivity shepherded by our podcast The Resistance Broadcast including my co-hosts James Baney (who made the logo design) and Lacey Gilleran (who came up with the idea for a day devoted to it).
Join the Movement
To join the movement, simply use #MakeSolo2Happen any time you are on social media talking about Solo or your hopes for a sequel film or Disney Plus series!
Acknowledgments
The movement has been recognized and acknowledged by many involved with Solo including:
Director Ron Howard
Writer Jon Kasdan
Joonas Suotamo (Chewbacca)
Erin Kellyman (Enfys Nest)
Ray Park (Darth Maul)
Producer and ILM Head Rob Bredow
Puppeteer Brian Herring
Composer John Powell
Creature Performer Nick Kellington
Sound Editor Matthew Wood
Even Lucasfilm's VP of live action development and production Michelle Rejwan spoke with us about it at the Global Press Conference for The Rise of Skywalker.
#MakeSolo2Happen Trended Worldwide
The hashtag made waves when the podcast launched #MakeSolo2Happen day on May 23, celebrating the one year release of Solo. It became a top trending topic in the United States and internationally, even beating out the marketing campaign for the new Terminator movie which also launched that day.
#MakeSolo2Happen Day 2020 is on May 25!
Take to your social media accounts all day long using #MakeSolo2Happen and let's make it trend worldwide again! Fans brought back The Clone Wars, fans helped Rosario Dawson be cast as Ahsoka, and we can Make Solo 2 Happen!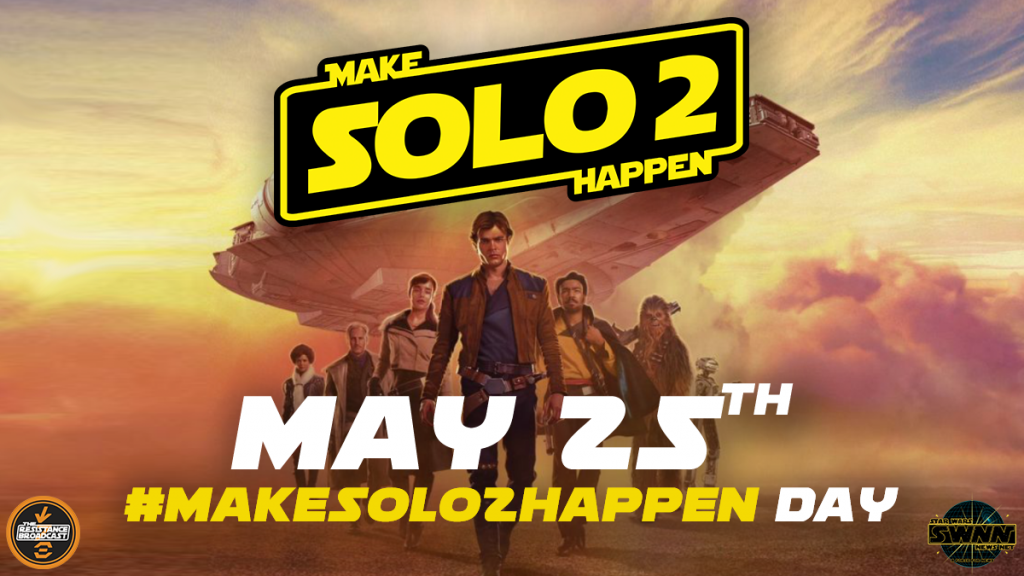 This isn't a demand, this isn't a petition, it's simply a positive show of love for Solo: A Star Wars Story and our hope for more adventures with Han, Chewie, and the rest of the awesome characters from the film. So join the movement and let's #MakeSolo2Happen!