Screenwriters Gary Whitta and Chris Weitz Reveal Interesting New Details About Their Involvement with Rogue One: A Star Wars Story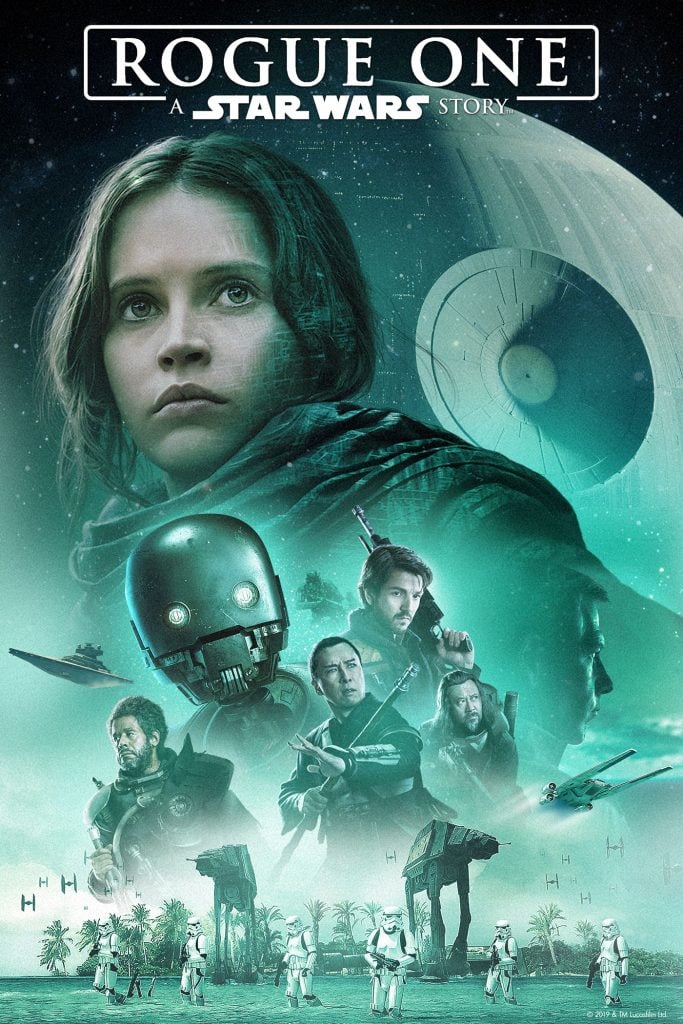 Cassian Andor, a double agent? Jyn's mom, a Jedi in hiding? IGN sat down with Rogue One screenwriters  Gary Whitta and Chris Weitz in their new quarantine-inspired program, Watch From Home Theater, and Whitta and Weitz revealed juicy new insights about what could have been for the characters and plot points in Lucasfilm's first Star Wars standalone film, Rogue One: A Star Wars Story.
For those who love delving deep into the bonus content of your favorite films, this is for you. IGN's Watch From Home Theater hosted a screening of Rogue One with two of the film's writers, Gary Whitta and Chris Weitz. As the film played, the screenwriters shared their brilliant and informative insights about how Rogue One developed from an idea by ILM's John Knoll to the finished film we love and cherish today, including radical changes to the story and characters along the way. You, the viewer, are invited to cue up Rogue One on Disney+ or your physical copy and watch along as Whitta and Weitz provide live commentary over the film.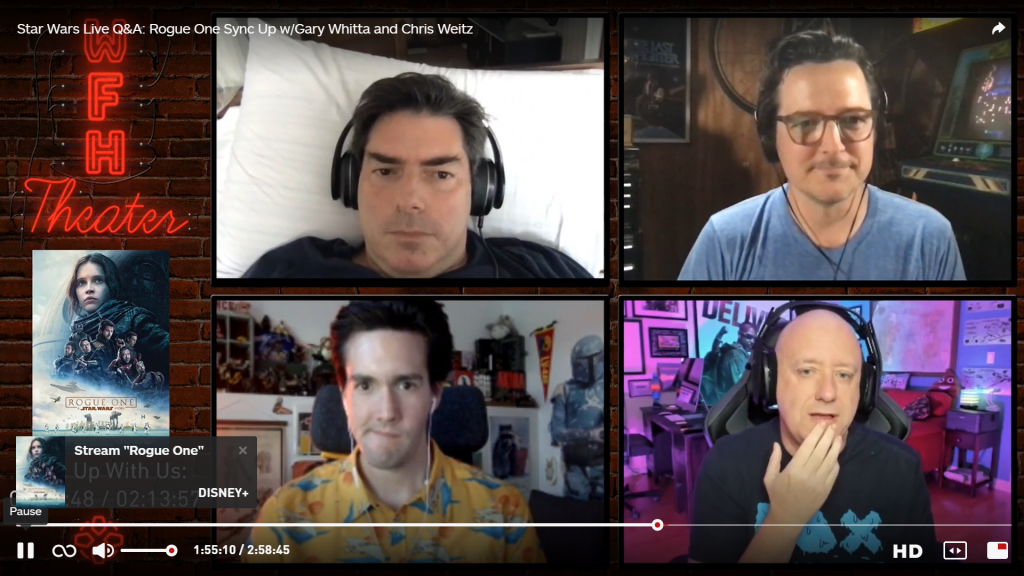 "You've got to leave the fanboy part of yourself at the door. Sometimes it's not helpful to be too much of a fanboy." – Gary Whitta
Rogue One is arguably one of, if not the best Disney-era Star Wars film. It is a gritty, street-level look at the conflict between the Empire and the rebels. It has, in my opinion, the best space battle in all of the films. It sprinkles in classic characters here and there, and the movie serves as a nice bridge between the prequel and original trilogies. But, at its core, Rogue One is the ultimate fan film. From almost the very beginning of the commentary, it is clear that Whitta and Weitz are lifelong Star Wars fans whose dreams came true when they were asked to work on the project.  Whitta commented that he'd be there all day talking about everything he would've loved to see end up in the film. Some of the notable fanboy Easter eggs I took away: at one point there was going to be a scene showing the rebels move their base from Dantooine to Yavin IV; Leia was to give Jyn's big speech to the rebellion council about going to Scarif; and Jyn was supposed to go see the Hutts.
Whitta and Weitz talked about how Cassian Andor was supposed to be a double agent, secretly working for the Empire. At one point Jyn's mom, Lyra, was going to be a Jedi in hiding. So much cool stuff! My favorite part, though, was Whitta talking about Mustafar and the scene where we see Vader in the bacta tank:
Why Mustafar Is Never Named
Rogue One cycles through quite a few worlds over the course of its runtime, which makes the decision to include title cards for each new world a welcome one. The fiery planet of Mustafar is the only one that isn't introduced via title card. According to Whitta, that was an intentional choice so as to "preserve the mystery of that location" and not spoil Darth Vader's appearance.

Whitta said, "This is a LEGO set! I can't believe something I came up with in this film is a LEGO set now. I was like… Where does Vader go when he's not working? He's got to go somewhere. Where's his crib? What does he do on his day off? And Gareth loves that scene in The Empire Strikes Back where you just get a glimpse of the back of Vader's head. So [we were like] let's take that and try to blow it out to do a more powerful version of it. And I really liked the idea that Vader is so physically ruined and so destroyed and so damaged that every now and again he has to completely take off all the armor and take what's left of his body and put it in this bacta tank to kind of heal and regenerate. … And I love the idea of seeing him almost like a fetus in a jar, because it reminds us of just how little is left of him physically."
These guys talk about so many neat ideas and concepts that never saw the light of day. Along with the nearly three hour video (actual coverage starts at the 27:00 minute mark), IGN posted a fun supplemental article on the key takeaways of the commentary video. So be sure to fire up your Disney+, watch the amazing video, and check out the article here.
Stay safe and may the Force be with you!
Bobby Long is a life-long fan of Star Wars, The Lord of the Rings, The Marvel Cinematic Universe, Disney and The Simpsons who spends much of his free time running through all his favorite films...again and again. He has a beautiful fiancee, a beautiful daughter, and two of the cutest doggies you'd ever seen. He is eternally grateful to MovieNewsNet for giving him the opportunity to write about his passion.