Billie Lourd Talks Continuing Carrie's Legacy in 'The Rise of Skywalker'
With The Rise of Skywalker's digital release next week, fans will get to go behind the scenes with the feature length documentary The Skywalker Legacy. Yesterday, Good Morning America offered a special preview of the documentary looking at how Billie Lourd continued her mother's legacy and helped bring Leia to life in a key scene from the film.
In the short clip, Billie Lourd says that being able to include Carrie as Leia was "literally like a gift from her," before joking that it could also be her mother's way of "forcing us to make her the star of the movie." The special preview talks briefly about the choice to go back and show Leia's Jedi training, with behind the scenes footage of Lourd stepping into her mother's shoes to shoot the flashback of Leia's duel with Luke Skywalker.
In addition to Lourd's role, the short preview also shows how the filmmakers worked to bring Carrie back and weave the footage they had into the story of The Rise of Skywalker. According to visual effects supervisor Patrick Tubach they did whatever they could to "recreate everything as faithfully as it was on the day". From the staging of the scene to the lighting to the blocking of the actors, everything was taken into account to make Carrie's scenes as authentic and natural as possible. It was a difficult and emotional process for everyone, but director J.J. Abrams says having Lourd by his side is something he will always be grateful for.
The Skywalker Legacy is just one of the special features that will be included with Star Wars: The Rise of Skywalker when it goes on sale digitally on March 17, and on physical Blu-ray, Blu-ray 3D, and 4K Ultra HD on March 31.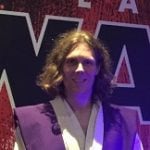 Chris is a lifelong fan of Star Wars, Disney, and super heroes who can't quite believe this golden age of movies and TV we're living in. Having written blogs dedicated to Disney's Aladdin musical and Star Wars Celebration, Chris is excited to be part of the SWNN and MNN teams.