Visual Effects Reel Showcases ILM's Oscar Nominated Mastery that Brought 'The Rise of Skywalker' to Life
The special effects masters at Industrial Light & Magic (ILM) have outdone themselves with Star Wars: The Rise of Skywalker, not only setting a new bar for visual effects in film, but broadening the landscape for future Star Wars storytelling in the process. Vanity Fair revealed an exclusive reel peeling back the curtain on how some of the film's biggest and most memorable moments came to life, including the return of Carrie Fisher's Princess Leia.
The team at ILM has earned an Oscar nomination for their work on The Rise of Skywalker, to the surprise of no one, as Vanity Fair's Anthony Breznican breaks down the individuals from the company up for nominations.
Hundreds of artists worked on the film, but the VFX nominees are creature shop supervisor Neal Scanlan, and visual effects supervisors Patrick Tubach, Roger Guyett, and Dominic Tuohy (who is nominated a second time in the category for his work on 1917.) The Star Wars film will is also up for best sound editing for Matthew Wood and David Acord, and the movie received an original score nod for composer John Williams.
One stark and stand out difference between The Rise of Skywalker and previous Star Wars films, is the careful and respectful approach they had to take to achieve the near-impossible, bringing Carrie Fisher's Princess/General Leia back to life. Last June thanks to some helpful sources, we detailed how they would be bringing Leia back using Carrie Fisher. Body doubles were used for Carrie, and then the effects were applied which allowed them to adjust everything from lighting, hair, outfits…everything, as shown in the image below.
"When you watch the movie you just want to believe that Carrie's there, and it's just completely natural within the scene. Basing it around the performances that she'd given us previously was the key. We often used motion control. You'll notice that she has a different hairstyle, she's wearing different wardrobe, all of those things. I always thought, when we were doing these shots, that everyone's looking at her face. That was the thing that we held onto, and then we fixed everything else." – Roger Guyett
If seeing Carrie brought back wasn't emotional enough, buckle up. Fisher's daughter Billie Lourd, who also plays Connix in the trilogy, served as a double for young Leia during the training flashback with Luke. From there, ILM had to digitally present a version of Leia from soon-after the fall of the Empire. To achieve this, J.J. Abrams said they used original dailies from 1983's Return of the Jedi. So the face of Leia we see when the blast shield is lifted is directly pulled from original Episode VI footage.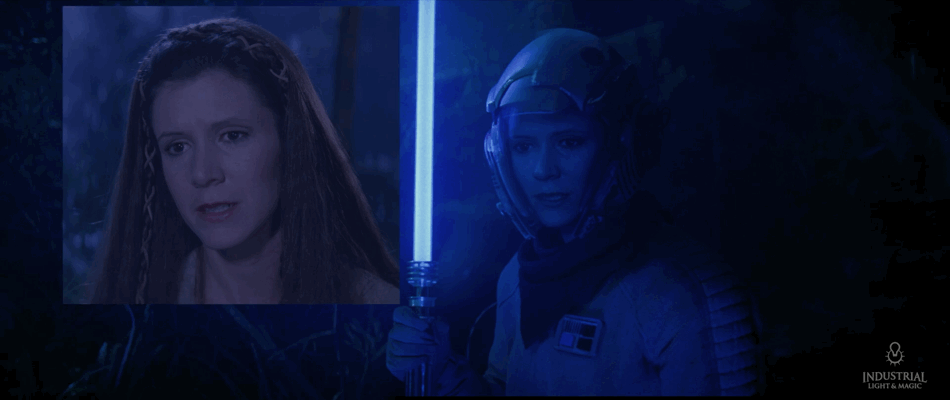 The epic lightsaber duel atop the wreckage of the second Death Star on Kef Bir took Adam Driver and Daisy Ridley six days to film. They were continuously pummeled with water via cannons drenching them throughout the shoot. The ironic part is that ILM ultimately wound up digitally removing the real water shooting from the cannons, replacing it with CGI water, which better represented how water would behave hitting the side of a pier.
 "To be honest, I've asked myself, 'Why do we have all those water canons?'" Guyett said. "The irony is that Dom Tuohy did all the water and that created the mood of that piece. But then we erased all of that [real] water because a water canon does not behave like a wave hitting the side of that pier. So we got rid of all of that and then added our water back in that was behaving correctly. It sounds mad."

"So you might ask yourself why did we do all of that? You're creating the tangibility of somebody having a saber fight. If we hadn't done that, then Daisy and Adam wouldn't have anything to work against."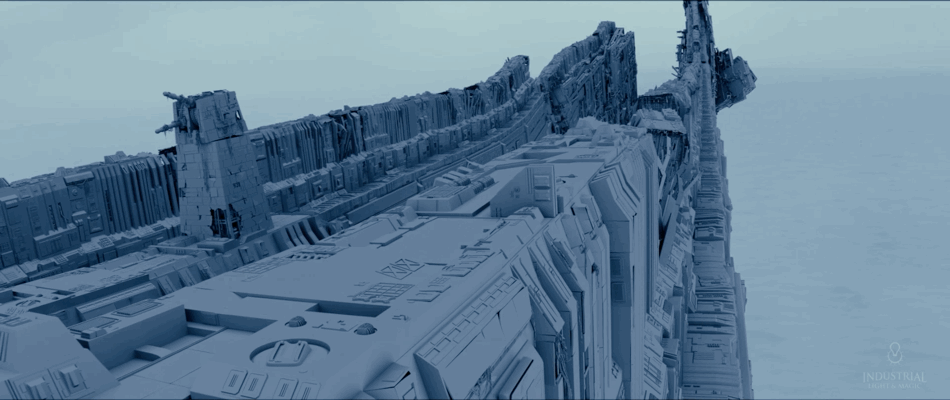 The blend of tangible stunts/effects and digital effects appears to be the wave of the future. No pun intended, but looking back, not a bad pun. Anyway, that method continues in the epic "flip" shot that sent audiences at Star Wars Celebration and beyond to collectively shout "Woah!" when a sprinting Rey black flips over Kylo Ren's TIE. The flip was done by a real person, though it wasn't Ridley herself this time. The stunt was performed by Katie McDonnell, and you can see below how they merged her wire stunt with the effects thereafter. Absolutely stunning, and an epic moment in the film, even though we all knew it was coming.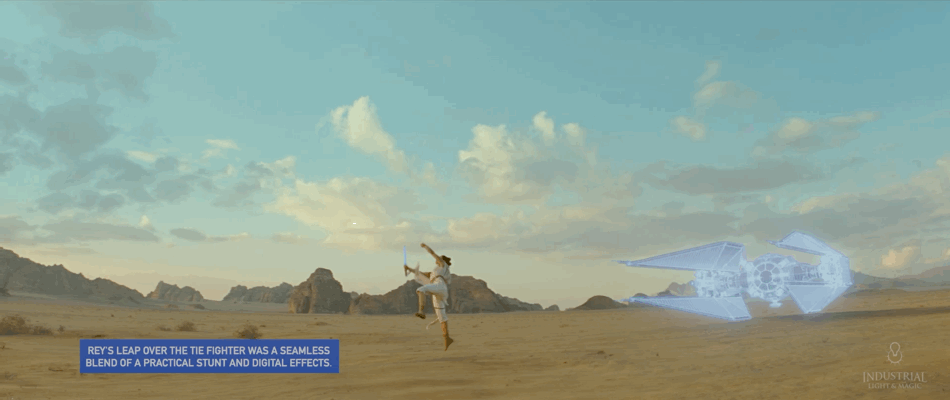 The full reel can be viewed at Vanity Fair.
I can't imagine what Star Wars films will be able to pull off in the years to come, but if the incredible work done by ILM in The Rise of Skywalker is any indication, anything is possible, which makes limitless imagination a tangible reality in a digital world.
John Hoey is the Lead Editor and Senior Writer for Star Wars News Net and the host of The Resistance Broadcast podcast
"For my ally is the Force, and a powerful ally it is."