Why Last Night's Episode Of 'The Clone Wars' Removed A Joke About Padmé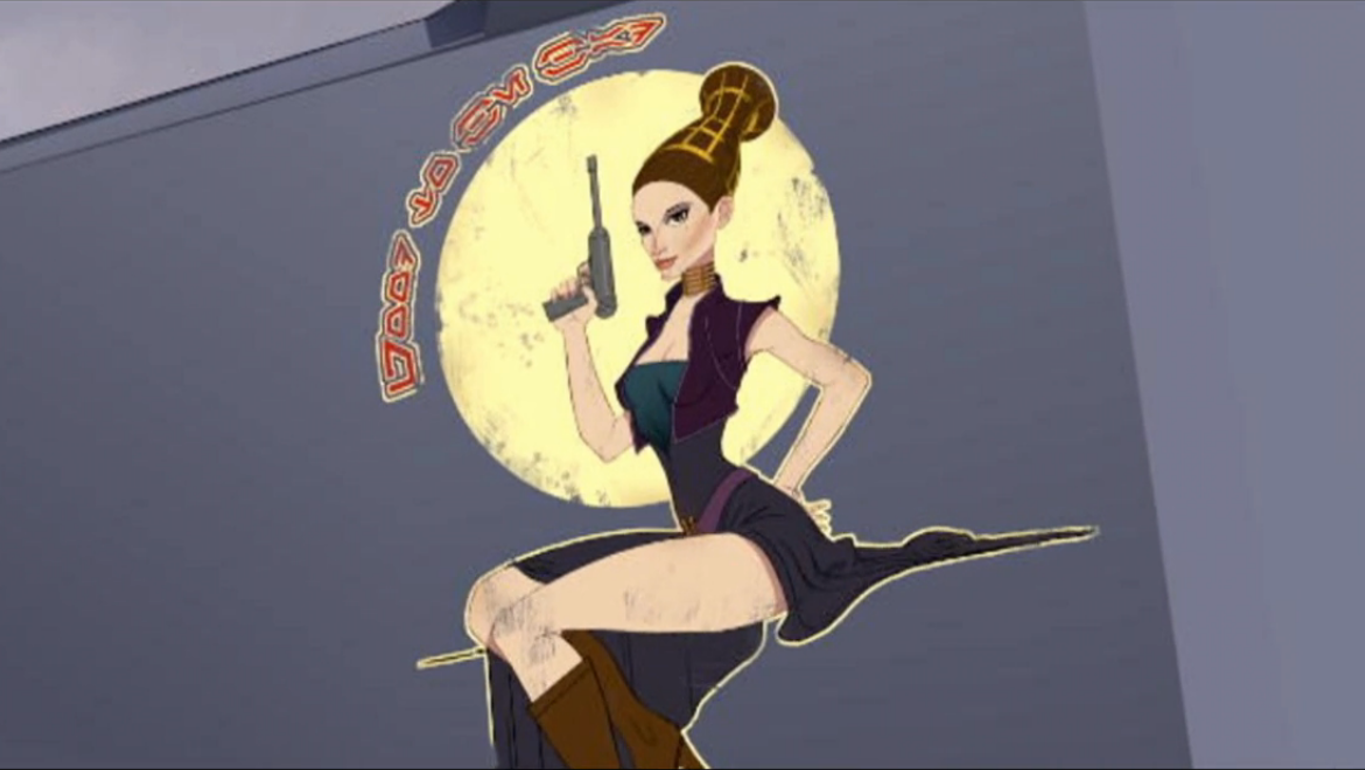 Last night's episode of Star Wars: The Clone Wars brought the second part of the "Bad Batch" story arc from pre-visualization animatics to a completed version, but fans who watched the unfinished version first quickly realized something: a humorous scene, in which Anakin finds out that the Bad Batch have painted Padmé on their ship, was omitted from the final product. Now, we know why.
For those not in the loop, The Clone Wars episode "A Distant Echo" originally featured a short scene involving Anakin noticing the nose art of the Bad Batch's transport, the Havoc Marauder. Much like the soldiers of World War II in our world, the Bad Batch drew a beautiful woman on the side of their shuttle as a reminder of what they're fighting for back home… Which just so happens to be Republic Senator Padmé Amidala. Anakin Skywalker, being secretly married to Padmé, took objection to this, and in particular Wrecker's joke about how she could "negotiate" with him any time. The scene was not finalized, but you can check out the story reel version of it below:
https://www.youtube.com/watch?v=wgJgLEF1KS8
Some have quickly taken the route of scapegoating Disney as the cause of this omission, bringing up a prior history of censorship with their older works. However, it should be noted that Disney has been pretty lenient with what Lucasfilm does with their IP (such as the "everybody dies in this one" ending of Rogue One proposed by Gareth Edwards remaining in the film with no changes), and now we now know that the decision to omit this scene was down to supervising director Dave Filoni, who co-created The Clone Wars and co-wrote this scene in the first place. While talking to audiences at an early screening of the first two episodes of The Clone Wars Season 7, Filoni noted that he felt that due to Padmé's limited presence in this season, it didn't seem right to include the scene. Rachel Williams, who attended that early screening, relayed this information below:
At the screening last week, Dave was very vocal about how Padme was unfortunately not in much of this season so having this be one of the few ways she was depicted was not something they wanted to do to her.

— Rachel Williams (@RachelKenobi) February 28, 2020
The released version of "A Distant Echo" instead replaced this scene with a conversation between Anakin and Padmé, with both being concerned with one another and wanting to see each other again… As Obi-Wan amusingly attempts tries to eavesdrop, with Rex attempting to stop him. The scene also shows that Padmé is in the early stages of her pregnancy, which is a nice touch that helps date the episode a few months out from the events of Revenge of the Sith. While the original scene is great and it's a shame that it wasn't completely finished, the new sequence adds more depth to the story and is a worth addition in its own right.
The first six seasons of Star Wars: The Clone Wars are available to purchase on Blu-Ray and DVD, and can be viewed through Disney+. New episodes of Star Wars: The Clone Wars Season 7 air on Fridays, released exclusively through Disney+.
Grant has been a fan of Star Wars for as long as he can remember, having seen every movie on the big screen. When he's not hard at work with his college studies, he keeps himself busy by reporting on all kinds of Star Wars news for SWNN and general movie news on the sister site, Movie News Net. He served as a frequent commentator on SWNN's The Resistance Broadcast.