Disney World's Star Wars: Galactic Starcruiser (Hotel) Reservations to Become Available Later This Year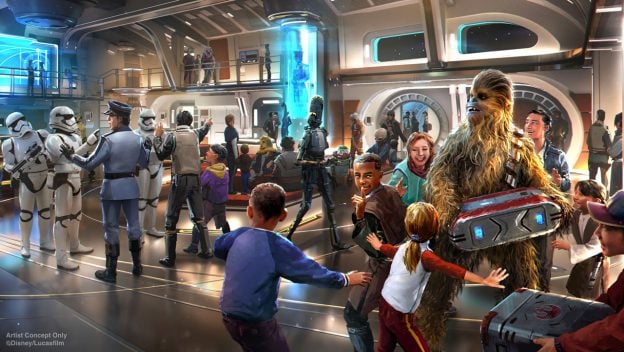 Disney Parks Blog has revealed that reservations will open later this year for the brand new multi-day vacation experience Star Wars: Galactic Starcruiser, which is scheduled to open in 2021.
Set to debut at Walt Disney World resort in 2021, Star Wars: Galactic Starcruiser is a two-day and two-night cruise style itinerary draped in 24/7 Star Wars storytelling. Guests will be completely immersed in their own Star Wars adventure. According to Ann Morrow Johnson, executive producer for Walt Disney Imagineering:
"Star Wars: Galactic Starcruiser is a completely new type of experience. You're going to live onboard a star cruiser…and you can get wrapped up in the larger Star Wars story."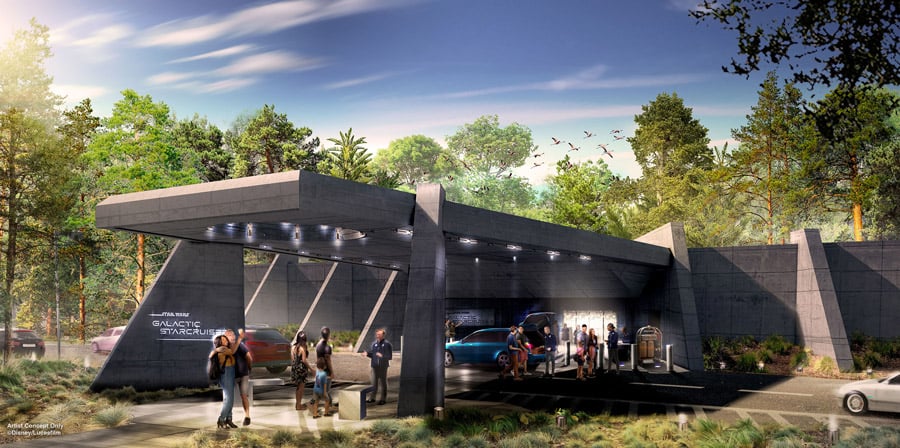 Concept art has given us an idea of what guests will experience during their stay in a galaxy far, far away. When guests arrive at Walt Disney World Resort, they'll start their Star Wars adventure at the Galactic Starcruiser Terminal. From the Galactic Starcruiser Terminal guests will enter a launch pod that will transport them to the Halcyon, your starcruiser among the stars for your voyage to a galaxy far, far away. The launch pods will simulate being blasted into space and view ports will provide the illusion of travelling through space as you approach the massive galactic cruiser.
As soon as you enter the atrium of the Halcyon, every ounce of the Galactic Starcruiser will make you feel like you're truly living in a Star Wars story. The cabins will allow for up to five guests per room, include bunk beds that look like they're straight out of the Millennium Falcon and a window that looks out into space. Every guest will have the opportunity to take a tour of the bridge where you'll receive special training and get to see the Halcyon's navigation and defense systems. Plus for the first time ever, both children and adults alike will get the chance to wield a lightsaber and face off against a training remote, just like Luke Skywalker and Rey.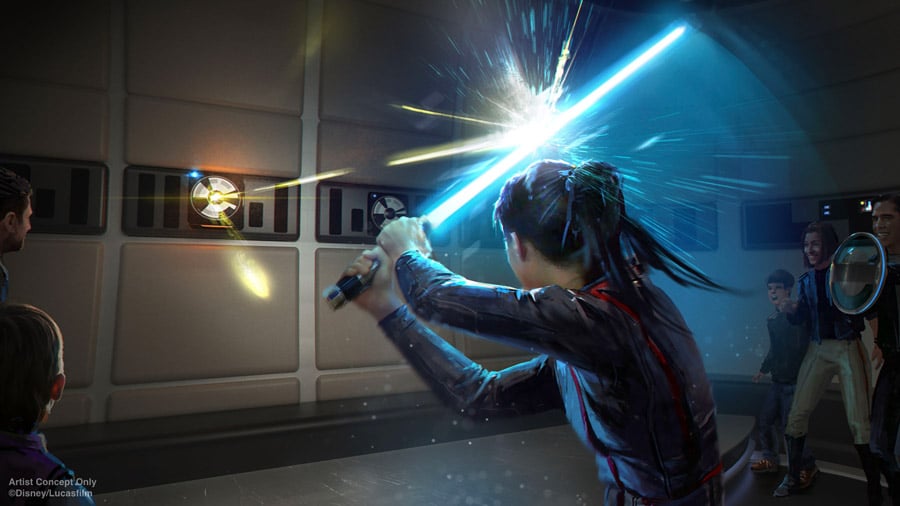 Naturally a visit to Black Spire Outpost on Batuu (otherwise known at Star Wars: Galaxy's Edge) is included in your itinerary, where special transports will take you to an exclusive spaceport at the outpost. These transport ships were specifically designed to keep guests totally immersed in the experience so you'll truly feel as though you're in your own Star Wars story.
Check out the awesome video with Ann Marrow below to get a small dose of what you'll experience as you live out your own unique Star Wars experience.
You can sign up to receive updates and exciting new information released about Star Wars: Galactic Starcruiser here. Star Wars: Galactic Starcruiser comes to our galaxy in 2021.
Writer and Star Wars lover located in Florida, USA.
"I don't like sand. It's coarse and rough and irritating and it gets everywhere."
- Anakin Skywalker