Creating the Oscar-Nominated Sounds of The Rise of Skywalker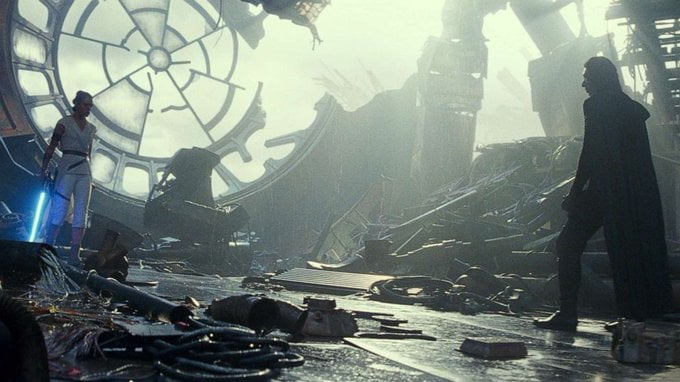 Star Wars has always been known for its unique and memorable sounds, from the infamous Wilhelm scream to the low wail of TIE fighters as they arc though space. Several Star Wars films have received Oscar nominations for sound editing over the years and The Rise of Skywalker joined that list in 2019.
Sound editors Matthew Wood and David Acord spoke to Clayton Sandell for Good Morning America recently about how they achieved the rich auditory experience we get in The Rise of Skywalker. As many as 2,000 new sound effects were created for the film, though some didn't make the theatrical cut. "Pretty much every single shot of the movie has some sound design piece to it," Acord said.
Some sounds evolved unexpectedly. While recording explosions at a firefighter training facility in Denver, Acord and Wood had to take shelter in an empty metal building to get away from high winds. The two realized the noises they heard from inside would perfectly evoke the strange, ominous metallic groans of the ruined Death Star.
"Matt and I just wandered into this thing to get out of the wind for a minute. And we're like, 'Oh my god, this sounds amazing in here!' The wind is whistling through these metal containers, and you can hear some kind of metal rattle, and the bang of a door somewhere."
At times, practicality dictated how sounds were captured. Adam Driver recorded some of his lines in a closet, which Wood explains by saying, "Sometimes the best way to record is to just hang a bunch of clothes in a closet and just go for it because it muffles all sound." He adds that Ewan McGregor recorded his lines under a blanket suspended between a couple of chairs.
One unique challenge was incorporating the late Carrie Fisher's performance into the film. Wood says he sought out multiple sources, including unused footage and outtakes from other movies to ensure that every bit of Leia's voice in the The Rise of Skywalker is Carrie's.
"We pulled from 'The Force Awakens' and 'The Last Jedi', as well as any behind-the-scenes footage we had. Crafting that was hard, but we felt like we wanted to do right by Carrie. We all have our own special relationship with Carrie Fisher, not only as fans but also as colleagues. And we just wanted to tell that story right for her."
As with the growls and roars of Chewbacca, the grunts of the Orbaks were sourced from multiple animal sounds. Acord says the space horses' sounds are "about 90% pitched, slowed down crow" with a little bit of donkey thrown in.
Sources told ABC News that the film includes a scream other than the famous Wilhelm scream designed by Ben Burtt and included in dozens of films since Star Wars in 1977. This one, sources say, is the voice of George Lucas and affectionately known as "The George." Wood and Acord acknowledge there is a special scream used in The Rise of Skywalker but wouldn't confirm it's Lucas or indicate when it happens.
One Easter egg they did acknowledge is that the sound of the chants of Sith cultists during the Exegol scenes include the Sanskrit words "Revenge. Soul. Kill." Wood says Sam Witwer, best known for voicing Darth Maul in The Clone Wars, Rebels, and Solo A Star Wars Story, came up with the phrase.
Many contribute to the thousands of sounds designed and edited for Star Wars films. As Acord emphasizes, "It's a group effort. It's collaborative."
SOURCE: Good Morning America