Update! Star Wars: Project Luminous Details to Be Revealed at Event on February 24; Disney to Hold Q1 Earnings Call February 4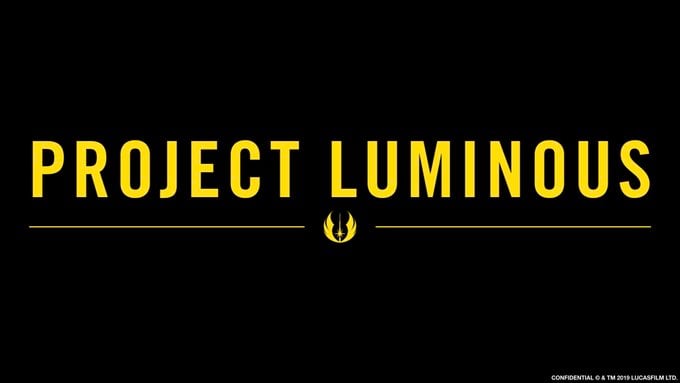 Long have we waited…and now the wait is almost over. The long teased Project Luminous will finally have details revealed at an event being held on February 24. The project is being developed by Disney Lucasfilm Press, with Michael Siglain serving as Editor, and authored by  Cavan Scott, Claudia Gray, Charles Soule, Daniel José Older, and Justina Ireland. In addition to this, Disney boss Bob Iger will hold the company's Quarter 1 earnings call/webcast on February 4.
Our friend Clayton Sandell of ABC News tweeted the announcement last night.
The countdown is on.

Star Wars: PROJECT LUMINOUS.

02/24/20#StarWars #ProjectLuminous pic.twitter.com/IIfFfPPVUC

— Clayton Sandell (@Clayton_Sandell) January 29, 2020
Project Luminous will include both comics and books to tell one cohesive story. There have been many rumors swirling about what the project entails, none of which have been confirmed to this point, but being that an event is being held to unveil the details, we have to assume it's much bigger than just new series of books and comics. A lot of common ground speculation among fans, bloggers, and podcasts is that this will be the launching point for a new era in Star Wars storytelling, perhaps kicking off the ground work leading up to a new set of films, video games, and series, but that remains to be seen. We will find out in just under four weeks.
While we wait for the details on Project Luminous, Disney will be holding a webcast detailing the fiscal first quarter of 2020.
The Walt Disney Company will discuss fiscal first quarter 2020 financial results via a live audio webcast beginning at 4:30 p.m. EST / 1:30 p.m. PST on Tuesday, February 4, 2020.

Results will be released after the close of regular trading on February 4, 2020.

To listen to the webcast, please return here 5 minutes prior to the start of the call to ensure your connection.

The webcast presentation will be archived.
For historical perspective, the Star Wars information featured in last year's Quarter 1 earnings call was limited to video game licensing for future Star Wars games. You can refresh your memory on that call here. We'll see if this year's call is juicier than last year's but its best to assume nothing so if we do find out anything interesting,  it's a pleasant surprise!
February appears to be the month where Star Wars news starts to heat up again, and we eagerly away to find out what is revealed during the Project Luminous event on February 24.
Update!
As there are a lot of rumors running around about what Project Luminous could be, Clayton clarified in a new tweet that this event will mainly focus on the publishing side of Star Wars. So don't expect some breaking movie/TV announcements.
What is #ProjectLuminous? As already announced, it's a PUBLISHING effort to tell a big, interconnected #StarWars story. KEY: Don't hold your breath for any movie/TV/game tie-ins. On 2/24 we'll learn about stories, characters, release dates & MOST intriguing: the ERA!🤔#NoSpoilers https://t.co/BKVJkrYA6Q

— Clayton Sandell (@Clayton_Sandell) January 30, 2020