Rumor: Animated Sequel Series to 'Star Wars Rebels' Arriving This Year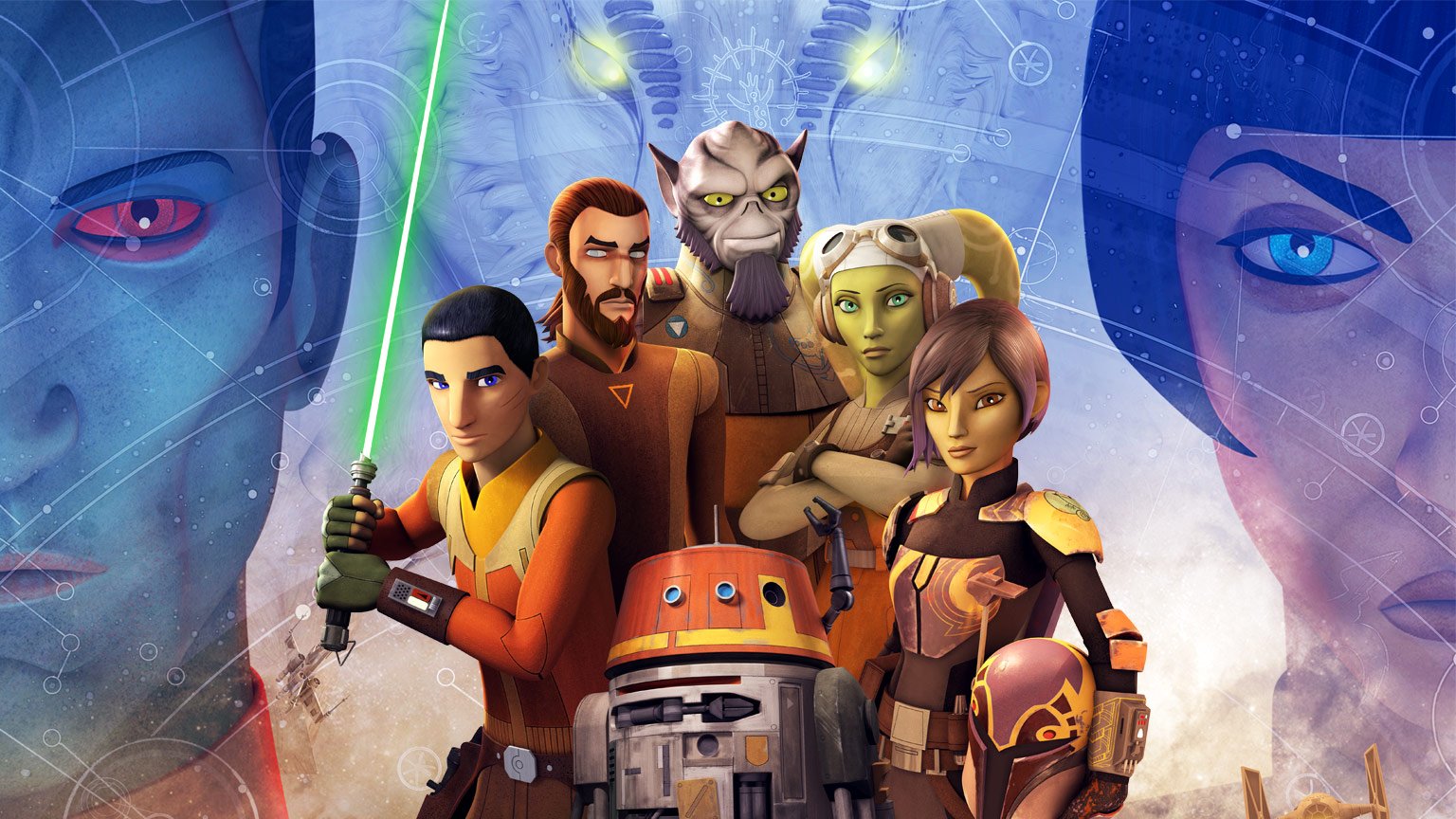 In recent weeks, there have been rumors of more Star Wars shows in the pipeline than the ones we know about, such as a live-action Solo spin-off about Crimson Dawn or an animated series involving Doctor Aphra from the pages of Marvel Comics. Now, a new rumor suggests that the sequel to Star Wars Rebels is on the way, possibly arriving as soon as the end of the year!
Kessel Run Transmissions has released an exclusive via YouTube going into how the next major animated Star Wars series after the return of The Clone Wars will be a true follow-up to Rebels, continuing the story left off by the finale (in which Sabine Wren traveled alongside Ahsoka Tano in search of Ezra Bridger years after he helped oust the Empire from Lothal for good). This plot point has not been brought up at all since Rebels has ended, leaving the story an open door for whomever wants to tell the story… And that story may indeed be overseen by Dave Filoni, the showrunner of both The Clone Wars and Rebels.
The hosts of the Kessel Run Transmissions claim that they have received several major scoops that they did not run previously, but proved to be accurate, so they felt confident enough to run this story – especially in light of some new, currently-unspecified evidence that they've received. They claim that two reliable sources are telling them that the Rebels sequel is moving forward:
"So what we've heard is that the Star Wars Rebels sequel show is in development, it is gonna be animated, it is set for 2020 – this year – yeah, and so that's pretty exciting. That's almost a given, too… In a development process, that's natural for it to come now – Resistance is winding down this year. The show will star Ahsoka and Sabine – again, another given, but we've got confirmation of that – and we've heard throughout the months that Dave Filoni is also attached to an animated series. We're assuming it's this one… It's a good to bring that show back. Obviously, it's not going to be called Star Wars Rebels, we have no idea what it's gonna be called… I'm excited because this continues the story of Ahsoka, and we'll get to see what she's doing. We haven't heard about Ezra and Thrawn, but I'm assuming that they'd be in this series… I did hear that the animation is supposed to be a lot tighter than it was for Rebels [in its] four-season run… They're probably into Season 2 by this point."
Lucasfilm gave Dave Filoni a promotion to oversee all animated content a while back (in addition to giving him a shot at directing live-action Star Wars shows), so it seems like the content that's been in the pipeline is finally starting to surface, and by the end of this year if this is of any indication. The people at Kessel Run Transmissions seem to believe that it won't be announced until after The Clone Wars arrives on Disney+, but before Star Wars Celebration Anaheim 2020. (A dedicated panel for the show will likely happen if it's coming out so soon.) Some ancillary evidence to suggest the development of this possible series that the Kessel Run Transmissions hosts thought of was that Rebels voice actors Taylor Gray, Tiya Sircar, Vanessa Marshall, and Steve Blum apparently had to cancel an appearance at a convention a few months ago due to work obligations.
You can check out the entire Kessel Run Transmissions discussion video below:
https://www.youtube.com/watch?v=cTUqKaKuk90
With the movies going on hiatus until 2022, it seems that Lucasfilm have opened the floodgates to expanding the influence of Star Wars on TV to make up for that. It's entirely possible that we're going to see a comparable amount of Star Wars content released through Disney+ to the eight planned shows that Marvel intend to have out before the end of 2021. So far, the official Star Wars TV slate of shows after Resistance wraps up includes The Clone Wars, Jedi Temple Challenge, The Mandalorian, and two untitled shows starring Cassian Andor and K-2SO and Obi-Wan Kenobi. This also may explain why Star Wars Resistance was apparently written with a two-season run in mind, as it seemed like a sort of appetizer to hold fans over for more animated Star Wars content. It's also a likely reason as to why Resistance has no real ties to the other cartoons, in spite of both of its predecessors (The Clone Wars and Rebels) being heavily connected.
For now, all four seasons of Star Wars Rebels are available to watch on Blu-Ray and DVD, and can be streamed through Disney+.
Grant has been a fan of Star Wars for as long as he can remember, having seen every movie on the big screen. When he's not hard at work with his college studies, he keeps himself busy by reporting on all kinds of Star Wars news for SWNN and general movie news on the sister site, Movie News Net. He served as a frequent commentator on SWNN's The Resistance Broadcast.