Review – Star Wars: Collecting a Galaxy – The Art of Sideshow Is A Love Letter To Fans And Collectors
Collecting is one aspect of Star Wars fandom I've never gone too deep into. That's not because it hasn't intrigued me or I didn't appreciate it – it's just always seemed daunting to me. There's so much and seeing collections from other fans always made me feel overwhelmed, especially when trying to decide where to start. Sure, my bookshelf is overflowing with novels and comics I've been lucky enough to review the last few years, but I've never known where to start. Lucky for me, author Samuel C. Spitale and the team at Insight Editions have put together this lovely book which showcases Sideshow Collectibles meticulous work to bring so many beloved characters from the intangible into your hands and collections. 
Sideshow Collectibles began in 1994, setting out to make intricately detailed collectibles and as this book documents, they've had tremendous success –especially with Star Wars. Whether they helped design molds for Mattel or life-size statues for the most flush collector, there is no stone left unturned by author Samuel C. Spitale in this beautiful showcase. The book opens with a foreword from ILM legend Phil Tippett, giving a bit of history on his own journey to realizing George Lucas' vision and how much respect he feels the craftspeople at Sideshow have demonstrated in their mission to bring that work into the hands of fans. The book is broken down into sections by different sizes of the figures, from "Sixth Scale Figures" to "Artist Series Statues", there isn't a dull page in this book.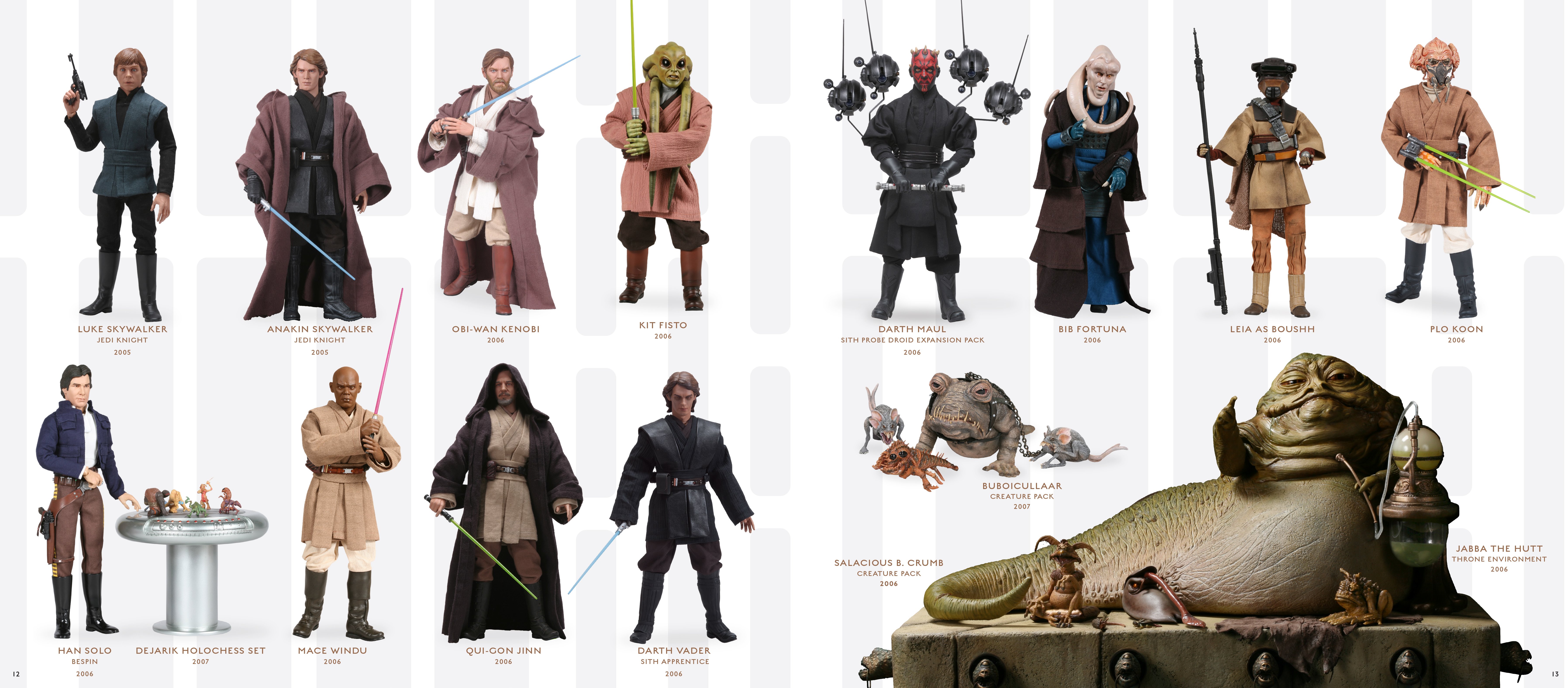 This could very easily be one of the greatest coffee table books for Star Wars fans, but it could also be used as one of the most comprehensive guides for collectors looking to learn more about the figures they proudly display. I'm totally green to this, so I was fascinated with the level of detail put into each figure across the different eras of Star Wars. There are not only characters from the films and television series, we also see Knights of the Old Republic get some love, too.
I honestly burned through most of this book with my jaw dropped and continued to exclaim "Oh wow!" when turning over a new page. This spread of the sixth-scale, Luke Skywalker Deluxe figure is just a taste of what The Art of Sideshow has to offer. This book could also serve fans who are interested in the elements of costume and prop design the team at Lucasfilm and ILM pioneered. These are scaled down versions,  but all the details are still there. Sideshow has a very proportionate amount of diagrams and drafting schematics to give you a close look at some of the costumes and props assigned to each character.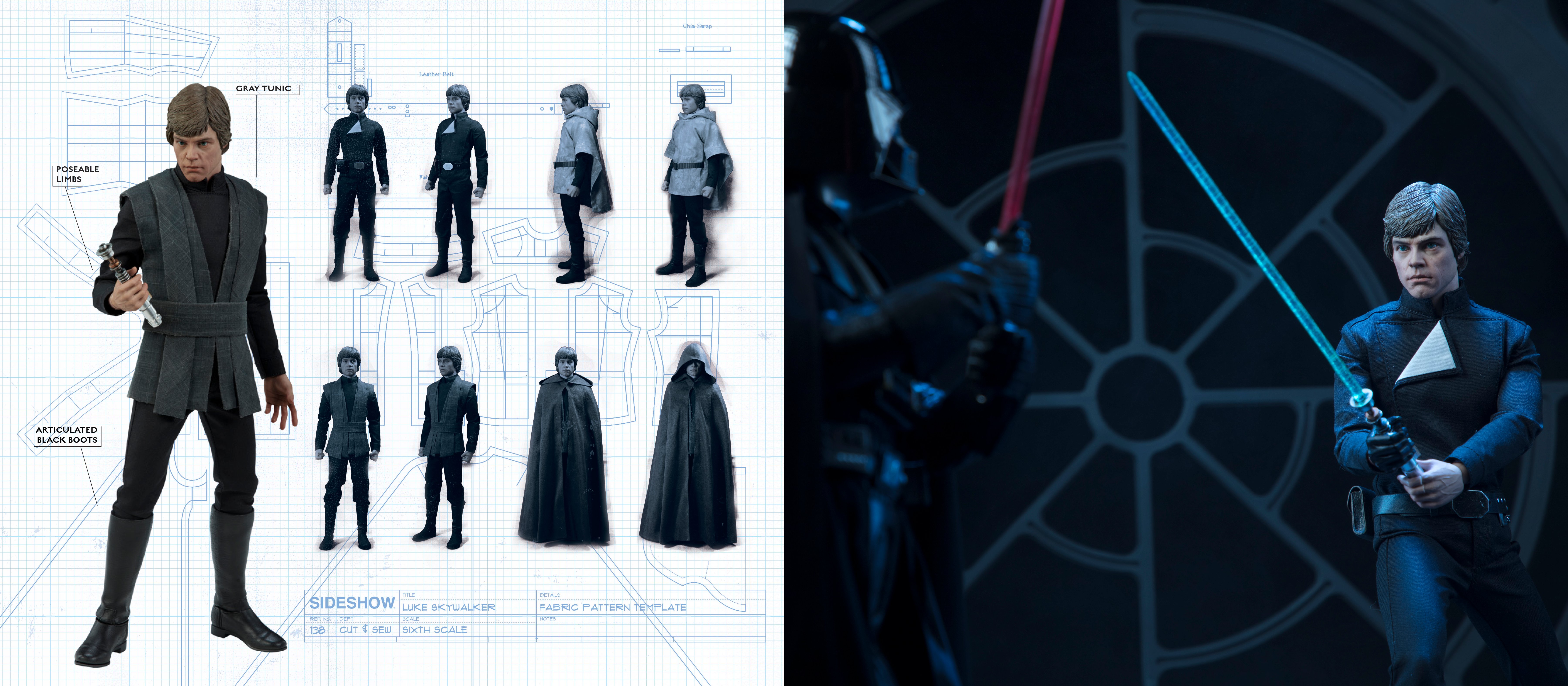 The dioramas included in The Art of Sideshow are also so cool! Some of them are so well constructed and photographed you'll find yourself blinking a few times to ensure they aren't actual stills from the film. There are also dioramas constructed from scenes we didn't see or could've appeared across the trilogies or series. These are so meticulous and I'd love to get a behind-the-scenes YouTube video of how these were constructed and photographed.
There's something universal about 'action figures'. I think most fans can relate to the childhood wonderment of being able to bring moments from Star Wars to life with these tiny statues, as well as create stories of their own. Whether those action figures you played with as a child sit dormant in an attic, proudly on your collectible shelf, or in the hands of a younger fan you may have passed them on to…the simple tactile experience of touching that magic is one of my favorite childhood memories. The Art of Sideshow demonstrates the passion and love poured into these characters.
Insight Editions continues to deliver some of the coolest books for Star Wars fans. This past year have seen several ambitious projects and The Art of Sideshow is not one to overlook. I know these books can get pretty pricey but I promise if you choose to put your hard earned cash and time toward them that Insight Editions didn't skimp on anything. There is so much in The Art of Sideshow that I imagine I'll be looking through it for months. My eleven-year-old son picked it up the other night and didn't put it down for at least an hour – and that's really saying something since I'm constantly trying to get his attention from either an iPhone or gaming system. This is not only a visual feast, but a tribute to all the Star Wars fans who built their own stories with action figures and the next generation who will surely follow.
RATING: 8.5/10
Star Wars – Collecting A Galaxy: The Art of Sideshow is currently available at your local bookstore and online retailers. Special thank you to Insight Editions for the advanced copy used in this review.
Kyle Larson lives in Portland, Oregon. When he's not running trails, he's reading and writing.